Download Forward Assault APK for an exciting action adventure in this competitive FPS game. Become the leader of a swat team and get ready to take down terrorists and international criminals.
About Forward Assault
Forward Assault is an excellent game for fans of Action/Adventure games. The game is one of the best First Person Shooter (FPS) games for mobile, and it involves some of the most crafty and professional elements anyone can add to a shooting game. Because it provides players with a fast-paced atmosphere, thrilling shooting encounters, and excitement, Forward Assault stands out from most current first-person shooter games.
Forward Assault is a simulation of real-life shooting action. The game has a sensitive and precise gun operating mechanism, and each time the trigger gets pulled, the barrel recoils, and the gun's butt is raised slightly, which causes the character's hand to have a specific recoil matching each type of gun used. Only a few FPS games can simulate physics like this. Forward Assault is a fantastic playground for players with friends as it uses a perfect 3D engine to immerse players in the most exciting and high-paced FPS action.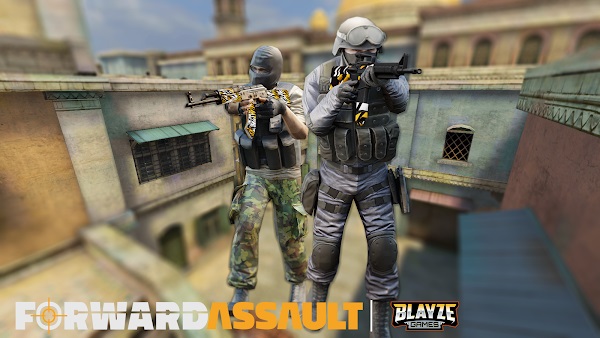 The game is not difficult and has simple gameplay; get on a team to combat online rivals in a shooting battle. As in every other Action/Adventure, you will be fighting in teams, and your goal will be to eradicate the enemy player and get as many rewards as possible. The variety of game modes is a highlight that Forward Assault boasts of, as their content constantly evolves to diversify the gameplay. For example, you can either take the part of a terrorist who wants to set a bomb or as a counterterrorism unit attempting to avert catastrophes by eradicating the terrorists.
This game's control mechanism and support system give players incredible First Person Shooter sensations that few games have. This helps eliminate redundant operations and integrate many advanced components that provide the players with total flexibility no matter their situation. In addition, forward Assault's control system has a wide range of customization features for players looking for top-notch comfort.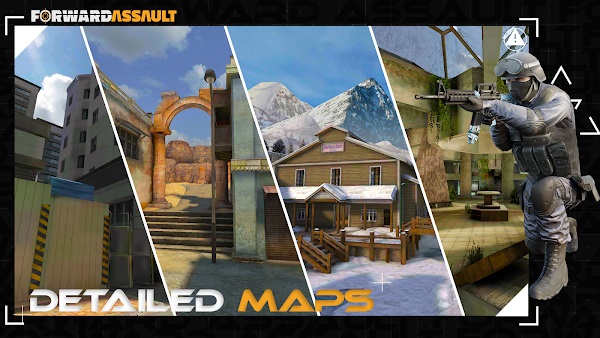 Anyone can play Forward Assault for free; Blayze Games created it. Because there are more than 46 languages to pick from, this game is available in many languages. The content is rated for teenagers (16 and up) and is accessible on iOS and Android. The game's reputation is increased by over 10 million Playstore downloads and a 4.3 average rating from over three hundred thousand reviewers.
Try Your Destiny In A Lawless Land
Forward Assault is a fantastic game because it gives players more than just weapons to employ in combat. It also provides the game with an important goal. As you play this game, you get summoned to battle against opponents who have risen to challenge you. After that, it's up to you to explore the area, take advantage of the enemy's territory, and then invade and demolish it.
The combat has the last man standing in each round. Therefore, you must wait until the ensuing battle to rejoin the match after being eliminated. In this game, teamwork, cautious movement, and stealth are crucial.
Game Features
Like all First Person Shooter games, The elements of Forward Assault represent the intensity and action present in the game. Read on to learn about some of Forwards Assault's most amazing features: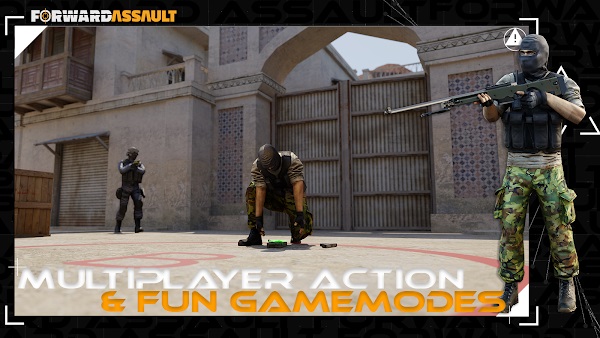 Gameplay
The gameplay of this game has a strategy.; your adventure revolves around joining a team and going head to head against online competitors in the counter-strike-inspired multiplayer FPS games. The game is basically about two teams competing to be the first to complete specific goals. For example, if your character gets eradicated, you will have to wait until that particular mission ends before you can restart, which is when one team wins.
Weapon
Weapons are essential when it comes to determining the perfection of an FPS game. Several guns, shotguns, snipers, and assault rifles, from AK-47 to desert eagle. Each weapon has parameters, such as damage, range, and bullet count. You can use various appropriate guns for each play scene—the more powerful the weapon, the more interesting the game.
3D Graphics And Animation
Forward Assault uses the Unity 3D graphics engine, which allows for smooth movement of characters, enemies, bullets, and weapon recoil. Forward Assault's 3D scene is not overly complicated or risky, but it is well processed, and the colours are reasonable, creating a realistic feeling. As a result, you can sit and play for a long time without becoming tired or bored. Thanks to smooth animation, players can also progress through the game without lag.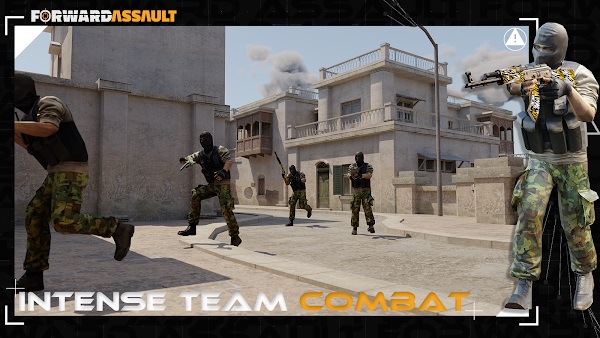 Game Modes
The game relies heavily on its innovative modes to keep players entertained. The game always emphasizes connecting and participating in battles with friends, so players can form a team of up to 5 people for any of the modes. The rewards for playing with a party will significantly increase depending on the game modes chosen.
Game Soundtrack
Forwards Assault also has an excellent soundtrack that simulates the sounds of gunfights. The different sounds, including footsteps, gunshots, door openings, airdrop motion, and other sounds, are an incredibly accurate and well-detailed representation of what to expect from this first-person shooter game. The battlefield is always loud and reverberating. Remember to use speakers or headphones to appreciate this sensation, guys, entirely. You can even hear the direction of the enemy's footsteps if you have good speakers.
Realistic Environment
The graphics and smooth animations give this game a realistic feel. The game also includes many great features, like complex characters, weaponry, the environment, movement, etc. Thanks to the explosive effects, you also feel like you are in a realistic environment. This element keeps the players engaged and enhances the gaming experience.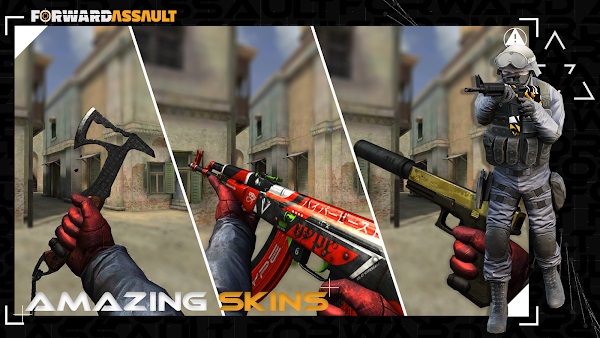 Conclusion
Forward Assault is an excellent online FPS game. The game's realism, physics simulation, sound, and appealing shooting mechanism are fantastic. In addition, the game has amazing features that keep you engaged and wanting more action.