Download Fast Racing 3D APK for a real-life racing experience with the best racers. Use intuitive controls and the best cars to win in this beautiful environment.
About the Game
Fast Racing 3D is an exciting game with exceptional features and impressive gameplay. It takes players on a thrilling run through various tracks and in different race cars. Your game experience, therefore, depends on your zeal and skill. It has some exciting features that keep it fun and entertaining no matter how many times you play, and one of the major factors here is the game's summer control and immersive graphics.
There are also different modes to play, which adds variety to the gameplay. You can play different levels in the game, each with different objectives and subtle environmental changes. You can control the cars with the simulated button on your screen; you can also use the accelerometer to enhance gameplay and make it easier to tilt your vehicle to one side.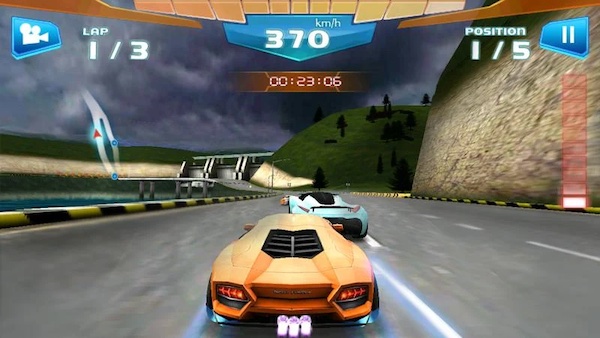 Compared to other similar games, Fast Racing does have the upper hand because of its impressive graphics, simple controls, and rich list of game modes, levels and missions. You can not run out of fun adventures when you play Fast Racing 3D. It's also easily fathomable, so you can quickly get a good grasp of the game even if you're a beginner to fast-paced action games like this.
The app is a concept and design from the Doodle Mobile Ltd studios. It's available on multiple Android devices that run on Android 4.1 and above. It has millions of downloads on Playstore and is available in various languages. However, although it's a free app, you might have to pay for certain features when you want to access them.
Defeat Opponents on All Terrains
Regardless of which you play, you can choose between many game modes when you start playing Fast Racing 3D. You will be able to select your preferred car, too, though you have limited options since you're just joining the league. You'll get a nice gift when you start playing, which you can use to purchase your car since it doesn't come free. In the car garage, you'll see a 3d view of the car on a podium for proper view.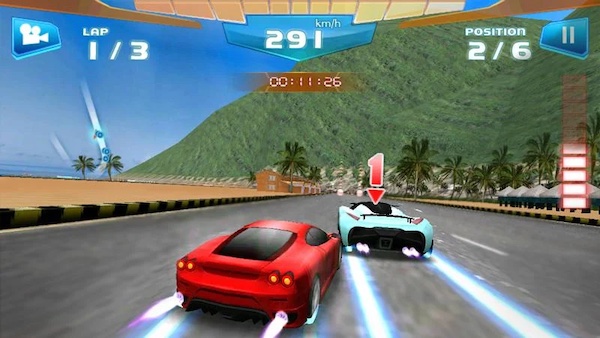 Each car you drive has indicators that tell you how much power and speed it has. You can choose an affordable vehicle when you begin playing. You'll be able to raise enough money to purchase better and more available cars when you play and win more missions. You'll be able to see your current position in the race because it's displayed right on your vehicle, and you have to take the first position to be the winner though you'll get compensated if you are the first or second runner-up.
Game Features
Fast Racing 3D has many qualities that make it a good racing game with millions of players. The smoke of these is due to the gameplay, while others are due to impressive features below:
Graphics
Fast Racing 3D has impressive graphics compared to other games in similar categories. Although it doesn't have the most astonishing designs, it still manages to create an exciting game with its beautiful and responsive graphics and animations. In addition, the game environment is well detailed, with all the car parts visible in a 3D view.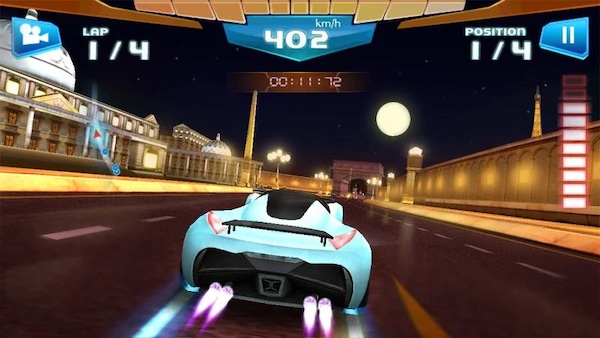 If you get a third-person view of the game, you'll also see basic details about your car, such as the drifts and the tire marks where you change directions or hold on to the brake. All these graphics elements help to make the game more interesting.
Gameplay
The game has simple gameplay, although you might need subtle game strategies to win some races. The primary game objective is to succeed in every race, but because there is constant change in race tracks and your vehicles never remain the same, you have to be smart with how you play. When you start playing, your car won't be as fast as you'd expect, but since it's brought cheap, you'll have to win races with it and raise enough money to buy the type of car you want for your races.
Game Modes
There are up to four game modes in the game, and depending on what you'd like to achieve, you can play any of them. These include the Career, Quick Games, More Games and Rate.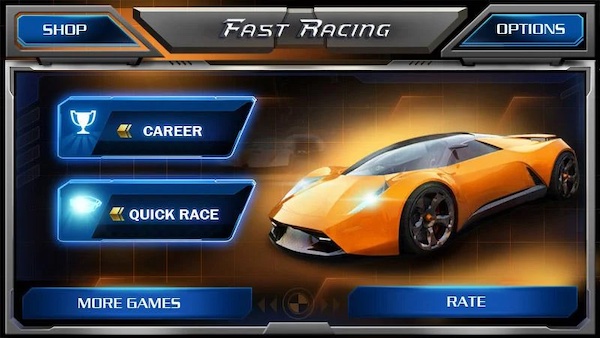 The Career Mode is the real deal because it lets you have an experience of a professional car racer where you have to build your career and race against beginners before proceeding to amateur levels. The Quick Games Mode allows you to play at your leisure by selecting any car and track you want.
Vehicles
Many cars are on Fast Racing 3D, which is expected from a car racing game. There are many brands in the game, with impressive lists of cars to buy. You can also upgrade your vehicle rather than buy a new one because the upgrade helps you increase the car performance, such as speed, control, Nutro boost, and other features that can make it better. However, if you don't want to upgrade, you can always raise the in-game Currency by winning games and ultimately having enough money to buy expensive, high-performance cars.
Tracks and Speed
The game has some difficult tracks that make it challenging to finish like a winner. There aren't many obstacles in the game, though, which makes it relatively easy to play. However, there is constant pressure to overcome your opponents in the game depending on how skilled they are; you'll find this aim quite tricky.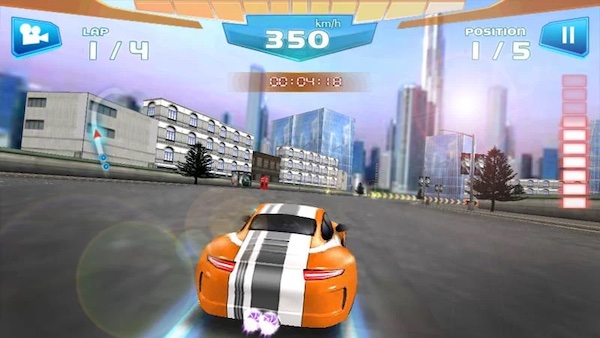 In addition, the winding tracks mean you have to change your direction and adjust your speed to make everything easier to control at such an incredible speed. The game offers a great speed that can keep players addicted to it because it's not quite common in other car racing games.
Conclusion
If you are not a fan of fantasy race gams and would rather spend your time on realistic modern games, then Fast Racing 3D is your best bet. The game has practical designs and lots of content to keep players engaged and pumped for more actions.


Join Telegram Group
Download Fast Racing 3D APK for a real-life racing experience with the best racers. Use intuitive controls and the best cars to win in this beautiful environment.