Download Fake GPS APK to quickly and easily change your smartphone's location. Select any location in the world to fool any app that accesses your location with GPS.
About Fake GPS
Fake GPS, as the name implies, is an app that lets you quickly change your location and hide the real one from anyone online. It's a brainchild of ByteRev and is one of the most popular fake location apps online. With over 10 million downloads on Playstore, the app also has an impressive rating from reviewers online.
Fake GPS creates an easy-to-use interface to change your GPS location and do every other thing to ensure anyone's convinced. Hence, users can practically fool anybody they don't want to share their location with. Likewise, it's ideal for convincing any app that wants to access your location with GPS.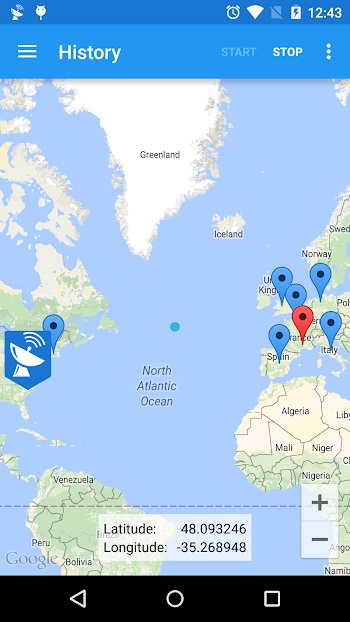 The app is easy to use, and the interface has many functionalities if you hide your accurate GPS. For example, you can choose your new location anywhere on the map, and the app updates the positions. Of course, once you set the area, you'll have to change a setting on your device as well, and you'll be able to switch locations to anywhere in the world.
The app is ideal for accessing features or apps that are not available in your region, and just like VPN, it masks the actual location with a fake IP address. You can also choose a favourite collection of locations you often use and would like to keep saved anytime you want to access the app or fool anyone.
How to Use Fake GPS
Fake GPS is relatively easy to use, even for kids. The steps are easy, and there aren't any complicated settings to add. You can change your GPS location when you click anywhere on the world map. Fake GPS loads a map on the home screen, and when you choose a location, it will require you to tap the 'play' button.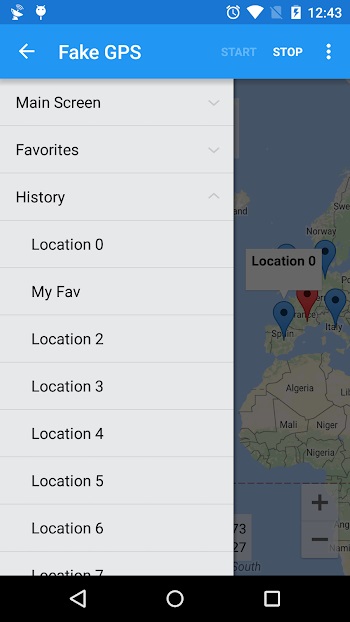 Once done, your device location will change to this new location. However, ensure you activate the 'Mock Location' feature on your device for this to work. You can also select from your list of favorite locations or check out some of the previous locations you've used in the past for easier and faster changes. Kindly note that to effectively run the app on your device, you need the following:
Ensure you turn on the 'Allow Mock Locations' on your device using the Development Settings tab on the app.
Ensure you switch your location mode to GPS only or disable location settings so that you don't receive cached mock locations after you stop using Fake GPS.
Ensure you run Fake GPS before running the app you want to trick.
Features of Fake GPS
Fake GPS is not a sophisticated app; it offers a primary interface that anyone can navigate. However, here are some of the features you'll get to access when downloading Fake GPS:
GPS Settings
Unlike regular fake GPS apps, Fake GPS by ByteRev allows you to customize certain app features. So rather than let the app decide specific details of your fake GPS, you can set them yourself. For example, there is an option to set the Accuracy of your GPS location in the settings, so you can determine in meters how accurate the GPS will be.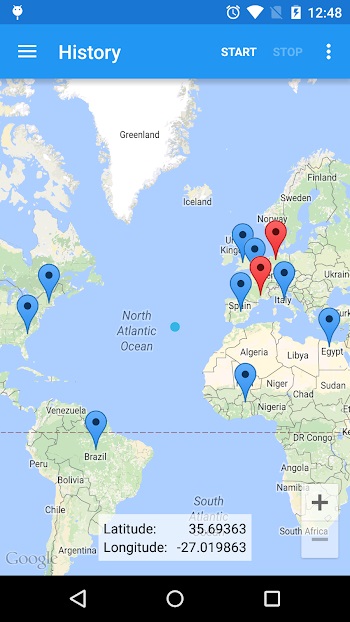 You can also set the bearings in degrees or change the Altitude. So, if an app requires you to be at a specific elevation before you can access it, you can trick it into thinking you're in that location and Altitude with the app settings (remember to make these changes in the Advanced Mode).
History
You can have access to past locations for a faster and easier change. Since the app automatically logs all your location entries, you'll be able to access this log anytime you open the app. So rather than re-set your new location, you can browse through a list of past locations and choose the one you'd like to use. It's also handy when you can't remember the exact location and want to seek help from the app.
Movement Simulation
Fake GPS is a pro at mirroring an actual GPS location. In addition to changing your location and setting your Altitude, you can create a certain location by selecting the location in motion. Some apps would want to confirm your location by detecting movements there. So you can set the Movement Simulation feature that creates a fake and random movement pattern for your GPS. Thereby tricking the app into believing you're moving around while you are rooted to a spot somewhere else.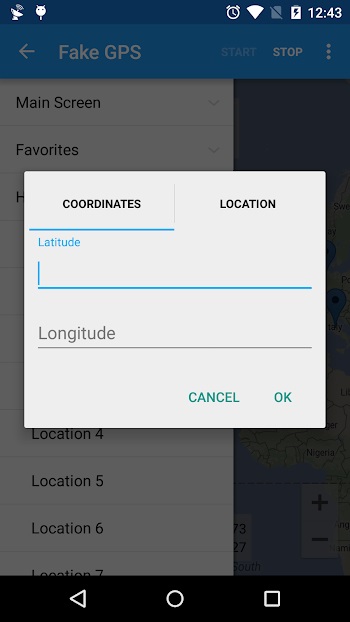 Notifications
You can decide to keep the app active and set notifications for any location you're currently using. Fake GPS displays the information in your notification bar, so you can always keep track of your locations even when not using the app. If you need to change locations, you can tap on the notification bar and be redirected to the app to change locations.
Favorites
For users who are actively changing locations, this feature is quite handy. It allows you to organize your past locations and save them into a readily available catalogue whenever you want to change locations. In addition, users can check the favourites tab rather than select the location every time they use the app.
Request Feature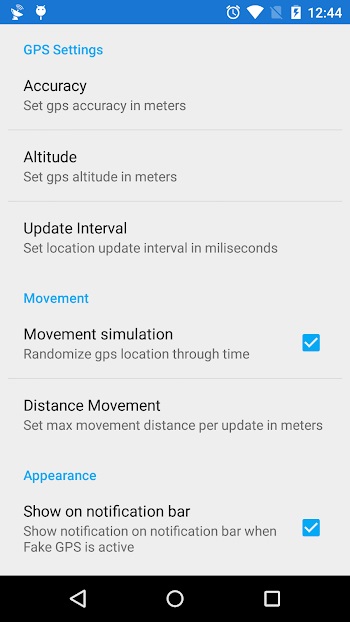 This is also an in-app feature that allows you to communicate directly with the developers. In addition, the feature will enable users to request new features. So if there is a specific feature you would love to have on the app or wouldn't be helpful when using the app, you can suggest this to the developers, and if there is enough demand for it from other users, you can expect it to be rolled out with the next update.
Conclusion
Fake GPS is a resourceful app that helps trick other apps into reading a different location than your real location, allowing users access to resources unavailable for their region. The app has other incredible features that add to its functionality, and users across various platforms favour it.