Download Evo Pop APK and have fun creating beautiful and colorful Evo creatures in this physic-based arcade game. Show how strategic you can be in this game.
Evo Pop
Sciences like physics have always been associated with boring things, not Evo Pop. Evo Pop might be physics-based, but it is entirely entertaining. In this game, you will lead your character to breed a plethora of little cube-shaped creatures of different colors called Evos. The game's core theme is to achieve world domination but to do so, you will have to apply strategic skills to climb up the food domination. This was created for all ages for fun and recreation.
General Overview of Evo Pop
The gaming world continues to grow every day, and the launch of varieties of different genres has heralded its growth. Evo Pop is one of the games that seem very easy to the eye. Some might even think it boring because one of the first things you see about this game when you Google it is "physics-based."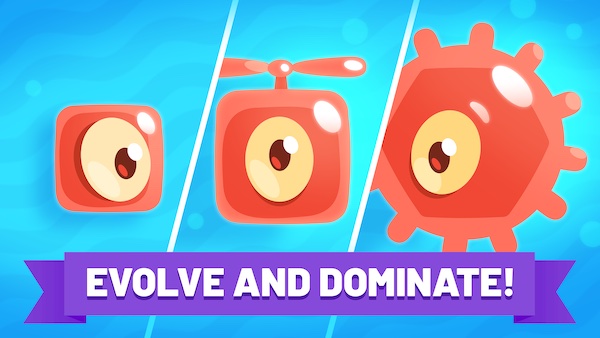 Evo Pop might be physics-based, but it is fun and exciting. It was created by the gaming company called Zeptolab in 2020 and has gathered over 5 million downloads on Google playstore with 4.3 stars. The game is constantly updated to add better features. Evo Pop's latest version was released on March 31, 2022.
In this game, every player is a creator. Without you, the Evo world would be empty, and that is why you'll need to work hard to achieve dominance.
The principal aim of Evo Pop is to grow its little creatures (titular creatures) in order to eliminate the enemies. To do so, there are two significant rules: either you eat all your enemies, or you create the most Evos. Before you can use the first rule, you must become a big Evo. Only big Evos can eat the enemies. Becoming a big Evo would take a lot of strategic planning. As a player, you will also have to learn to adapt since there are different races of small creatures.
As you must have seen in most games like Evo Pop, achieving feats attracts rewards. For Evo Pop, you get rewarded with gems and gold coins. These rewards can be used to enhance your little creatures. If you want your character to get big faster, you can pay to have it done instantly on the app.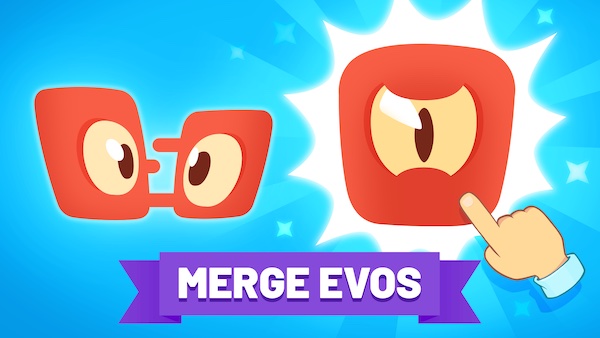 Upon downloading and installing Evo Pop for android, you will be asked to grant permission for some functionalities and input a name for your character. You are given a limited amount of coins and gems to get started. After completing the first stage, you will be given ten coins and 20 gems. However, to access Evo Pop unlimited money and gems, you'll have to buy it with cash. You must input your debit card details to purchase the Evo Pop unlimited everything.
You will enjoy playing Evo Pop with its easy and intuitive user interface. In playing the game constantly, you will eventually discover several tricks that would help you to strategize and climb up the food ladder.
Features of Evo Pop
Evo Pop is a relatively new game but has already been downloaded by more than one million people around the world. The reason for its popularity is not far-fetched, as Evo Pop is packed with amazing and unique features that provide a well-rounded gaming experience for players.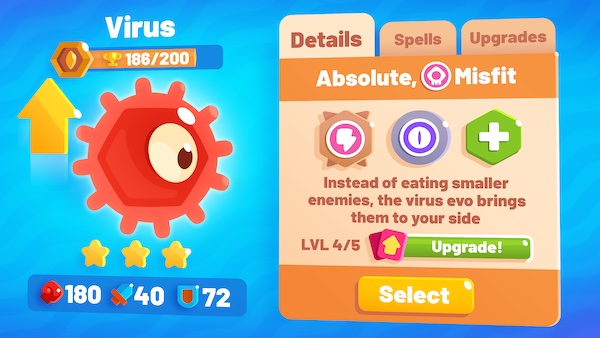 Exceptional and Radiant Designed Locations
Evo Pop is uniquely designed to set itself apart from other games in the genre. Every player must move through the locations they find themselves, adapt, fight the enemy, and produce a large number of small creatures from one single creature. The number of small organisms you can create will determine your strength. It is by your numbers that victory might be certain or not. As mentioned earlier, you have every right to purchase additional special skills or abilities for your character so that they can easily absorb smaller opponents and emerge victorious.
Different Game Modes
Evo Pop is a game of strategy and tactics, and it allows you to participate in competitions in three different modes to test your tactical skills and logical abilities. Every player will have to try different tactics for breeding their organisms and find a different way to defeat the enemies for every stage. You can decide to compete for the best player title for high-quality graphics and more gems and gold coins.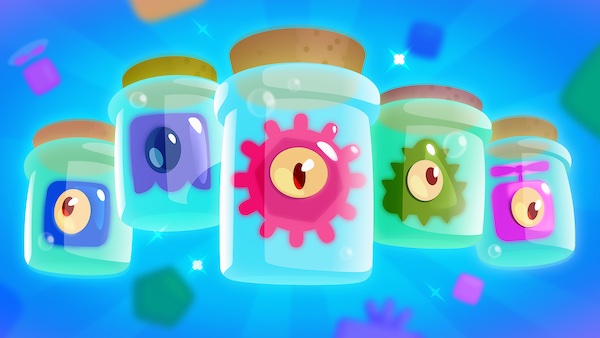 Strategize and find new paths
Every big and small creature in the Evo Pop world depends on interaction with the outer world to survive and grow. The creatures eat grass, other small creatures, flowers, and insects to grow up fast and strong. Players are tasked with eating up the resources found in the environment and coming up with different strategies to conquer the enemies.
Graphics and sound
Evo Pop has high-quality graphics. The graphics quality is seen in the beauty of the different stages, characters, and landscapes. The idealistic physics found in Evo Pop allows players to advance in the game in no particular order. You can decide to play any level as there is no specific hierarchy.
Evo Pop is a beautiful game, and its beauty is what attracts gamers to the platform. You might come for fun but stay for the beauty.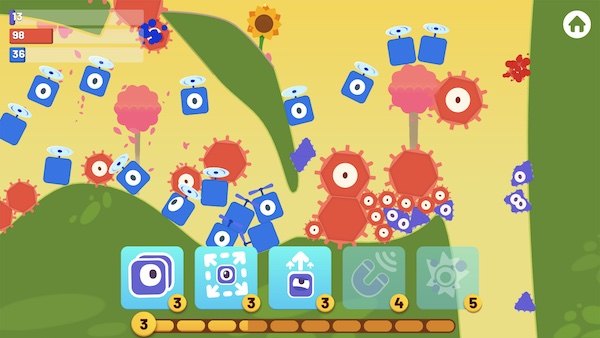 Evo Pop is also packed with several unique and groovy sounds to make your experience eventful and exciting.
Conclusion
Gaming is the best way to practice, learn, and improve problem-solving skills. You can also learn the art of focus and creativity from gaming frequently, and Evo Pop can help you to achieve this when you play. As you can see from the features and general overview of Evo Pop, you need to be creative and strategic to defeat the enemies.
In Evo Pop, utmost attention and concentration are crucial to winning. It would be best if you successfully guided your Evos across several paths and landscapes to emerge the ultimate winner. As you win different stages, you will be rewarded with gems and coins that can be used to purchase additional boosts for your character. Download the Evo Pop App now to enjoy this interesting and thrilling game.


Join Telegram Group
Download Evo Pop APK and have fun creating beautiful and colorful Evo creatures in this physic-based arcade game. Show how strategic you can be in this game.