Download and install Eroblast: Waifu Dating Sim APK and earn your way via the seductive games, make decisions, and solve the issue of anime dating games.
About Eroblast: Waifu Dating Sim Game
Eroblast: Waifu Dating Sim is a dating and puzzle game. Players are given puzzle games to play to get access to dating a famous girl. In the gameplay, the player is an average and uninteresting student.
Unexpectedly, on a beautiful day, one of the most famous girls— your crush for a long time —surprisingly admitted to liking you too, and then you are invited to a music party. But there's a condition: to solve her puzzles. The greater your score in solving the puzzles, the dirtier the option you will get with the hot girls.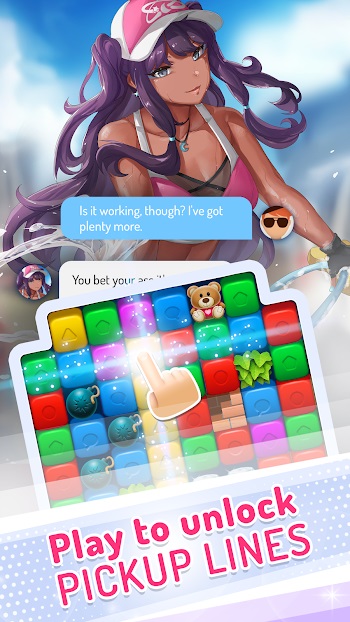 Five other hot girls you dreamed of having a relationship with will join you. Your role is to make decisions and unravel puzzles to get one hot anime girl. However, You can explore your choices by interacting with them and make better decisions in getting close to the girls. Get chatting and dating through text with the gorgeous girls. You can scheme your way to asking her out also.
More About Eroblast
Eroblast: Waifu Sim is a simulation anime game with over 500 thousand downloads. The numerous beautiful characters are anime and created by the best animation.
Role-playing games have gained more prominence than conventional game types and seem to be loved by many people. It is seemingly fun and attractive. Thus, producers have invested tremendous effort and attention in creating engaging storylines for players to roleplay and have fun with. Eroblast: Waifu Dating Sim is exceptional; it is a different dating roleplay game, creatively published by Vivid Games S.A. Eroblast is free to play, plus it comes with many levels and experimental options.
The Gameplay
There will be many popular hot girls for players to start chatting with and dating in the game.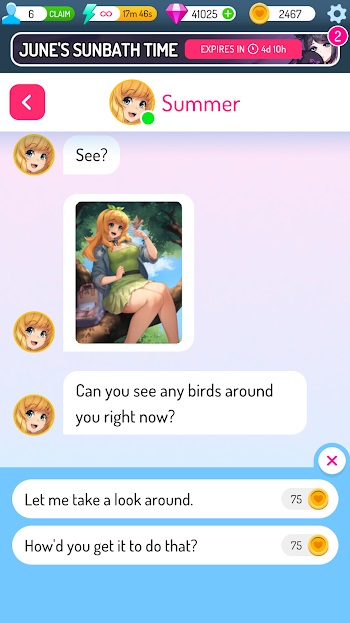 You will select any group of girls to team up with, and they will create a visual romantic novel with puzzles and games. Players can chat via direct messaging and find girls at clubs and dating sites. The chatting is not manual because the game already has stipulated storylines for players. Nonetheless, every answer has unique endings, so you have to determine which answer is appropriate to acquire hot photos from the girls.
Eroblast Features
Finding Your Partner
Finding a perfect partner in Eroblast: Waifu Dating Sim game is simply easy; you only have to check their dating profile to find the most attractive girl that meets up to your fantasy. Of course, your romantic story begins after that.
In the world of Eroblast anime games, there is a myriad of characters, each with their unique stories, and it is easy to exchange text and get familiar with them. In it, You will discover the most pretty girls and figure out a way to get closer to them. Furthermore, You are entitled to unlimited gems and rewards for any successful relationship.
Peculiar Character With Unique Personality
In finding your match with any girl, you can ask a girl out, though she will turn out to be an NSFW visual adult novel. However, you may notice many similarities if you love anime dating games.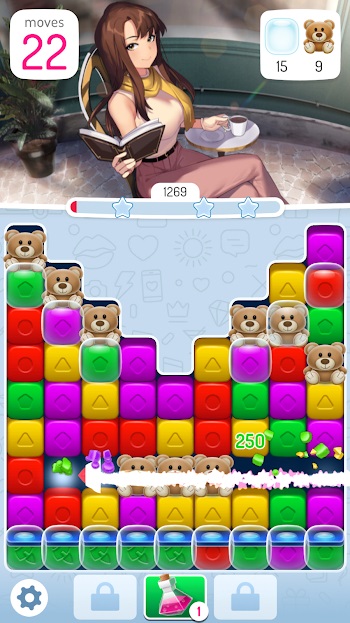 Eroblast allows you to chat with girls with a hot passion topic and excellent pickup line— a good way to learn pickup lines. What's also exciting is that you can observe their reaction and experience a virtual dating experience. Also, you have unlimited strength, so play as much as you want to find a perfect match.
150+ Levels
Eroblast exceptional is the number of levels available to play, with over one hundred and fifty grades, not a 3-match puzzle but a completely different dating and choice-making concept. In addition, getting to the next level doesn't take too much responsibility— as the levels are accessible for free.
When you don't get your strategy right, you can't unlock the highest level of anime dating choice; consequently, you can't have fun with the girls. So play as much as you can to unlock levels to the secrets of waifu NSFW dating games.
Many Girlfriends
With many anime girls in the game, you don't have to settle for just one anime girl; Eroblast gives you tons of anime hot girls to date. This comes with unlimited coins.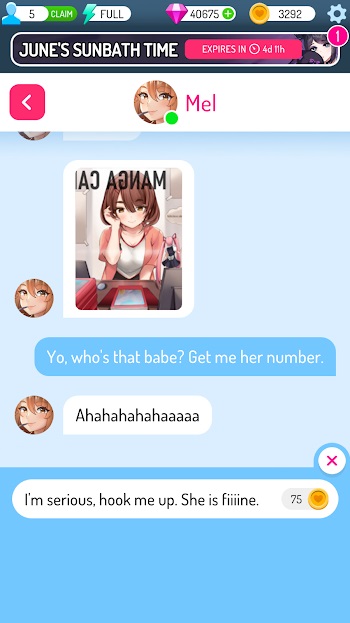 In no particular order, the gorgeous girls in the gameplay are cute mare girls, anime klutz, bishoujo adult women, tough bikers, and more. Players can effortlessly find the most passionate girl and start flirting. Your role is to grow a lasting relationship with them, and then finally, your game is completed.
Live Chat via Female Messages
The chat feature aims to text and exchange passionate and romantic stories among yourselves. The game allows two people to have an uninterrupted chat. This seems easy, but it is not entirely easy. Players are expected to go through the hassle of solving hard puzzles before dating a girl. But when you get to the mandated number of points, payers can now be eligible to date the girls of their choice.
The perfect Strategy Will aid You in Winning Her Heart
Winning in Eroblast: Waifu Dating Sim isn't just about playing; many levels await players ahead. To successfully pass those puzzles, you will need to take logical steps to help you impress anime girls; in addition, you can also discover a love secret to help you overcome challenges in winning the heart of girls.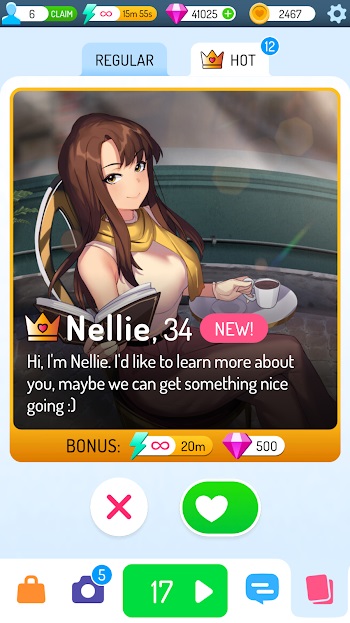 Eroblast features make roleplaying thrilling and exciting, coupled with the novel anime. This is the first time a game combines both romantic elements and entertainment. Players will experience certain emotions after another; a joyful feeling that comes with having a hot girl accept your date or the sad feeling of rejection because of the player's inability to solve a given puzzle.\
Conclusion
There is a lot to explore in Eroblast: Waifu Dating Sim. The more levels you cross, the more thrilling the game gets. So go to Google Play and download the simulation dating game for free.


Join Telegram Group
Download and install Eroblast: Waifu Dating Sim APK and earn your way via the seductive games, make decisions, and solve the issue of anime dating games.