Download Emergency HQ APK, a simulation game that turns you into a hero. Take control of rescue missions, control firefighters, and head emergency units in this game.
Emergency HQ Description
Emergency HQ is a mobile game developed by Promotion Software GmbH, released in December 2017, and is free to install. This is a firefighter game in a rescue mission setting and inspired by games of a similar genre. The storyline features players with super abilities to rescue and ensure the safety of the town's residents. It is a mobile game available for Apple and Android users and has received favorable ratings from users across platforms.
Emergency HQ game follows a storyline that ensures players are immersed in the story and focused on the action of the game. Emergency HQ is set in a city on fire and experiencing chaos. The main character and several emergency teams were sent to rescue citizens from the chaos and bring them to safety. The main character heads the emergency units of firefighters, police, paramedics, and others.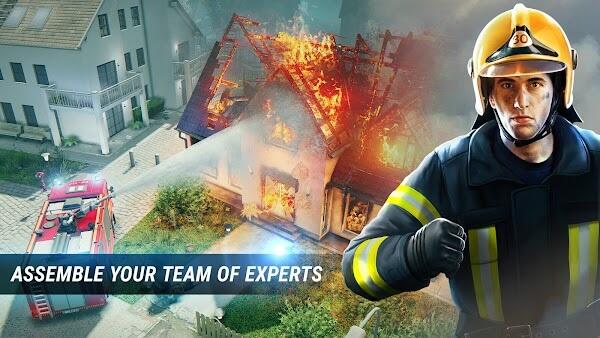 As the game's main character, you have to fight chaos, fight against time, save lives, and fight terrorists. You also have to support friends in challenging missions, join forces in a rescue alliance, build your headquarters, and discover the world of Emergency HQ.
This game allows you to show your super abilities to the fullest. Take on the task of fighting fires, rescuing animals, and doing other difficult jobs. Head out to different chaotic scenes such as accidents, crimes, and medical and fire catastrophes, among others. Learn how to control, put your abilities to good use and calm every situation you encounter.
Features of Emergency HQ
Here are the amazing features in Emergency HQ latest version.
Emergency HQ Gameplay
Prepare to be a first responder as you establish your emergency command center and take on several crucial rescue missions as you set out on your epic quests to aid people in distress. Build a variety of emergency structures in which you can deploy your various rescue teams so they are ever prepared to go on missions.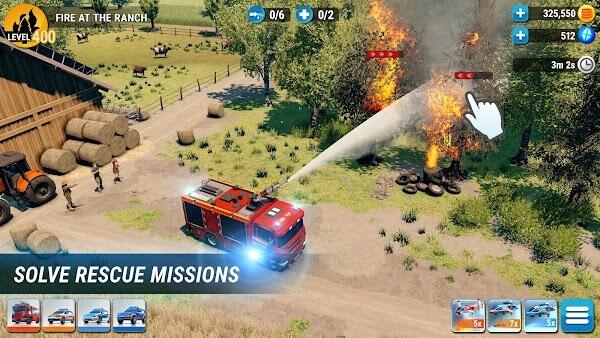 You'll love controlling firemen, EMTs, paramedics, physicians, law enforcement officers, special forces, and other groups as you go over the game's various objectives and difficulties. To resolve the present situation and assist the injured people before it's too late, merge their various skills.
Investigate numerous improvements and upgrades to fortify your emergency HQ. Take on new challenges with increasingly difficult tasks that require greater technical skills. Now, take on the role of the hero and have fun using the simulation gameplay to perform impressive rescues.
Control Emergency Units
You may now assume command of any emergency unit in EMERGENCY HQ and play around with their different in-game features if interested. Discover how rescuers complete their duties in various circumstances, such as emergencies, rescue operations, fires, and more.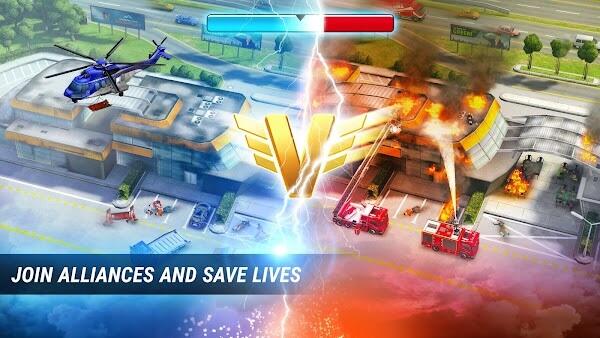 Get your hands dirty by allocating various emergency units, such as the police, SWAT, hospitals, and technical services. Learn how they perform in the line of duty and how to maximize their efforts by applying your ingenious solutions to various challenges.
Emergency HQ's unlimited money will effectively demonstrate how dedicated these first responder firefighters, EMTs, paramedics, physicians, police officers, and special forces members are to their profession.
Every Mission has Unique Settings
EMERGENCY HQ features a range of tasks you may complete, each of which will provide you with a unique set of difficulties. You will have to evaluate the scenario and find a solution to the issues right away. To ensure mission success, develop effective ways for missions and learn how to handle situations effectively. You can find yourself saving people from terrorist attacks, remote emergency calls, winter catastrophes, and fires.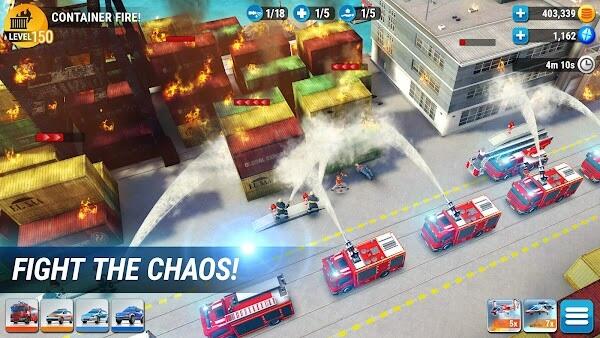 Expand your Base for New Challenges
EMERGENCY HQ android players will need to focus on developing and growing their headquarters to prepare for all emergency circumstances. Doing so will facilitate an effective service team and provide your first responders with improved capabilities. Have fun constructing various structures for the Fire Department, Medical Units, Technical Supports, and other organizations.
Make lots of improvements to provide the teams with stronger tools and advancements so you can advance in the game. Improve your emergency centers continuously now to get prepared for the forthcoming problems.
Decorate and Design Your Base
You can also arrange and coordinate the many structures in your EMERGENCY HQ to your preference if you're fascinated by the game's planning and design elements. To ensure that they are all available and that they can be rapidly sent, when necessary, you are welcome to rotate and place the structures in accordance with your ideas.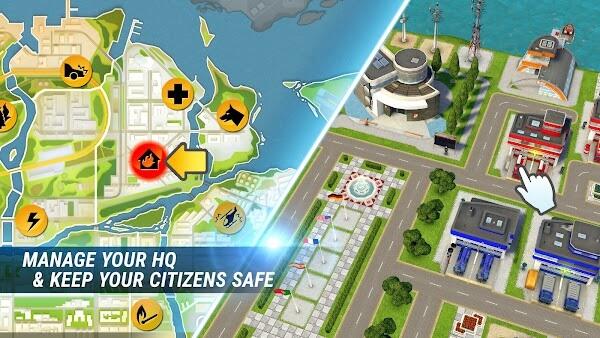 Remember to work on the numerous intriguing game decorations that will let you give distinctive designs to the structures, people, cars, and other in-game components. Use the many themes to customize the game way you choose.
Unlock New Features and Upgrade your HQ
To access Emergency HQ unlimited money and diamond features, you may now level up your HQ. New players are only allowed to access a restricted number of in-game features to prevent them from becoming overly overwhelmed by the amount of stuff the game offers. Additionally, when you complete tasks and challenges, you'll be able to unlock all Emergency HQ gifts and experience points that will help you level up your HQ. Here, you may begin expanding the game's feature set and making use of its fresh material.
Final Thoughts
Look out for Emergency HQ's new update to enjoy the interesting game. Engage in brainstorming situations and link up with diverse, versatile forces to fight terrorists. The Emergency HQ download is also available for potential players who want to enjoy an incredible rescue simulation game.


Join Telegram Group
Download Emergency HQ APK, a simulation game that turns you into a hero. Take control of rescue missions, control firefighters, and head emergency units in this game.