Download Earn To Die APK to enjoy driving through hordes of zombies. Compete and survive against obstacles and zombie invasions with your survival driving skills.
About Earn To Die
Earn To Die is a 2D racing game that allows players to enjoy maximum thrills by driving through a post-apocalyptic wasteland. The game environment features various obstacles and zombies in your path, so you must ensure you stop for nothing and continue going in the right direction. Unfortunately, humans and gasoline are scarce in this game, so you won't expect much help anywhere and will have to manage the resources.
The gameplay has lots of similarities to various other games in this category. You'll be able to control the game using basic vehicle control buttons and navigate through a storm or obstacles in your path while conserving resources. However, the game's difficulty manifests in the gasoline shortage, so you won't be able to go far enough until you improve your vehicle in the gas station.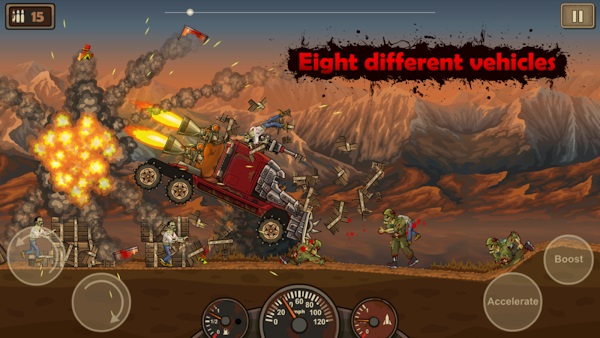 Earn to Die is one of the best action and driving games you can play on a mobile device. It allows you to play across thrilling scenarios, upgrading your vehicles, unlocking new vehicles, and adding various extra features such as guns and boosters to make the vehicle even more deadly regardless of the obstacle in your path.
There are over 200 million plays on Earn to Die, showing how impressive the gameplay is. The advent of Earn To Die 2 has not affected the gameplay on this first version either, allowing players to choose based on the features. The game wa developed by Not Doppler, which also designed Version 2 and 3. You can play the game in over 70 languages, and the content rating allows only anyone above 13 years to play without supervision.
Gameplay
Earn To Die has straightforward gameplay, thanks to its simple storyline; the world's been through an apocalypse, and you are a fierce survivor. Hence, you'll have your survival instinct tested in this game quite a lot. Since this is a 2D game, you can only go in one direction: the front. The game offers few control options to move the vehicle or bring it to a stop.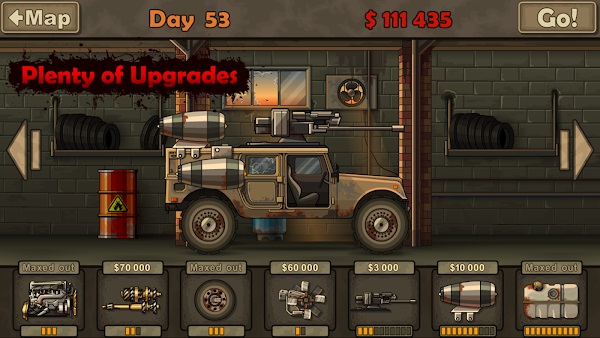 Your goal is to ensure you avoid all obstacles and survive another day out in the wild. However, it would help if you also conserved your gasoline. Otherwise, you won't be able to continue playing and will have to get a refill at the gas station, which can take a while. Depending on the game level, you'll be able to experience various difficulties. But you can add weapons and boosters to your vehicle to level up these challenges with a better vehicle and boost your survival chances.
Game Features
The game features on Earn to Die are impressive for a 2D game. The game does offer an exciting collection of upgrades, vehicles, and excellent graphics. Check out the features below:
Game Controls
Suppose you've ever played a survival game before; you'll understand how important game controls can be. Thankfully, the developers paid much attention to details with the control options here and provided the right buttons to ensure your continued survival. For example, the movement buttons include the forward and backward, i.e., acceleration and brake.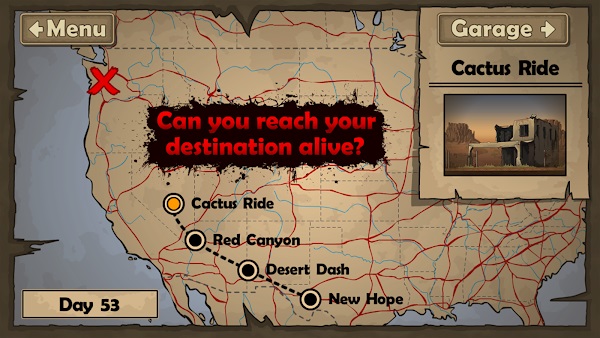 You'll also be able to regulate the game's turbo, which means you can determine how fast it moves when you use the turbo acceleration; however, since this consumes more gasoline, it's best to go at an average speed until you have an obstacle to overcome. Finally, you can use other action buttons to shoot the weapons and the booster.
Vehicles
This game has few vehicles, but the available options are pretty worth the scarcity. Moreover, it's the apocalypse; you don't get to choose fancy cars to survive. All the game vehicles are designed to allow for optimal capabilities for survival. Rather than build on fancy features, the vehicles are designed to offer protection from zombies and ensure it doesn't shatter when it collides with obstacles. There are 8 of these vehicles at your disposal; some include a race car, truck, and even a school bus!
Upgrades
There are various upgrades in the game, which is what the developers termed an Upgrade Galore. Asides from the default vehicle you get as a beginner, the other vehicles have to be unlocked before you can use them. So, you'll have to achieve quite some feats before the game vehicles are available.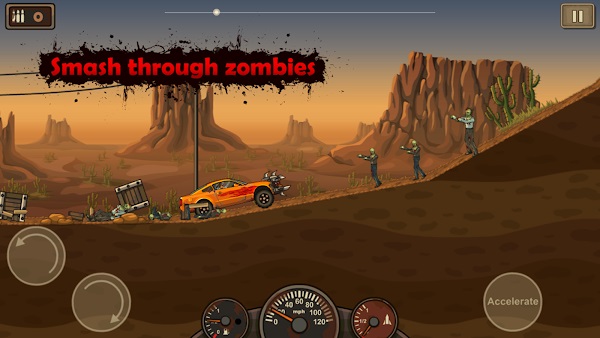 Likewise, you will eventually have to break some records to unlock the vehicle skins And features. For example, you won't be able to upgrade tires, boosters, and weapons if you don't reach certain levels. The more upgrades you have, the more resilient your vehicle will be when you attack zombies or have a long list of obstacles to destroy in your path.
Graphics and Physics
This is a 2D game, so the graphics don't give you much detail. But it does manage to create a background that reflects a post-apocalyptic world. As a result, you'll be able to see many details on essential game items, such as your vehicle, the obstacles, and the zombies. In addition, the game background has various options, so you won't be stuck with a single set but can change your environment as you drive through the deserted road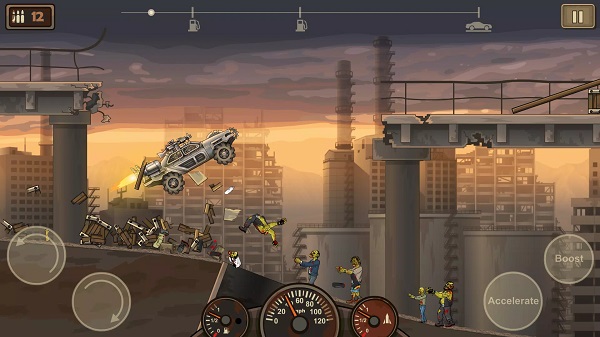 Game Modes
Players can select exciting modes to play on Earn to Die. You'll be able to choose from options like the Story, Championship, and Halloween mode, each with different features. The Story Mode is the typical game mode, while Halloween allows you to drive through pumpkins, and the championship will enable you to compete for a title.
Conclusion
Earn to Die is an enjoyable 2D driving and adventure game. The game doesn't have many levels to play, but it does have many vehicles, upgrades, and features that make the experience worth trying. Download Earn to Die to become a survival driver in a deserted zombie world.