Download Droid VPN APK for all-around protection of your device. Shake off regional restrictions, bypass firewalls, and enjoy anonymous browsing with Droid VPN.
About Droid VPN
Droid VPN is a VPN tool that enables the user to avoid unnecessary attention from the internet when they go online, regardless of which platform they use. In addition, you'll be able to protect many of your personal information when you go online with Droid VPN. That way, you can keep all-around protection when browsing with your device browser or on third-party internet apps.
The app shakes off the regional restrictions you might be trying to avoid, too, so that you can access files and services unavailable in your region. Like other VPNs, Droid VPN creates a different address for your device on the internet, making it seem like you're browsing from a different area. You'll also be able to escape firewalls and anonymously surf the internet however you like through IP address discretion, so no one knows you're online or on their website.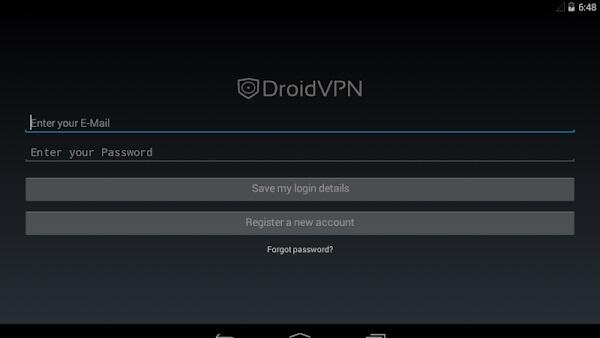 Although using the app means you'll have to root your device, this is also relatively easy and shouldn't take too much time. Once you've been able to root your device, you can freely enjoy the Droid VPN on your Android device as long as you use a compatible version. The app is also popular online for allowing users the browse the internet even if they aren't able to send ping requests or have their internet blocked by a firewall. It uses the ability to tunnel your traffic through ICMP (IP over ICMP).
DroidVPN Inc is the developer, and it's released a d continued to develop the app for more functionalities over the years. It's a free app though you might want to opt for the Premium plan to access some of the premium offers. Otherwise, you'll be able to use the necessary features freely on your device after registering. The content is rated for three years olds, so anyone younger won't be able to use the app.
Why Use Droid VPN
There are many reasons users now turn to Droid VPN for their internet protection needs; check out some of them below: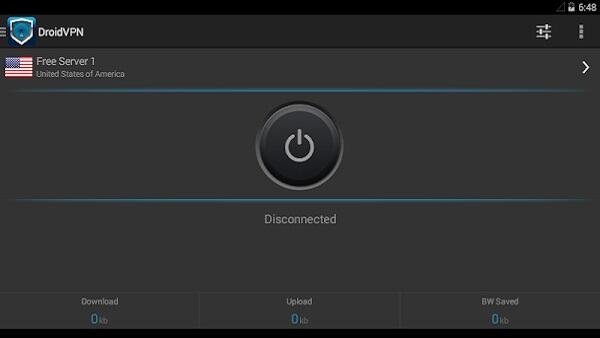 Get a boost for your internet speed when you install Droid VPN on your smartphone.
Create encryption for your internet traffic and regulate who sees your personal information.
Block and unblock various websites when you access their database.
Enjoy an ad-free browsing experience with the ad-blocker on Droid VPN.
Save network traffic when you use the data compression feature.
Create a diverse tunnel IP traffic when Droid VPN uses ICMP or UDP instead of IP.
Connect to hotspots for free and protect your device from getting hacked by hotspot connections.
App Features
DroidVPN is a reputable VPN platform with several years in the industry. Check out some of its excellent features below: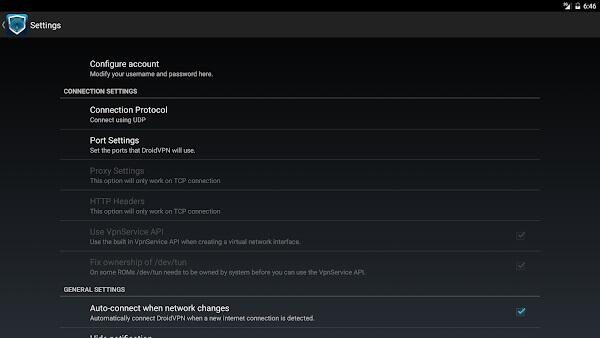 Simple UI
VPN services are often complex for users to understand and interact with, so users always look for simple platforms. Droid VPN offers this same service with a simple and user-friendly interface. The platform uses a simple layout and panels of features to allow users easily navigate the app to find anything they need. There isn't too much technical jargon on the app, too, so you don't have to consult Google every minute to get a good hang of what each term stands for. In addition, the app allows you to complete most of your activities in three taps or less.
Anonymous Browsing
One of its primary features and superpower is its anonymous browsing features. The VPN is ideal for keeping you anonymous throughout your stay online. So if you'd like to remain incognito and don't want any website to discover your real identity, you can use this feature on Droid VPN.
Hence, government or ISP won't be able to see what sites you visit from your device, nor would there be any traces to mark your internet behavior or sell your data to third parties while you are online. Website owners will not know where you're browsing from either so you can keep your real country hidden by the VPN.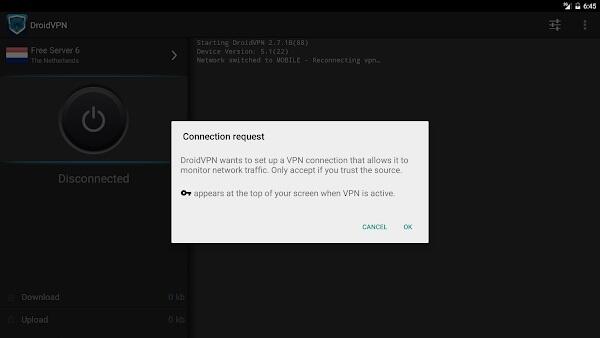 Fast Internet Connection
Thanks to the file compression, ad-blocker, and various other features, you'll spend less time loading unnecessary parts of the online pages. This will help you reduce the time spent loading pages and boost you're overall browsing speed. In addition, if your ISP is also throttling your internet, Droid VPN will help you speed up your internet connection and create a safer browsing environment.
Experimental Features
The app is quite functional and offers all the necessary features to make your internet and browsing experience the best. As an additional service aiming to provide the best user experience and updated features, Droid VPN also has an in-app feature that allows you to contact the developers and request experimental features. If you feel there is a feature missing on the app that should be made available by the authorities, you'll be able to notify them of the experimental feature, and they will integrate it for you.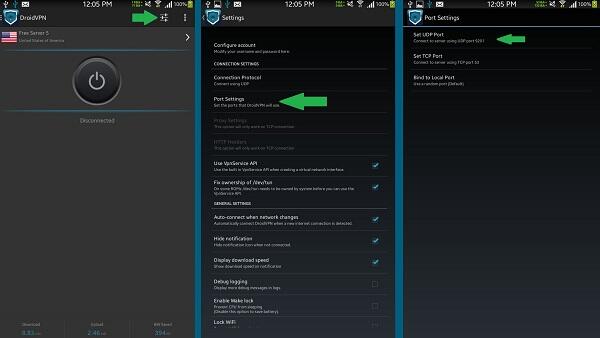 Server Locations
The platform is known for its extensive list of features and its broad base of server locations. Hence, you'll be able to access a wide range of server locations when you browse. Rather than be stuck with a few locations in your region, you can access over 300 server locations across the globe. These locations span five of the seven continents, so you can quickly select any regions closest to your intended sites. You'll also be able to choose specific countries and not just areas; available countries include the United States, UK, China, Korea, Germany, and many others.
Conclusion
Droid VPN is an android VPN that allows users to freely roam the internet without allowing access to their personal information. The app is ideal for creating an encrypted connection and a safe browsing experience online. It offers all the necessary features to visit websites anonymously, access geo-restricted areas, encrypt your internet connection and protect your data from the government, ISP, and website owners.