Download Dragon Hills APK game for a fun, dragon-filled adventure. Take control of your dragon and soar the skies while fighting knights you come across on your way!
Dragon Hills
Dragon Hills is a mobile arcade game where the princess takes charge and controls a dragon. The game is very different from most popular fantasy games. In the game, you play a princess who sets out to destroy anyone who disguises themself as a knight.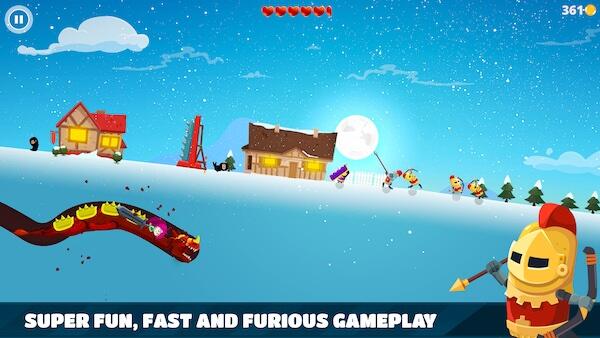 It's very exciting and fun to play. The graphics are amazing, and you can play online with other dragon hill gamers.
Get the Dragon Hills download and gain control over your dragon today.
Game Description
Dragon Hills was developed by a Polish developer, Cezary Rajkowski or Rebel Twins, in April 2015.
The game follows a princess on her quest to destroy all fake knights. With her dragon, she flies through the city to complete her quest.
There are hundreds of levels for you to play and multiple updates to buy. At the end of each level, a boss is guarding the gate. To complete the level, you have to defeat the boss; then, the gate will be opened for you to progress to the next level.
You earn lots of money when you kill the boss. You also get power-ups to use for the next visit. Your dragon will wreck lots of rampage around the city and destroy animals, trees, knights, etc.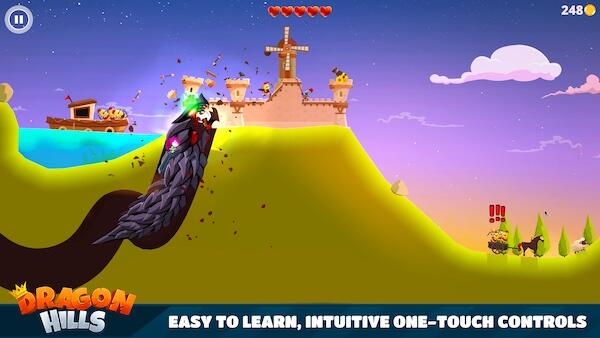 You must learn to move carefully without hitting obstacles or killing the dragon. Dragon Hills has an old-school arcade game style that makes it fun and nostalgic for older players and interesting for younger players, as well.
Level up, gain coins, and learn new tricks in this amazing arcade-style game.
Download Dragon Hills latest version and start playing with your dragon. Fly around the city and collect as many coins as you can. You'll need them to upgrade yourself.
Features of Dragon Hills
Dragon hill has lots of interesting features you'll love;
Dragon hill has a fun and exciting gameplay that you'll love.
There are lots of battles within the game. Fight other characters, fight dragons and come out victorious.
The game world is very large and destructible. You can destroy buildings, trees, etc., while fighting.
You can upgrade your weapons, explosives, and armour. You can also buy power-ups and other bonuses.
Dragon Hills game controls are very simple and easy to use. The user interface is also well designed.
You can compete with other players and compare scores through the leaderboards. Rise to the top of the scoreboard and become the number one dragon hill player.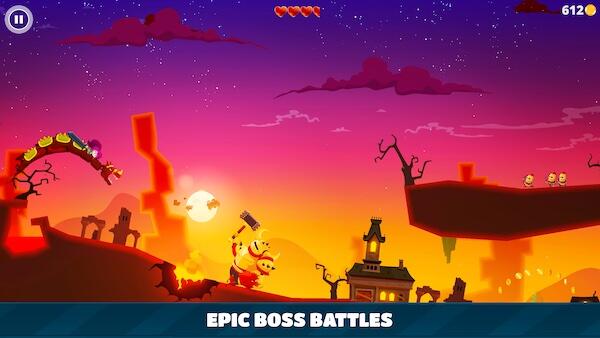 Get the Dragon Hills free download today to access all these innovative dragon hill game features.
Dragon Hills Gameplay
Throughout the game, your character, the princess, rides on the dragon and fights knights, collects coins, and eats animals.
The game controls are amazing. With a single tap, your dragon can fly high, move along the hills, or burrow into the ground. The game's main point is for the princess and the dragon to conquer any obstacle and defeat evil.
Digging a tunnel in the ground with your dragon helps you avoid obstacles like mountains, rivers, reefs, thorns, etc. This keeps the princess and the dragon safe and lets you win coins underground. Once you're successfully past the obstacles, you can climb back up be continue to fly your dragon.
You must continue tapping the screen to keep your dragon near the ground. Once you release your hand, your dragon will go higher. Dragons cannot fly for extended periods, or they will become tired and stop to rest. If they're too tired, they'll have to crawl.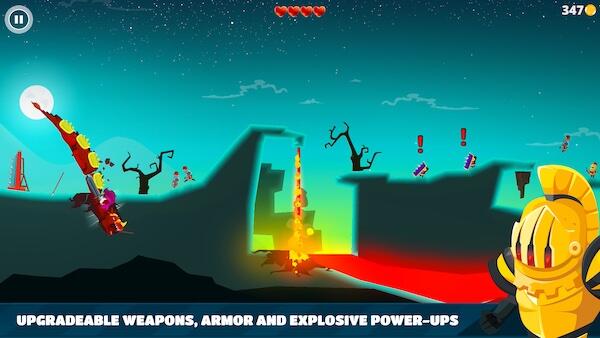 Get Dragon Hills unlimited money and have fun flying around with your dragon.
Dragon Hills Game Graphics
Dragon Hills has a vibrant outlook, and the graphics are very colorful. It reflects a classic cartoon design with cheerful colors and sharp animation. Because the story is similar to a fairy tale with princesses and castles, there are many animated ancient towers, curved roofs, and of course, a dragon. This iconic dragon is large and colorful!
The game has a very simple and fun design. It looks very cute and full of color. The characters in the game, including the princess, have detailed designs. Their facial expressions change in the game and make them look funny. The villain also has interesting facial impressions.
Overall, the game has cool graphics and a great design.
Game Audio
Dragon Hills has a very rich audio selection. Its background music is very soothing and melodic. The audio also helps set the scene for the villains and makes you anticipate the fights in the game.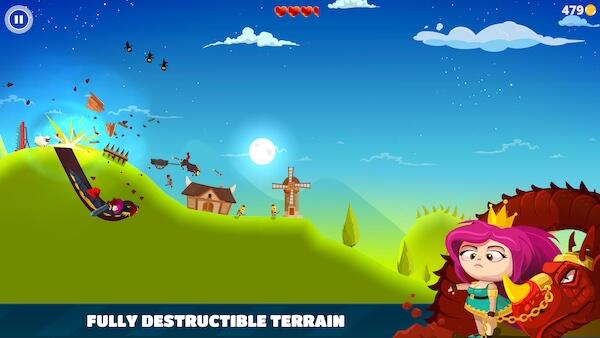 The audio matches the mood of the game. The audio and lighting effects of thrilling scenes become more exciting and eye-catching.
Overall, the audio effects in Dragon Hills are much better than in most games. It immerses you in the game and makes it much more enjoyable. The tunes will be stuck in your head long after you're done playing.
Conclusion
Dragon Hills gives a new spin on the classic fairytale game. Instead of waiting to be saved from the dragon, the princess saves herself and takes charge of the dragon. It is a very simple game that lots of people will enjoy. Win points by eating knights and destroying things. Dragon Hills is great for casual gaming, and people can relax while they play.
The game design and game controls are very well done. It allows players to navigate the game easily by simply tapping their screens. You're also free to upgrade your dragon and weapons as much as you want.
Dragon Hills will definitely interest you if you're a fan of fun, simple games. Wonder through the dragon hill kingdom and enjoy the beautiful scenery.
Download Dragon Hills for android and iOS today and enjoy playing this addicting mobile game.