Download Dino Bash APK now and engage in the most awesome battles set in the prehistoric era. Create your unique dino squad and protect your egg from hungry cavemen!
Game Overview
If you have ever wondered what it would have felt like to exist with dinosaurs in the prehistoric era, then Dini Bash gives you an idea. Dino Bash is an exciting game released by Tilting Point set in the prehistoric era. In this fun game, you get to help a solid team of dinosaurs protects their special egg from hungry cavemen.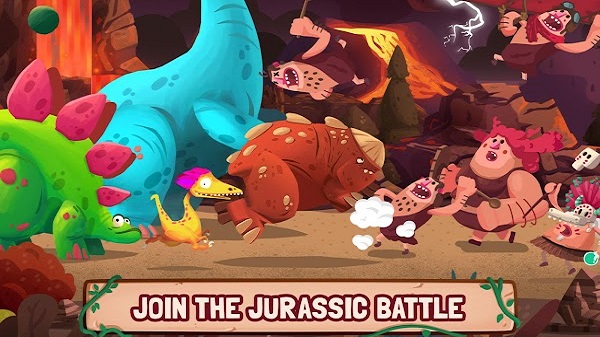 History (and several fictional works) has portrayed dinosaurs as powerful and ruthless creatures. However, Dini Bash creates a world where dinosaurs are seen as cuddly (yet dangerous) animals who would do anything to protect their egg.
Dino Bash features mild violence and is not necessarily mentally tasking; even an infant can play!
Gameplay
Dino Bash is a really easy game to play. Your goal is to defend the dino territory and prevent cavemen from capturing the chosen egg. The fun part about the game is that you do not play as a single character; you assemble a team of powerful dinosaurs to fight the crazy cavemen.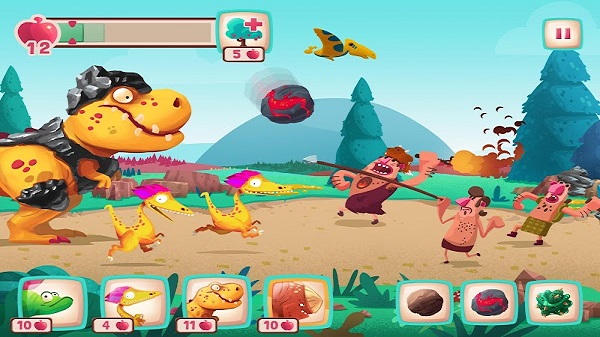 In the course of the battle, your get to defend the dinosaurs by selecting attack options/shots located at the bottom of the left side of your screen.
You need to develop smart strategies and upgrade your dinosaurs and weapons to bring down your opponents. The game features unique gameplay that is both fast-paced and engaging.
Game Features
Dino Bash is one of the best games in this genre and is known for its many outstanding features. Here are some of the game's features that make it one of the most addictive games ever:
Exciting Battles
As a gamer, you never get bored with Dino Bash, as the game allows you to engage in numerous thrilling battles. Each battle is packed with new challenges and different scenes that let you show off your amazing strategies and battle skills.
The battles get engaging as you play and you begin to love the amazing team of mighty dinosaurs you have assembled.
Multiple Levels to Unlock
The game is even more interesting, with over 100 levels to play. This means that game does not end very quickly, and you get to play on and on. Reaching the end will take a while, so you enjoy the game as long as possible.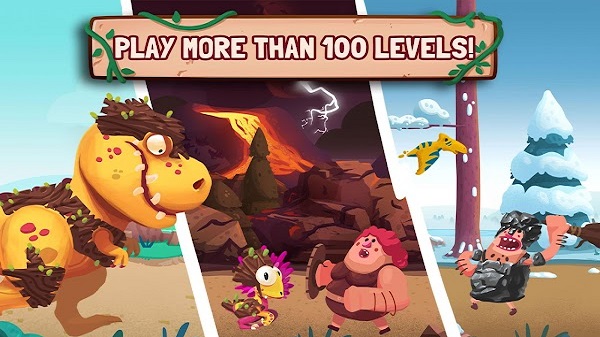 Unlocking a new level is a fun challenge that keeps the game exciting and gives you much more to look forward to. There are different scenes to explore, different opponents to take down, and much more.
Loads of Dinosaurs to Create your Team
When you play initially, you only get to summon Snappy with an apple as the first warrior on your team. As the game progresses, you can summon more dinosaurs at each level. You also get to unlock new dinosaurs instead with the money you earn when you win a battle.
Each dinosaur has its peculiar strengths, shape, and characteristics. They all add something different to your team, and it is important to identify their strengths and strategically position them when engaged in battle.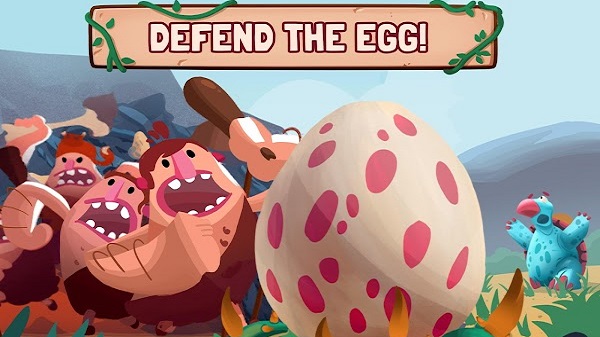 For instance, Frosty's special ability is to throw ice rocks at cavemen. Since Frosty's ice rocks can extinguish the fire, it would only be smart to utilize Frosty when battling cavemen with fire torches. This way, you have the added advantage to bring down your enemies.
Dangerous Shots to Support Your Dino Team
This is where you come in when engaging in battle. You get to support your dino team by sending attack shots to take out the cavemen or to help your team. Here are some of the shots you can choose from in the game:
Poison Shot: The most powerful shot used to take down cavemen not so close to the egg. The poison shot disables the enemies for as long as 10 seconds.
Rock Shot: Simply used to occasionally drop chunks of rocks on your opponents.
The Hunk: Similar to the rock Shot, except the chunks of rock are way larger. You can also unlock the double hunk, which allows you to attack cavemen with two consecutive large rocks.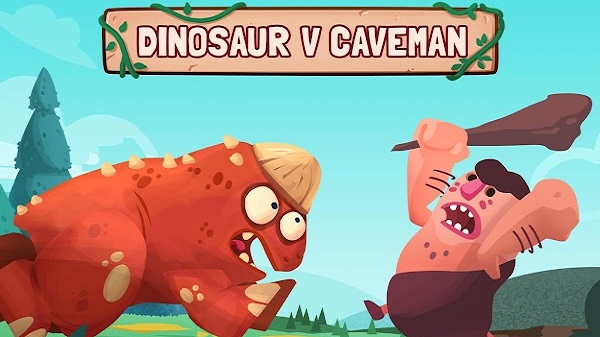 Cluster Shot: To send a barrage of rocks flying in the enemy's direction. Even though it doesn't do as much damage as other shots, it is still quite useful.
Healing Shot: As the name implies, the healing shot heals injured dinos in your team.
Volcano Bomb: A very deadly shot that instantly explodes. It is used to take out a large number of enemies.
Ice Rock: Used to immobilize cavemen by freezing them. Also used to take out flaming torches.
Except for the healing shot, you cannot send these shots to your team. i.e., they cannot be hurt by these deadly shots.
These shots are essential and can determine if the battle ends in your favor or if the cavemen take down your team. You dinos cannot win independently; your role in the game is essential.
Upgrades
At each level, the battles get more intense and challenging. To strengthen your team, it is important to boost your dinos before moving on to another level to help you take down more difficult opponents. You can make upgrades with the money rewarded after each battle and unlock new dinos to add them to your team to make it better than it ever was.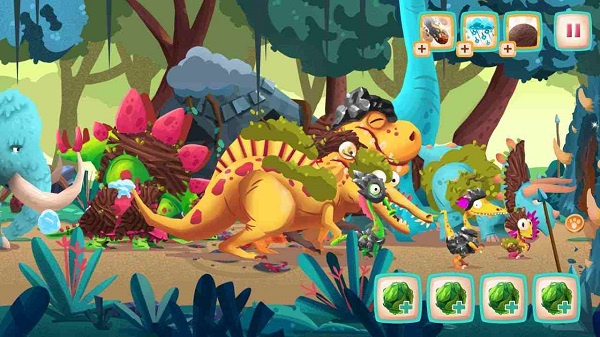 When upgraded, your dinos can cause more harm to cavemen and also get more life points. Since you need all the effort, you can get to protect the eggs, it is very important to level up your dinos as you progress in the game.
Impressive Graphics and Audio Effects
While the Dino Bash is designed with 2D cartoon graphics, it still boasts amazing picture quality and gaming effects. The game utilizes strong, colorful designs and top-quality audio effects to give you the most outstanding gaming experience.
Conclusion
Dino Bash is the best dinosaur-themed battle-action game of the moment. The game offers you premium gameplay and keeps you entertained at all times. You never run out of thrilling battles and fun activities to take on. What, then are you waiting for? Play Dino Bash today!


Join Telegram Group
Download Dino Bash APK now and engage in the most awesome battles set in the prehistoric era. Create your unique dino squad and protect your egg from hungry cavemen!