Download Dead Zed APK, the epic zombie shooter game, and test your gaming skills. Fight your way through this horde of terrifying zombies and merit your survival!
About Dead Zed
Dead Zed is a custom action battle game involving the player trying to survive a zombie apocalypse in a region of the world. The game was developed and offered by a gaming company named Not Doppler and was released on the 27th of August, 2019. Dead Zed is available on Android and iOS devices and functions with a minimum operating system of Android 5.0.
The game is one of many zombie shooter games available; however, Dead Zed is in no way inferior to any available games. Instead, it is a contemporary game, thus portraying such in its gameplay, setting and storyline.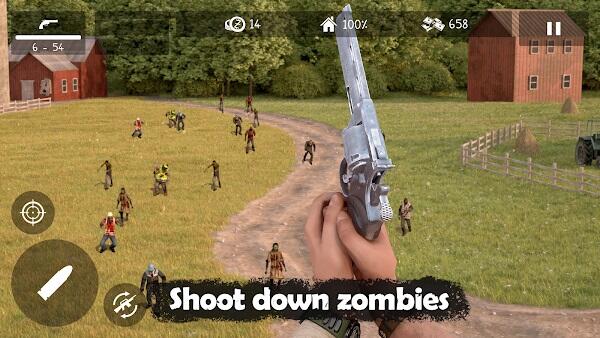 Dead Zed's specific mission is evident throughout the game: to survive among blood-thirsty zombies. It is a first-person shooter-style game, and the player is completely absorbed in this adrenaline-pumping battle rush.
Storyline And Gameplay
The game randomly begins with the player on a rooftop, without little or no idea of the events that led to that situation. However, you realise that terrifying zombies surround you and must survive the situation. You are provided with guns and quickly begin to shoot your way out of your current position to find a base for yourself. The information shows that military forces will rescue you later, but you must hold out for 40 days. Can you survive in this situation for 40 days? Let's find out.
While at your base, you will encounter other survivors who would want to lodge with you. You will prepare for battle and map out your survival tactics with your new teammates. More survivors will locate your base and request to be carried along with your team. As your team increases, so does the need for better resources and facilities.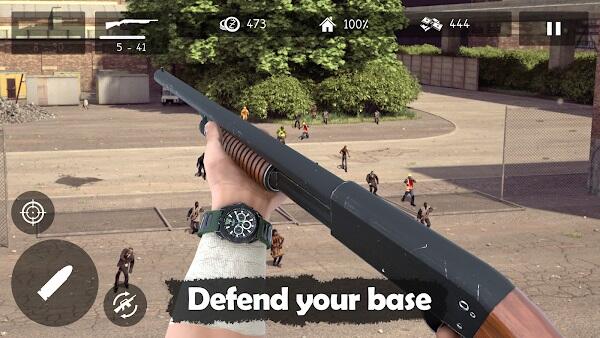 You will have to go out with your team members from time to time in groups to carry out missions and hunt for resources, keeping in mind that you are the gang's leader. In the beginning, the zombies are quite easy to take down, and you may not require heavy or special fighting machinery. Still, as the levels advance, they become more terrifying and tougher to eliminate, hence the need to upgrade your weapons to be able to take down the beasts.
You are allowed to take only two guns on your missions, so decide carefully before you select, bearing in mind the zombies' resilience and the weapons' different capacities. As you go out, you will find different machinery, tools and resources that you can add to your arsenal. A good tip to have in mind is that the zombies are best targeted at their heads for the most effective kill. You should therefore aim at their heads to save time and resources.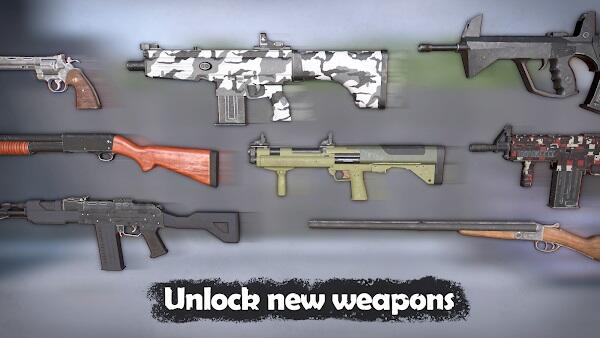 The zombies are constantly on the move, so should you be. Unfortunately, there isn't any particular safe hideout for you as the zombies could figure out your location and swarm in on you. In this case, you should always be alert and ready to migrate when needed. The strength of the defence of your base is shown in the corner of the screen, and it decreases when your base becomes overwhelmed with zombies. You, therefore, must put in the effort to keep the percentage from diminishing as it affects your final score and the value of the reward to be received.
Missions and Rewards
The game provides missions and quests that happen in different locations. When the missions and quests for a particular area are completely carried out, you can move to another area. The scenery of different areas differs by a wide range, from abandoned buildings, deserted cities and suburbs to open civilisation and exotic parks. However, the missions are not so different from each other and involve killing zombies in the given locality before moving off to a different locality.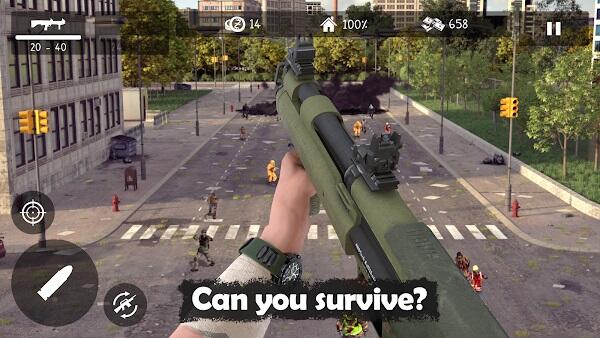 When missions are completed, the player is rewarded with gold coins and bonus points used to make upgrades and purchase new and stronger weapons.
Amazing Features in Dead Zed
- Highly realistic and detailed graphics. Dead Zed uses slick and conventional 3D graphics with integral details. The buildings, streets and even vegetation are positioned and represented excellently. The motion and physics of the first-person shooter and even the zombies all add up to give a fantastic visual experience.
- High-Quality Sound Effects. The sound effects are also well represented; the sound of the gun, the sound of running and even sounds made from simple contact with objects bring the game to life. The zombies also make very realistic, terrifying sounds.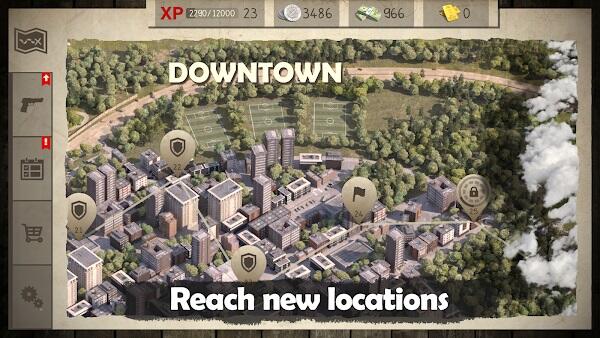 - Free to Play. Dead Zed is a free game; all you need to do is download the game and begin to enjoy it. There are, however, provisions for in-app purchases for certain equipment to get the best out of the gaming experience.
- Exotic Range of Weapons And Arsenals. There are many various weapons to choose from, buy and upgrade in the course of the game. They range from handy pistols for the short-range to snipers and bazookas for multiple shooting at once.
- Keep Track of Progress. With Dead Zed, you can always save your game progress and continue from where you stopped when you returned by simply logging in to your Facebook account and connecting with the game. This way, you can continue even when logged in on a new device.
Conclusion
Dead Zed promises to keep you invested through your gaming period with its addictive features. While the game's settings are much similar to many other 3D action battle games, the concept is quite attractive, and the graphics and storyline all add to give the game a remarkable review.


Join Telegram Group
Download Dead Zed APK, the epic zombie shooter game, and test your gaming skills. Fight your way through this horde of terrifying zombies and merit your survival!