Download Dead Warfare APK, an RPG game with a fascinating storyline, fantastic mechanics, and cool in-game weapons. Survive the zombie apocalypse solo or with your team!
What You Should Know About Dead Warfare
Dead Warfare is a 3D action RPG game developed by VNG Game Studios with over ten million active players worldwide. The game was published in 2019 and is available to play across mobile devices using the Android and iOS operating systems. It's a game rated 17+ for the action, gore, and technicalities involved in the game.
The free mobile game contains ads and in-game purchases to generate revenue. Although released in 2019, the game is updated at intervals with new in-game features to keep the graphics and gameplay stylized and modern. In addition, the game incorporates multiplayer, competitive multiplayer, and single-player modes into its gameplay.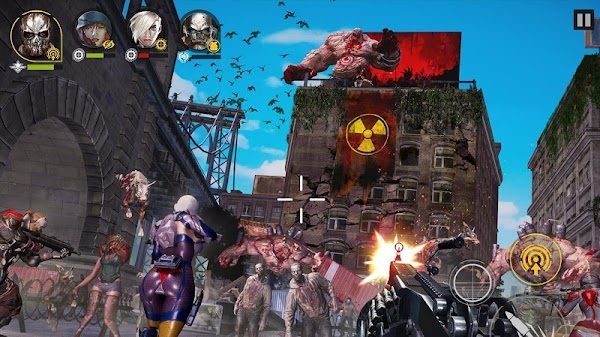 The action in the game is non-stop, with multiple missions and objectives in single-player and multiplier modes. However, the addictive action RPG game is an online game, i.e., it requires an internet connection at all times to play. As you play your mobile devices, the game saves your progress to your gaming cloud, and you can always pick up wherever you left.
The Dead Warfare Storyline
You might say there are already too many zombie-themed action games, but Dead Warfare's unique storyline will immerse you in the game for several hours. The 3D graphics combined with the storyline make it more realistic and captivating to play than any zombie-themed game. As expected, the game is all about surviving the post-apocalyptic world of zombies.
You (your hero) and a handful of others are the remaining ones left after a majority of humanity turned into zombies. As a result, you're involved in unending combat with zombies who just happen to be very hostile. Fortunately, you're not alone in the battle with rangers stationed in places to keep humanity safe. These rangers and heroes were given superpowers that even one hero is a strong force to contend with.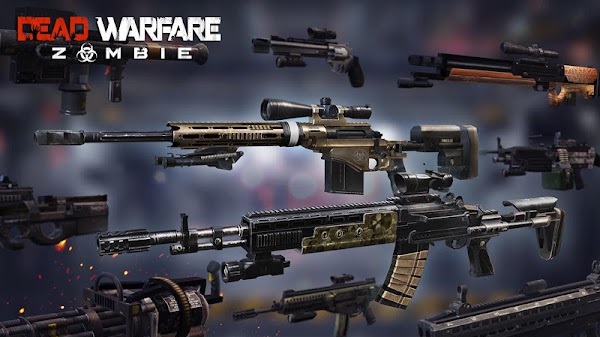 When you launch the game to play, you get to pick a character, customize it, and name anything you wish. There are male and female characters, so you have free rein to pick from different avatars of a particular gender.
The Graphics And Scenery
Dead Warfare was designed in 3D and greatly details characters, game items, places, and animations. From the heroes you use to the weapon you pick, you have the chance to check them out in 360-degree view before you engage them in combat. The battles you'll be fighting are spread across different sceneries as well.
One scene that stands out is an abandoned park with different fun shops and a looming Ferris wheel. The action in that particular scene takes place during sunset with bats flying across the sky. With spikes on the road and rabid zombie animals on the loose, the scene is one of the many that stands out in the action RPG game.
You get to fight zombies at night, during the day, and during twilight. Asides from the park, there are a host of other locations, including an abandoned alley, a major residential street, and a host of others.
Gameplay
The gameplay is smooth and easy to grasp as everything you need to play the game is laid out simply on the game's screen. When playing, there are four major commands to the right of the screen (or left if you'll like to change the settings), and they include a button to target, fire, reload, and activate power-ups.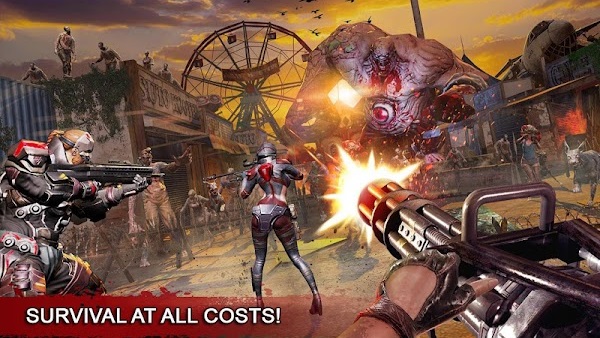 The other side of the screen is where you control the movement of your hero to take aim at zombies and escape attacks. Also, to give you a fair advantage over the myriad of zombies you have to kill off, you'll get a warning in the form of a red skull and the direction from which the zombie is coming.
Usually, the many zombies you have to kill are humans that turned, but at a point in your missions, there'll be huge bosses who are heavily armored and do not die easily from bullets. Hence, your choice of weapons matters a lot in your objectives.
Weapons
There are different weapons to pick in battling the zombies, which is where you might have to start making in-game purchases. The weapons include but are not limited to:
Pistols
Shotguns
Rifles, and
Machine guns.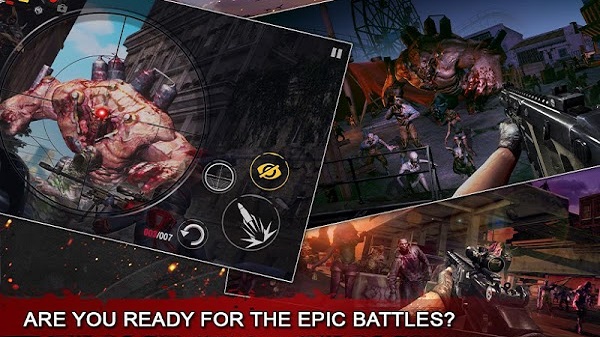 Generally, the game tells you what kind of mission you're going on; hence you can decide beforehand what weapon you want to pick to best suit your objectives.
Multiplayer Modes
There are intense multiplayer combats you can engage yourself in by picking your friends to face zombies or fight another multiplayer team. Your teammates can be anywhere in the world as long as they're also connected to the internet to play the game.
Aside from paring with other players worldwide, you can also assemble a team of heroes yourself in the game. Again, there'll be a window for team management where you can upgrade your members and ensure they're in the best forms to go for zombie battles.
How To Survive Missions In Dead Warfare
Surviving missions in Dead Warfare gives you extra points and in-game money to purchase guns and level up your hero. This will also determine your progress in the game and help unlock more missions. As a result, you must beat objectives and survive each mission you embark on singly or with your team members.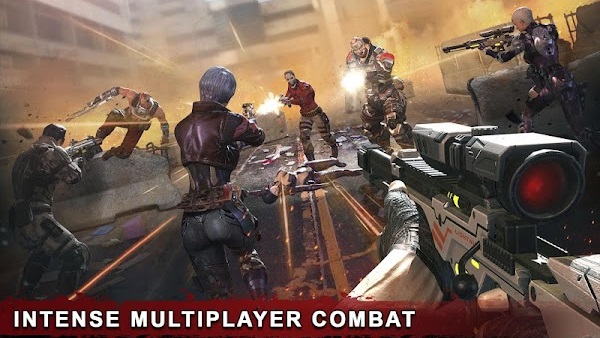 If you're on the single-player mode, surviving a mission largely depends on the type of weapon you use and how you utilize your superhero powers. However, in multiplayer mode, you should have a strategy with your team on how to ward off zombies and fight against other multiplayer teams. Alongside strategy, your team should effectively manage their weapons and use power-ups.
Conclusion
Dead Warfare has millions of players, with more gamers joining the community daily. There are regular updates by the game developers to keep the game interesting through new missions, weapons, and other fascinating features. The game remains one of the highly recommended action RPG games on app stores, with many positive reviews since its release. Experience thrill, suspense, and unlimited action as you dive into the world of zombies!