Download Cut the Rope 2 APK and get to upgrade your problem-solving skills. Cut the Rope 2 is a challenging yet entertaining game. Hop on to enjoy the thrills.
Cut the Rope 2
Cut the Rope 2 is a challenging yet entertaining game. As the name implies, it requires you to cut several ropes to move the candy around each level. Cut the Rope 2 has added plenty of new characters to spice up the game and top up the dynamics of the game.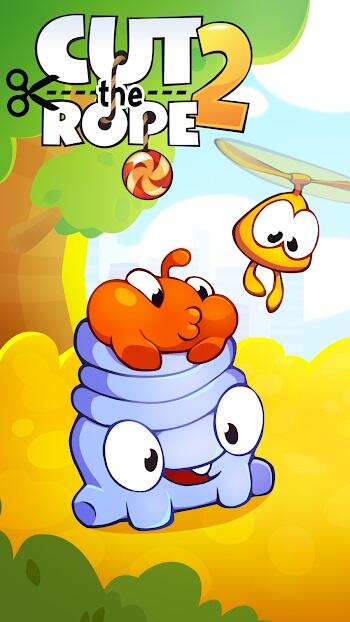 Cut the Rope 2 video game is combined with balloons, wood block, a fan, powerful magnets, and other characters to help put candies in Om Nom's mouth. In cut the Rope 2, you are required to complete over 100 levels and capture stars. This game was developed and published by Zeptolab – a global gaming and entertainment company. Cut the Rope 2 is available for download on all mobile devices.
Cut the Rope 2 Description
Cut the Rope 2 is a mobile video game where you have to feed Om Nom, the main character, some candies. This game has up to 120levels to play and complete. It has familiar gameplay with new game elements. The main objective of the game is to use several characters and tools to make Om nom stay happy with a lot of candies. Cut the Rope 2 features following the Om nom around several worlds to feed him with his precious candy.
Sweet-toothed Om Nom likes candy; hence as you play each level, you have to provide it with some candies. In the game, another is to cut the right ropes combined with newly introduced tools (balloon, magnets) and nommies (other characters serving as helpers). These tools help you force every piece of candy on each level to fall into Om Nom's mouth. Doing this can be challenging, however, it is fun.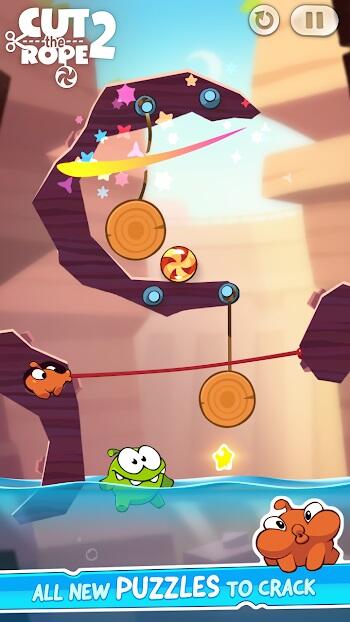 As you play on, the game gets thrilling and interesting. One of the Om Nom friends is introduced at some point, and he is called Boo. Boo is known to scare Om Nom, making him jump from one height to the other.
The major difference between Cut the Rope 2 and the last is the introduction of some new friends called the nommies. Each of the nommies has its levels and mechanism for helping with the puzzle video game to help Om Nom get his candy. Blue, one of the nommies is so helpful in that whenever you touch blue, he makes a replica of himself which then stack up on each other and then collapses, forming a bridge helping you get some candies. Doing this is amazing and fun.
Another difference is the way Om Nom in Cut the Rope 2 is charming with his customized hat. Poking Om nom makes him wiggle around, which is exciting and enjoyable while watching. Asides from the feeding of Om nom, there are some extra goals to achieve in the game, such as the feature of a three-star walkthrough. This connotes that you must get three stars on each level.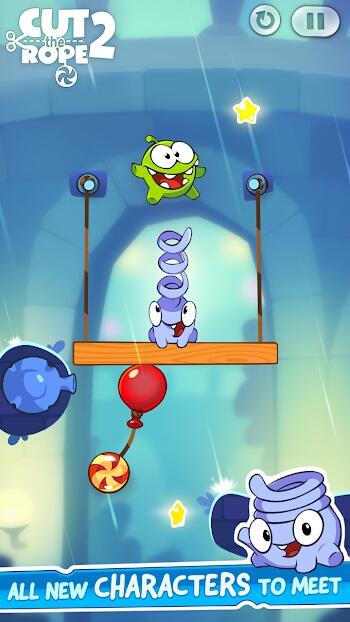 In addition, if you get stuck in the game, there are some helpful aids to help out. However, they come at a price. For example, there is a friendly firefly that will show you how to get three stars on a level. Another power-up option which rains candy till you get the three stars in the level. Cut the Rope 2 is dope!!
Features of cut the Rope 2
Some amazing features make cut the Rope 2 video game distinct such as;
Introduction of new nommies
Asides from Om nom, the candy lover, and the main character, there are some other friends Om nom has who are called nommies. Meet the nommies and what they will help with: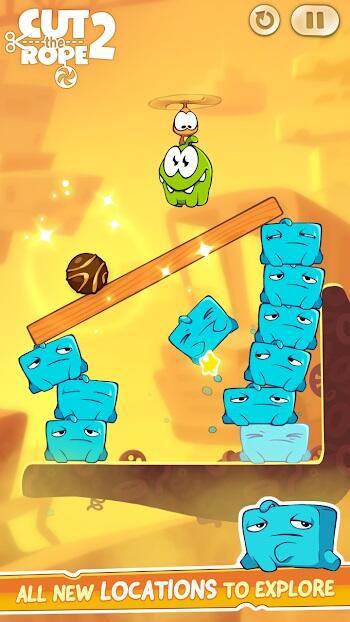 Blue – makes a replica of himself to help Om Nom reach a new level of candy hunting
Lick – make small bridges to help Om Nom reach his goal of eating candies
Roto – carries Om Nom to the best candy location
Boo – scares Om Nom to jump to new heights
Snailbrow – he bravely rolls on walls and ceilings just to pick candies around like the boss
Ginger – he can burn away obstacles between the Om Nom and candy.
Toss – throws objects in the air. You can use her to boost candies and Om Nom himself.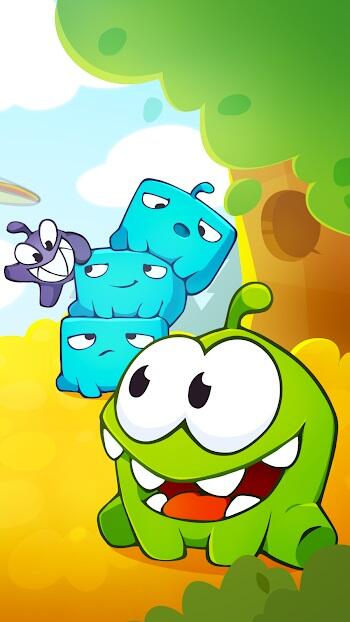 Customization option
With this feature, you get to customize Om nom in whatever set of clothing you want. It could be royal dressing, superhero, valentine, or Christmas. Also, you will get to purchase various looks for the candy and Om Nom.
In-app purchase
For those who live the game and are stuck at some point, this feature is helpful as it helps you get some helpful aids. This is quite cool because you will get moving; these aids speed up the process.
Conclusion
Cut the Rope 2 is a thrilling, exciting, and challenging game. The user interface is awesome. Also, Zeptolab has added some amazing features that will help you enjoy the game. Download the app now!!