Download and install Crayon Icon Pack APK to enjoy an unlimited number of incredible wallpapers and awesome icons that give you the feel of colorful crayon drawings.
Crayon Icon Pack Introduction
Crayon Icon Pack is an Android app that assists in changing the icons on your mobile device into a funny and special set of icons with a fun crayon drawing style, including sweet pastel tomes
Working closely with the phone's launcher, icon packs are often pretty cool and are available only to Android phones. You will have a lot more fun, energy, and excitement with unlimited styles of impressive icon sets.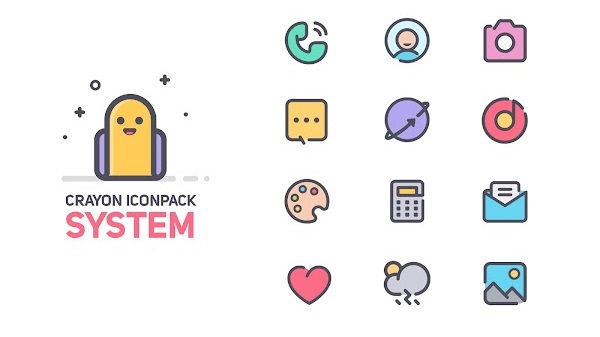 How often do you view the screen of your phone in a day? Just a teeny-tiny change to your phone's outlook can improve your feeling.
There is no surprise why Android users consider icon packs when they want to change the screens of their phones. But, of course, everyone has their preferences and tastes. If you prefer round, soft, small, and beautiful things, like pastel tones, similar to the feeling of liberal drawing of crayons, then Crayon Icon Pack might be the right app you need.
An Awesome Number of Icons
Some of the most popular themes of icon packs include cartoon themes. But there are different animation styles, such as pixel style, black/white-toned style, anime style, angular humor style, and so on. This app works with cartoon themes and pretty pastel colors. Some colorful crayons create each detail on every icon of this app. Its brushstrokes are both sharp and gentle, with a nice touch of symbolism. This icon set will encourage the spirit of purity, energy, and loveliness. Crayon Icon Pack provides a unique style even in the digital age.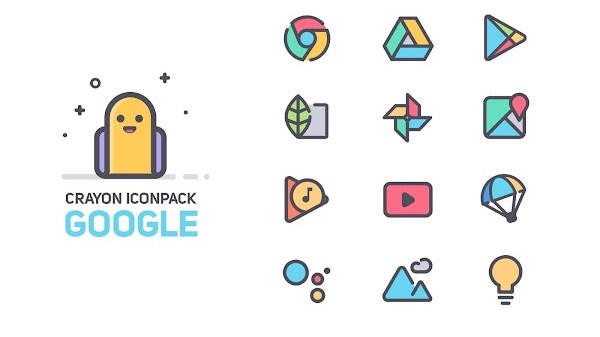 Crayon Icon Pack possesses several icons. The app boasts over 5000 icons and unlimited HD wallpapers you can choose from. You can set any of these wallpapers as your main screen in the same style as your chosen icon set. There are periodic and continuous updates to these icons to introduce completeness and richness. Crayon Icon Pack is designed so that the icon will be displayed on the screen, whatever the game you are playing or the app you are using.
Several Customizations
While applying Crayon Icon Pack to your Android phone, you can select different display sizes. If you want the small icon style to occupy space and reduce clutter, you can change its size to 85 percent. On the other hand, if you prefer large icons that are easy to see, you can set the size to about 100 and 120 percent.
Extra Features
Besides providing you with a beautiful cartoon-themed icon set, you can do several things with Crayon Icon Pack, such as: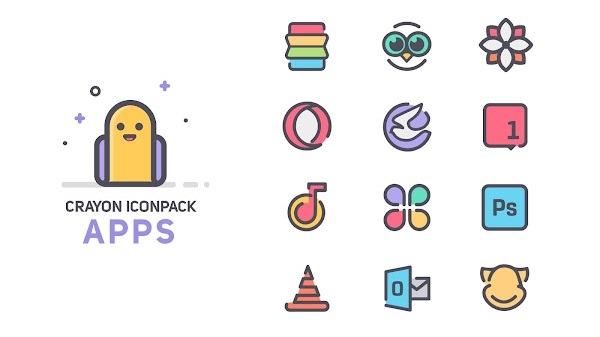 Icon Preview and Search: You can preview and find icons on time with this app. You can use this feature to determine whether the app possesses icons for the entire games and apps you use.
Dynamic Calendar: You will also enjoy the availability of a calendar sectioned by day, month, and year with the equal initial design style of the pack.
Material Dashboard: Here, there are easy-to-read and easy-to-see controls.
Custom Folder Icons: This will help you as a user to manually set the icons of different folders.
Category-based Icons: The icons of this app are divided into several categories on your mobile device (such as icons for games, Google icon clusters, and so on) to make using your phone and navigating the apps easier for you.
Custom App Drawer Icons: For some unique or different applications that are not among the 5300 available icons, you can use this feature to create your personal icons by drawing them with crayons, as suggested in the app.
There's Always Something New
You can choose several colors, and you can mix-match them to set up a design special to you. Icons are amazing, and the customization options it allows makes it easy for users to personalize their phones.
The launchers Compatible with Crayon Icon Pack
These launchers can work effectively with Crayon Icon Pack; if you don't have any, you can easily download them. Consider the following launchers: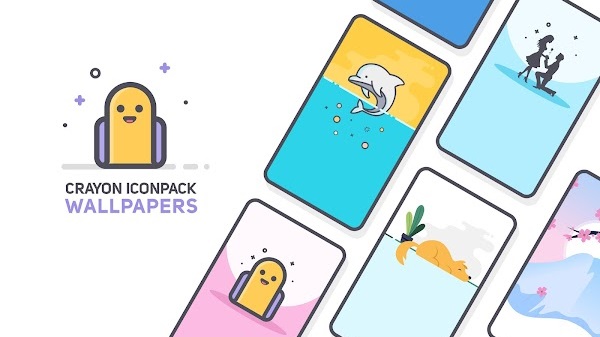 Lawnchair, L Launcher, Evie launcher, ABC Launcher, Zero Launcher, ZenUI Launcher, V Launcher, olo Launcher, Smart Launcher, Noval Launcher (this particular one is recommended), Nougat Launcher, Next Launcher, Mini Launcher, M Launcher, Lucid Launcher, LG Home, Holo Launcher HD, Holo Launcher, GO Launcher, CM Theme Engine, Aviate Launcher, Atom Launcher, Apex Launcher, ADW Launcher, and Action Launcher.
Launchers Not Currently Compatible with Crayon Icon Pack
The following launchers do not currently work with Crayon Icon Pack. If you are interested in trying Crayon Icon Pack and are using any of these listed launchers, you may have to uninstall it and apply the one that can work with Crayon Icon Pack. Consider staying away from these launchers below:
Poco Launcher, Flick Launcher, Open Launcher, S Launcher, New Launcher, MN Launcher, KK Launcher, iTop Launcher, Launch by Quixey launcher, Z Launcher, Peek Launcher, Mesh Launcher, Line Launcher, Cobo Launcher, ASAP Launcher, and Arrow Launcher.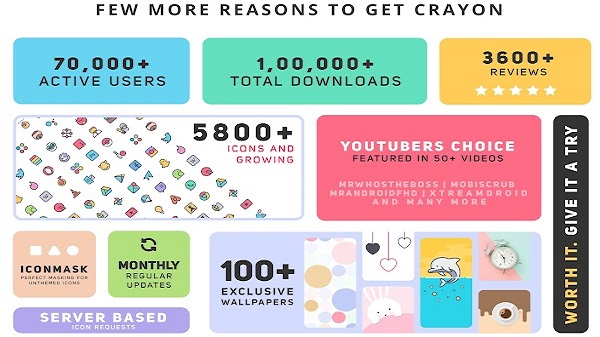 With the right launcher, you can create a unique icon set on your mobile device using the Crayon Icon pack. This is a pretty convenient app that provides you with a beautiful cartoon style. Crayon Icon Pack is easy to use and customizable to your taste. It is also compatible with most modern launchers.
Conclusion
If you want to give this app a go, do not hesitate to download it. Crayon Icon Pack is a third-party safe app to download, so you don't have to worry about anything. In addition, by downloading Crayon Icon Pack, you will be able to make use of awesome wallpapers and several incredibly cool features you can play around with.
Crayon develops Crayon Icon Pack, and many people choose it as their ideal app for wallpapers and icons. Everyone who likes changing the look and feel of their phones would find this app useful.