Download and install Crashlands APK and explore the world of a strange planet. This is a game that provides players with a feeling of belonging in another world.
Description of Crashlands
Players that love adventure games in the survival genre would be familiar with Crashlands. This game was inspired by another game called Don't Starve, which is also a survival game. While playing Crashlands, you will explore several mysterious lands, battle powerful enemies, and uncover some hidden mysteries in the game. Just like other games that belong in the same genre as Crashland, your mission will involve collecting several items in the game.
Another important mission is that you have to survive on a planet called Woanope and overcome a series of difficult challenges waiting for you. You will have to carry out several quests if you intend to survive in this game. You will have an opportunity to learn about the terrain and environment of this strange planet. You will move around to find resources and also participate in some battles where you will fight some dangerous monsters that are trying to stop you from achieving your goals.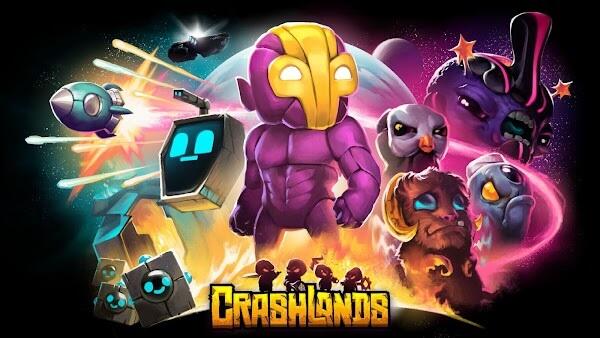 Your adventure on this strange but dangerous planet will compel you to use your survival skills to remain alive in the game. You will love the gameplay of Crashlands. One of the tasks you need to carry out involves driving a vehicle to transport between galaxies, but one day you find yourself stranded on a strange planet known as Woanope, but you have a companion – a robot. This robot will provide details about how you can stay alive and gain back your lost goods. The strange plot of Crashlands will be appealing to you.
The Gameplay
Crashlands is a game of survival and adventure where some bits of RPG games are incorporated. In this game, you will continue to explore and collect useful items from which you can create other useful items. The elements available in this game are spread in all areas and arranged from common to rare, and each item and element serves different purposes. After you have gathered enough materials, you can use these materials to craft powerful weapons or tools or even sturdier armor.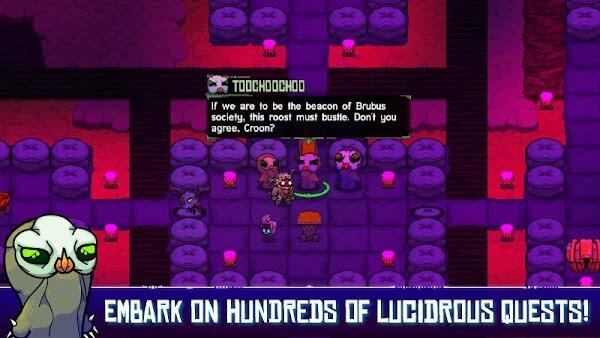 You need to upgrade your equipment while playing the game to become more formidable. You will also have to battle several enemies ranging from strong to weak, but most of these enemies are a threat to your existence in the game. The world of the game is pretty vast for you to explore freely.
Survive on the Unkind Woanope Planet
The plot of this game revolves around a character called Flux Dabes, who works as a galactic truck driver. Flux Dabes specialises in transporting goods across different planets. As he transports a consignment, Flux faces an unexpected threat from an alien creature known as Hewgoodoko. In the attack's aftermath, Flux is stranded on an alien planet. While trying to recover the stolen goods, the major character is entangled in a conspiracy hatched to occupy the nefarious world of the planet. Because of this, Flux experiences some danger and several difficulties. Your job is to role-play as Flux. You will have to establish your own life on the planet. You will also learn ancient secrets, including the formation history. Do not forget that you will have to battle some fearsome monster bosses.
Fight for Your Life
You will have to locate the resources presented on the map. As you arrive on this dangerous planet, you must fight dangerous creatures that suddenly appear before you on your quest. Also, you should understand how to convert the things you pick up into weapons; there are several weapons in Crashlands, such as armour, axes, hammers, swords, and so on – these weapons will assist you in winning faster. Each weapon type also possesses its effectiveness, such as hammers and swords that will assist you in making quick attacks.
The animals that attack you will have unique strengths and diverse attack modes. However, you must use your sword to eliminate these animals and beasts. Concerning hammers and axes, you should not use them to attack the powerful beasts directly but strike them from the back, which is more effective. Then, just with one or two strikes, you can eliminate the enemy. You must always consider your opponent's strength and be ready to make good use of the weapons in your possession.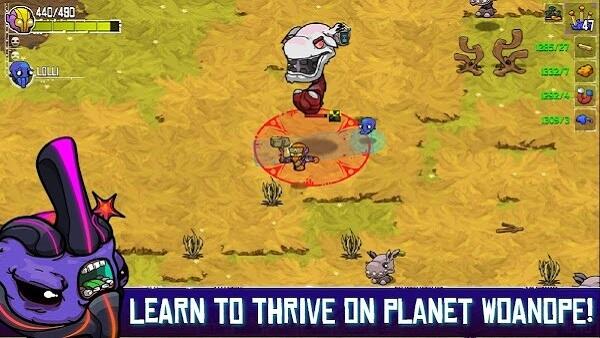 Infinite Inventory
While other games in the same genre as Crashlands will provide players with only limited storage capacity, Crashland provides its players with an infinite bag of items, where players can find any items they need. Crashlands' major objective is to give its players the best adventure experience and be able to craft items without the need to return home or dump the leftovers. In addition, you don't have to worry about the character's inventory – this will make your gaming experience a lot more engaging and immersive.
Tasks to Carry Out
According to the open gameplay of Crashlands, you will go on several quests and face some challenges, too. To begin the game, you will role-play Flux Dabes. You need to understand that life on this strange planet is particularly different from the one you are familiar with. On this quest, you will move around the area to search for useful resources, including exploring the vast world to collect resources. As you go deeper into this game, you will learn about some fascinating stories that are only known to you and the people on the planet.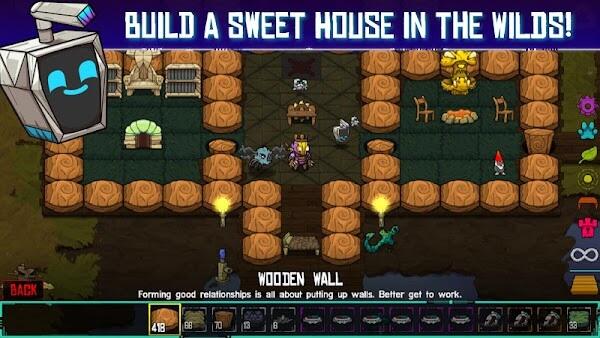 You can also get the opportunity to make new friends that grew up and lived all their lives on the planet. Gradually, your power will increase, and in time you will become very powerful and formidable enough to battle all the alien creatures on the planet. If you want, you can also build a house for yourself on the planet. This house will serve as a shelter for you. All in all, you must craft sophisticated weapons that will allow you to fight effectively against these powerful enemies.
Conclusion
Crashlands provides players with a unique gameplay style that triggers a feeling of excitement in veteran gamers. You will experience life on another planet and try to overcome several difficult challenges while at the same time you were exploring some new things.