Download Clumsy Ninja APK and enjoy this action game. Train your very own ninja, no matter how clumsy, and do your best to make him a master of martial arts. 
Descriptions of the Clumsy Ninja Game
Clumsy Ninja will remind you of virtual pet games, except that you're not taking care of a cat or a dog. Instead, you will be caring for a friendly ninja who is rather clumsy. You will have to take care of your ninja and train them to become master ninjas.
The Clumsy Ninja game was developed by NaturalMotionGames Ltd and first released on the 18th of April, 2014. It has content of mild fantasy and violence, with digital purchases included.
Your ninja can do a lot of things while playing, from training to meeting new players. There are different devices that he can also get and fun activities to participate in. The ninja does most of the activities automatically, but there are some that you have to help out with, like playing games.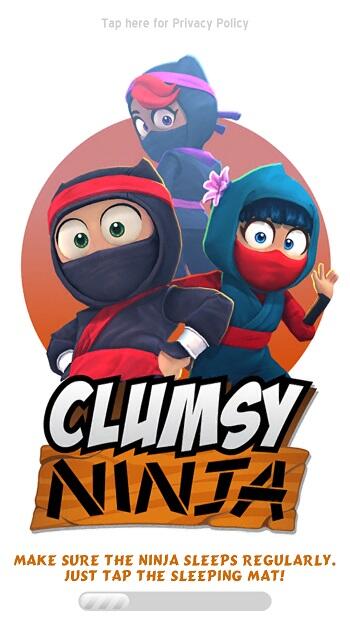 In the Clumsy Ninja game, you don't only play and train your ninja. You will also have to personalize your ninja's appearance by purchasing certain hoods and belts for their outfit. As time goes on, you can unlock the objects that the ninja might need, like trampolines for fun or punching bags for practice.
The Clumsy Ninja game combines virtual pet and video game themes with bright and clear graphics. You'll have a lot of fun taking care of your ninja and making him a master.
Train Your Ninja
The main point of the Clumsy Ninja game is to train your ninja. You will play as the master of a little ninja boy who is a bit clumsy, but you will have to train him to become an elite and a master of martial arts. Don't worry about thinking of what you will do to train the ninja.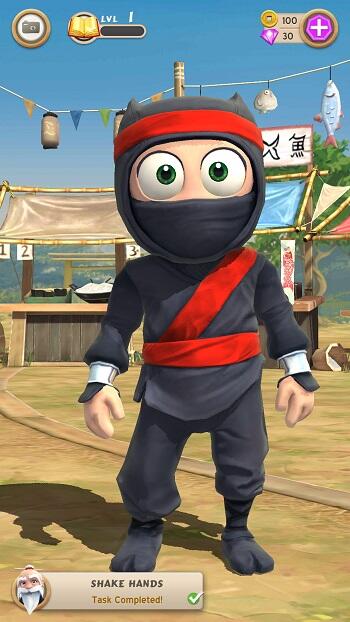 The Clumsy Ninja game gives you a list of things that you have to do to make the boy a master. The training is a bit harsh, and you will have to play for a long time before you find out all the tricks of the game.
The game has pretty impressive physics that brings the gameplay and concept to life. You can do so many things with the ninja, from tickling them and hitting them to throwing them in the air. The game starts you off with a training lesson.
Once you complete the lesson, you can train your ninja and earn experience points. The points you get can be used to level up and unlock new courses for training your ninja. When you complete a training course, the ninja will give you a high five, and you can see how happy he is.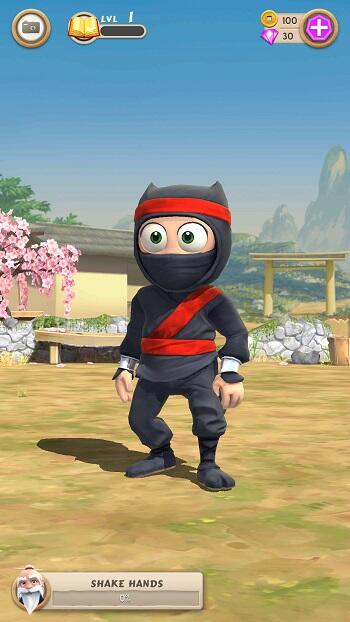 Aside from the Clumsy Ninja training sessions, you can also customize your ninja's appearance. These include buying glasses, hats, and clothes, all coming in different colors and styles. As time goes on, you can get more coins and gold and use those to purchase more styles and colors for your ninja's clothes.
Easy to Play Clumsy Ninja
The Clumsy Ninja game is pretty fun, with straightforward gameplay and easy controls. You must tap the screen and drag and drop different controls to have fun with the ninja. There are so many fun moments to enjoy while playing the game. You can even share your game progress with your friends on social networks. You can get coins and gold when you log into Twitter and Facebook.
You can interact with different items while playing the Clumsy Ninja game. With over 70 items for your ninja boy to play with, you can enhance your gaming experience. Some of these include trampolines, chicken, sandbags, watermelon, puppets, balls, and more. You can also purchase a spring cushion for when your ninja practices jumping and tumbling. This way, he does not get injured.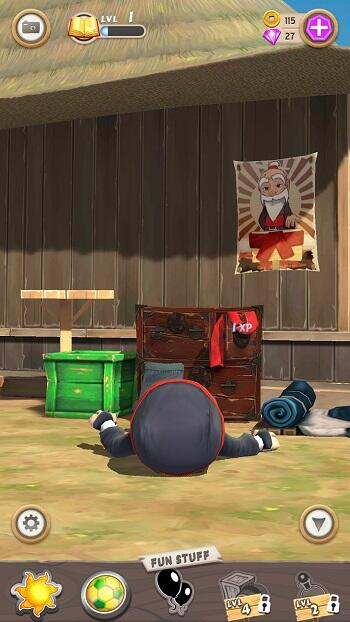 Keep in mind that the little ninja is training because he wants to search for Kira, his friend who has gone missing. But, the adventure does not begin in this game, as all you need to do is train him for his future adventures.
The Clumsy Ninja game is played mission by mission. There are different courses to complete, and the more you go into the game, the more difficult the courses will become. Some courses are free, but you will need to use gold or coins to unlock them for others.
Realistic and Fun Graphics
One of the best parts of the Clumsy Ninja game is the graphics, sound, and visuals. The ninja boy is adorable, with big eyes and a cute face. The game also features 3D graphics; most interactions are realistic and impressive.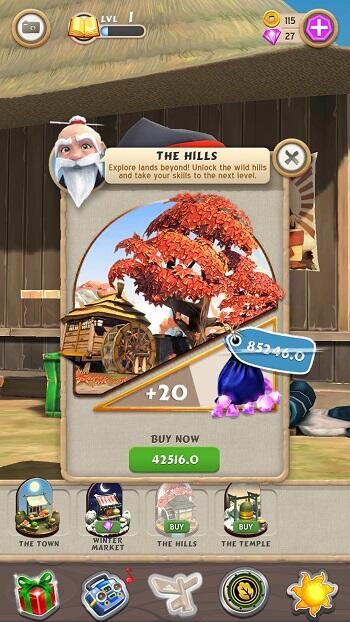 The ninja moves smoothly and naturally while playing Clumsy Ninja, from when he's training to the other times when he plays. As you play the game, you can explore the world of the Clumsy ninja and meet new people. If you're playing the game, you need to connect your phone to the internet to start playing.
Features when Playing Clumsy Ninja
There are various features to look out for a while playing the Clumsy Ninja game. These include:
Earn new ninja belts as you go on your way to save Kira.
Learn new tricks and special moves while interacting with unique items.
Go on an adventure to different locations, play games, and meet new characters.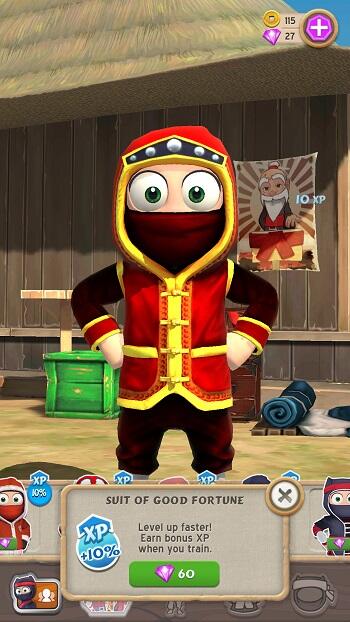 Complete quests and unlock new items to play with.
Customize your ninja with belts, headbands, and suits, and take pictures whenever they do the craziest stunts.
Get your very own virtual friend.
The ninja boy is pretty smart and thinks and acts with intelligence. Although he's clumsy, you can do many things with this ninja. Experience fun moments with your ninja, and meet his companions while you play.
Conclusion
The Clumsy Ninja game is an exciting one that anyone who enjoys interactions and virtual friends will enjoy. You can train your ninja to become a master of the arts and gain ninja belts as you go on. It's an interactive virtual game ideal for relaxing after a stressful day.