Download and install Boom Beach APK and defend your home island base! Claim new territory, command your army, and defeat your opponents in this fun strategy game.
In-Depth Description of Boom Beach
Boom Beach is a freemium multiplayer online strategy game for iOS and Android. It is a real-time combat strategy game that requires you to attack enemy bases while protecting your base. As you play, you can free enslaved islanders, unlock the island's secrets, and create a task force with players worldwide.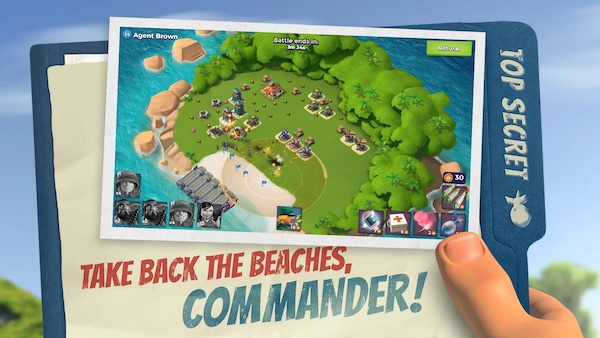 The main goal of Boom Beach is to build an army, claim new territory, and defend your home island base. To do this, you must collect supplies and money and spend them on weapons and buildings. It has the same concept as Clash of Clans, as they come from the same developer. But, Boom Beach differentiates itself with its world map.
You can expand your base and army and send troops to get control over islands that can belong to the computer or other real players. If you take over an island, you can divert its resources to your home base and enhance your troops.
But remember that as you attack others, other players can also attack you to take over your territory. Boom Beach keeps you on your toes because powerful enemies are always ready to attack you, even if you're not playing the game at that moment.
Boom Beach requires you to build up different soldier classes, and each one brings different skills and strengths to the table to defeat your enemies. You can attack someone else's beach by clicking where you want your troops to land for invasion. Once the fight starts, you can direct your troops using flares, give them health items, or fire a cannon to defeat buildings and enemies if your troops earn action points.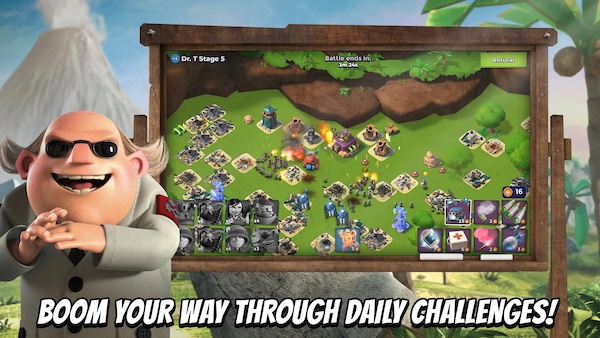 Aside from fighting in battles, Boom Beach also requires you to make strategic decisions often. It would help if you decided where you could direct your resources and wait for the timers to count down to get new skills and upgrades. There is also a social aspect where you can fight with real players, not AI, but the opponents are randomly selected, and you cannot communicate with the players. There are also in-app purchases that you can use to speed up the gameplay.
The Boom Beach game was launched on the 18th of June, 2014, by Supercell. Although there are a lot of timers, it gives players a wide range of strategic options and fun battles that keep them engaged. It also has charming visuals and graphics that make the game more fun for anyone.
Boom Beach Gameplay
Boom Beach is a strategic game and combines battles with other players ad computer-generated bases. The storyline is set in a tropical archipelago, where the player has an island with defenses and troops. At the same time, other players and NPCs have the same.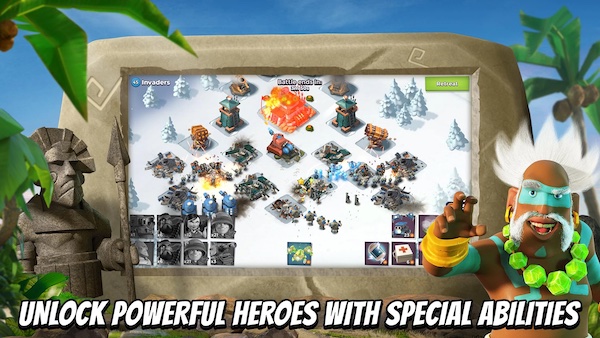 It also features a single-player format, although players can attack others in multiplayer mode on the world map. The main villain on the world map is The Blackguard, a military force invading all the beaches on the archipelago and enslaving the locals.
The Blackguard bases sometimes appear on the app, so you can destroy them and collect their resources. The map can also follow your resource bases, where you can fight for help with other players, and dive bases, where you can use a submarine to get treasure underwater.
Aside from The Blackguard, other enemies powered by the computer are Dr. T and Colonel Gearheart. They are members of Blackheart running specialized bases and can sometimes appear as events. Other players that you see on the world map are designed to be Blackguard mercenaries, which is why you can attack their bases and vice versa. You get more rewards for defeating Blackguard bases than normal CPU bases.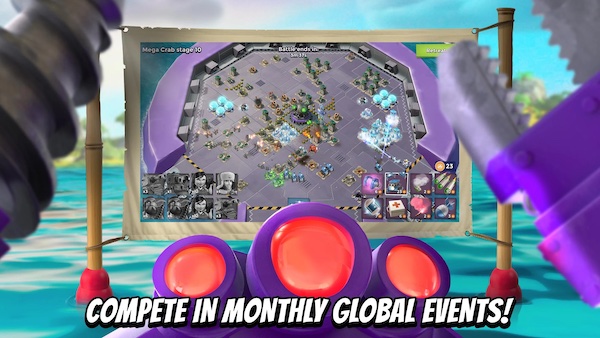 Aside from the main part of the game, there are the Task Forces that players can form together. They gather intel by winning attacks, destroying troops, or getting special rewards and use the gathered intel to attack computer-generated Power Bases.
Defeat Your Opponents on Boom Beach
Boom Beach is all about defeating enemies' bases while protecting your own. Although you don't have direct control over your troops in combat, you can choose our landing zone, use flares to direct them, and interfere in different ways.
The game is all about defeats and victory, requiring pre-battle strategy, active support of your troops, and real-time attack simulation. Battles can also occur when you're not signed into the game, making it more exciting and fun. You must place your base buildings and manage your resources properly and tactically.
After every battle, you can watch a replay of the attack and learn from your mistakes.
Game Features
As you play the exciting Boom Beach strategy game, here are some game features you should look out for: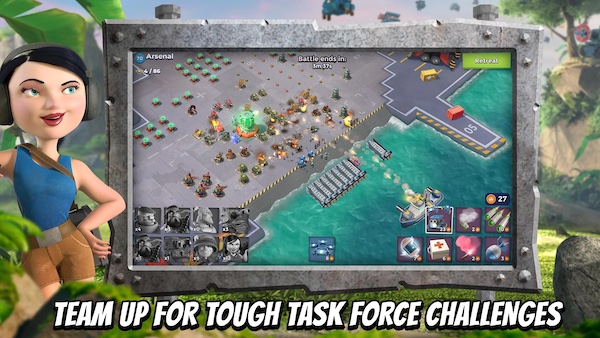 Explore a massive tropical archipelago. You can discover the power of Life Crystals and build your base as you go.
Play with millions of real players and computer-made bases, raid your enemy bases, and collect their loot.
Battle with other players to gain control over precious resources. If you win, you can use the resources to upgrade your base and get an edge over other enemies.
Face the evil Blackguard bosses, defeat them and find out what they're planning.
Join other players to form the Task Force and participate in mutually beneficial missions.
The game is only ideal for players aged 13 years and older.
Conclusion
Boom Beach is a fun game that keeps you engaged from the moment you start playing. Managing your base and protecting it from the enemies is a full-time job, especially when you have no idea when they will attack. You can enjoy the game graphics and visuals as you participate in the gameplay and develop new and improved strategies as you play.