Download Bloons TD Battles APK and take control of monkeys to defend yourself in this balloon popping war, but this time against live opponents just like yourself. 
Brief description of Bloons TD battles
Bloons TD battles is an action and fantasy-themed game where you play as a monkey. You must use different sharp weapons, including darts and ninja stars, to defend yourself against balloons, but unlike other versions of Bloons TD, you're facing players like yourself, so you don't just protect yourself. You attack by sending Bloons past your opponent's defences. It is an online game requiring internet connectivity as you compete against different people worldwide.
Bloons TD battles was released on the 18th of July 2013, by Ninja Kiwi. It is rated E, meaning everyone can enjoy playing the game as it contains mild fantasy violence without blood or gore themes. The game has seamless gameplay and easy controls that anyone can use. It is simply selecting an option on the bottom of the screen and placing it in a strategic area where you know it will serve you best. Once you get used to it, you will play the game easily.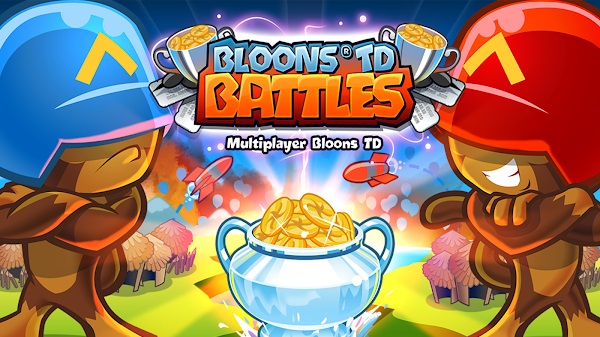 The more you win battles, the more cash you get, and you can use it to purchase gadgets and others that will make fighting your battles easier.
Bloons TD battles is a fun action game where you will face many opponents from all over the world, so you'll have a long way ahead. The dynamic game offers different ways to defend and other ways to attack your enemies, as well as various types of monkeys with their unique abilities, so you will be kept engaged. The game also has vivid graphics which catch the eye.
Fun Gameplay and Concept
Bloons TD battles is a tower defence game where your job is to defend your territory from getting swallowed by the swarm of balloons your opponent sends while at the same time trying to break their defences by attacking with balloons of your own. The game starts at a good pace as you are automatically paired with players on your level, but as you upgrade and get better, you begin to face people on par with you or even better.
The game utilises a split screen to put you up against other opponents, so you will see their moves as they play. As balloons pass your defence, the damage is taken, and your health bar is reduced. The game is won as soon as either you or your opponent's health is completely diminished.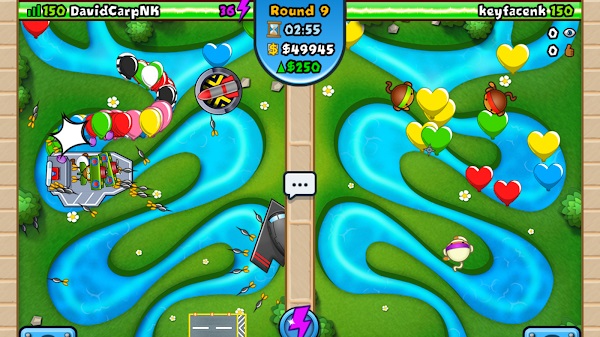 Bloons TD battles offer a variety of monkeys and battle machines that all have unique abilities during combat. Knowing how to utilise them correctly is another thing. Each monkey has its range it attacks can go, so depending on the purchased monkey or upgrades, you should have it in the back of your mind that there are short ranged and long ranged attacks. Machines also have a specific range at which their attacks can go.
Various upgrades and objects to make your battles easier are available in the store. Keep playing and winning matches to earn more and develop yourself.
Fun Features to Look Out For
As you play Bloons TD Battles, you can look for these fun features that will give you a better gaming experience.
The game offers over 20 other monkey towers, which all have their unique abilities for either short-ranged or long-ranged attacks
Different upgrades are made available for the monkey towers or machines you possess. These upgrades make your battles easier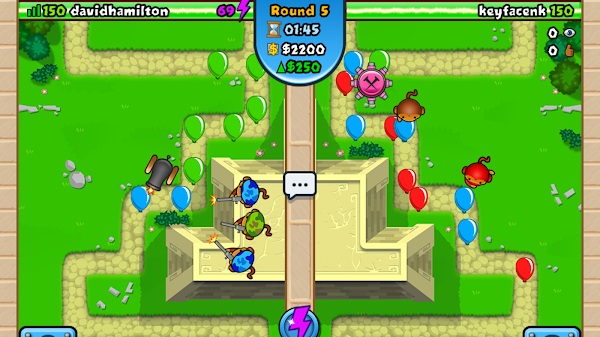 This mode is the attacking side of the game, where you focus on damaging your opponents' defences and reducing their health to win
Unlike assault mode, here you are focused on guarding yourself and protecting your defences from receiving damage from the opponent you are facing.
In this game mode, you face an opponent with all your medallions on the line, lose the battle, and lose all of your medals.
Fight in different battle locations and enjoy the stylish graphic design of each area.
You can create or join private matches to battle against any of your friends that play the game as well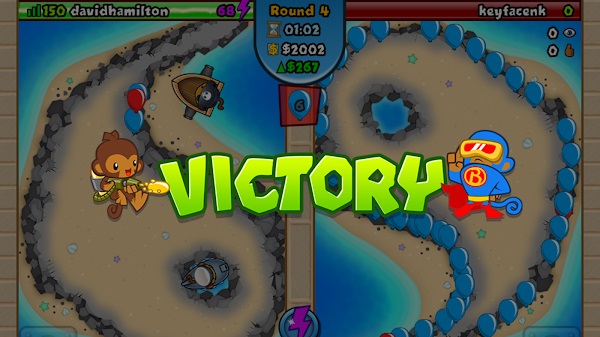 Sixteen achievements are available in this game. As you continue playing this game, there's a higher chance you will unlock more and more of these achievements. Don't stop till you've gotten all of them
Customise your own personal Bloons that have your signature stamp on them anytime
You win a battle.
Battles in this game are done on a split screen with you and your opponent. Both you and whoever you're facing can see what moves you take.
Download Bloons TD and enjoy these features and an excellent gaming experience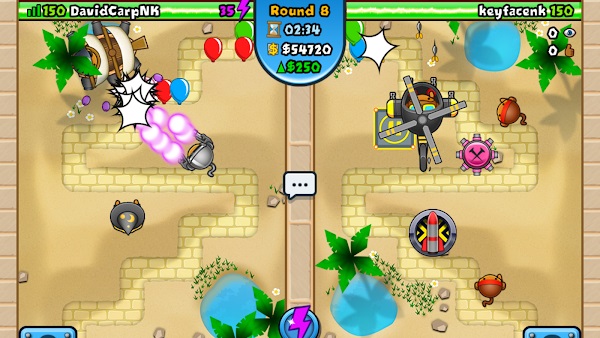 Bloons TD Battles Tips and Tricks
Before you start playing Bloons TD battles, some tips and tricks will help you play better and make the game easier. For one, you should know your monkey. Know each monkey's unique abilities and how they can help you win the battles. If your opponent is going for short ranged attacks, using a dart monkey is advisable but if it's long ranged, then utilising a sniper monkey is better. Also, keep on upgrading as you earn money. Develop your ranks and weapons, buy better machines purchase dangerous bloons. It enables you to go up against the best and have a better chance. Another helpful tip is that you should have a pattern where you send Bloons to attack. Dishing it out all at once is unwise, so having a strategy in how your Bloons are delivered will lead to a more efficient attack.
Conclusion
Bloons TD Battles is a fun action multiplayer game that will keep players engaged. It is endless because you can play with as many people as you want, and it doesn't feel repetitive as there are many upgrades you can use to get the most out of the gameplay.