Download Beyblade Burst Rivals APK latest version for android and engage in action-packed battle games. The game is anime-themed and offers diverse challenges.
Comprehensive Analysis of Beyblade Burst Rivals APK
Beyblade Burst Rivals is a casual-action game offered by Epic Story Interactive. It features match-puzzle fights that require 100% concentration.
It has many characters from the Beyblade Burst anime series. The goal is to become the ultimate Blader by winning all battles.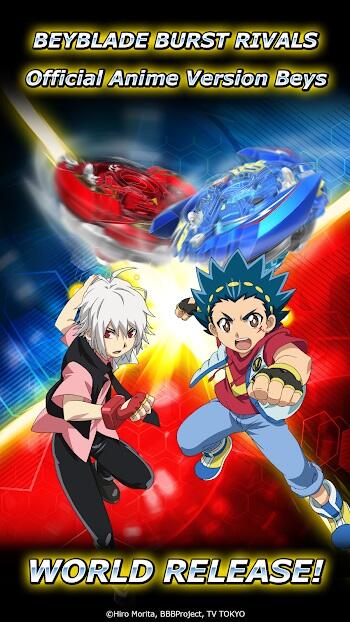 You can use different kinds of Beys and create unique combinations for more powerful attacks. If that sounds like your kind of thing, download Beyblade Burst Rivals APK for Android now!
A Fast-Paced Gameplay
The gameplay is all about attacking and defending. You will face off against rivals in real-time. This way, you can show off your skills and strategies.
First, you must choose your favorite character. Each one has unique stats and abilities. You can customize them to give more power and effect to your attacks.
You will then join Beyblade Burst tournaments. In these competitions, you will use your Beys to battle adversaries. You must collect powerful Beys to create the ultimate fighting machine.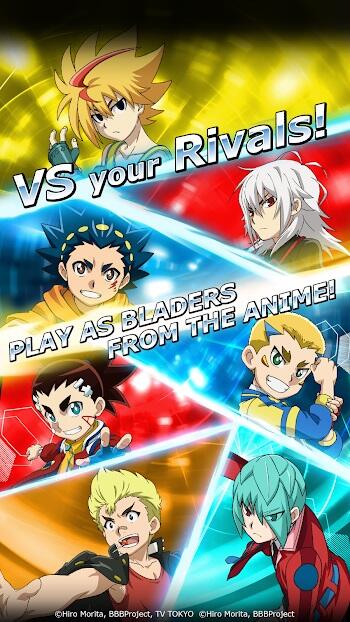 The key to victory is to have the best combinations. You can use different parts to make your Bey more powerful. Even better, you can regularly upgrade your Beys to make them even stronger.
Your primary goal should always aim to become Master Blader. It will not be easy, but it is definitely worth it. With your Bey, you can achieve greatness.
Outstanding Features of Beyblade Burst Rivals APK
A Large Arsenal of Beys. This game boasts a large number of Beys. You can use these to create powerful combinations. Additionally, you can unlock special Bey Techniques. These will be very useful in challenging the best bladers.
Anime-Themed Graphics. The graphics are colorful and faithful to the anime series. Additionally, the animations are fluid and look great on mobile devices.
Highly Strategic Gameplay. This game is all about strategy. You must keep upgrading your avatars and Beys. Additionally, you should try hard for Ring Out Finishes, Epic Burst Finishes, and Survivor Finishes. These will take your game to the next level.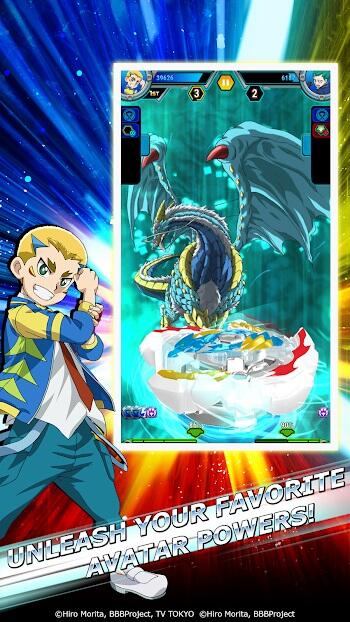 Multiple Techniques to Use. There are numerous ways to attack your opponents. You can use normal, special, and super techniques. Other Bet techniques to consider include Counter Break, Rush Launch, and Quake Launch. You can even switch your Beys in between rounds!
Diverse Beys to Use in Battles. The Beys you use in battle will directly affect the outcome. Some of the Beys available include Lost Lúinor, Victory Valtryek, Xeno Xcalius, Raging Roktavor, and Storm Spryzen.
Battle Your Favorite Characters. This game features characters from the anime series. You can battle against favorites such as Valt Aoi, Wakiya, Zac, Shu Kurenai, Rantaro Kiyama, and Daichi Sorano.
Activate Devoted Avatars. The avatars you can use in battle are just as critical as the Beys. You should upgrade them regularly to make them even more powerful.
Collect Treasures & Rewards
In this game, you can collect rare Beys, Bladers, and Avatars. You can use these treasures to make your Bey even more powerful. There are also many rewards you can get by playing the game. These include coins, points, and energy.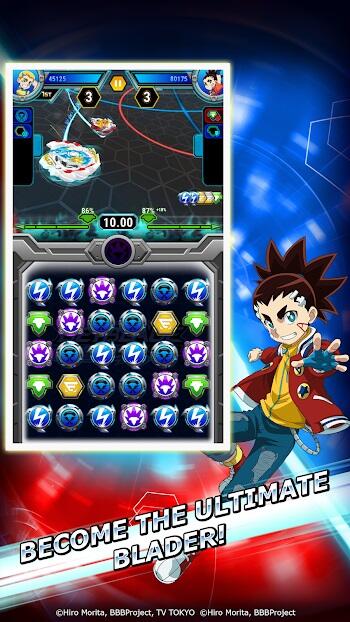 You can use these rewards to upgrade your Beys and avatars. Additionally, you can use them to buy items in the store. The store offers a wide variety of items, including Beys, avatars, and power-ups.
Become the Ultimate Blader!
The game features intense real-time battles. You will need to use all your skills and strategies to become the ultimate Blader. With practice, you can become the best in the world.
You will engage in highly competitive tournaments in diverse locations, including the National Stadium, Mountaintop, and Seaside. This diversity keeps the game fresh and exciting.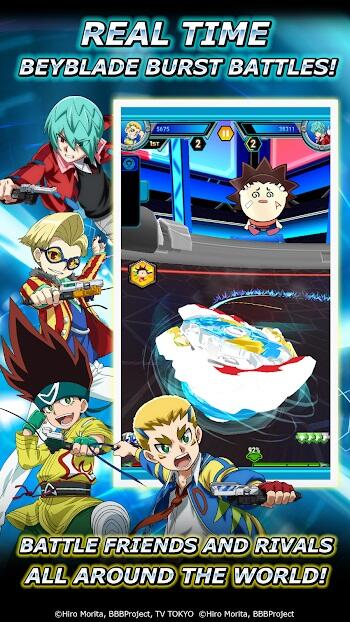 Always ensure that you train your Beys in Quick Play sessions. You can also engage in regular & weekly tournaments to earn rewards. The more you play, the better you will become.
Realistic Graphics and Sound Systems
This game brings every element of the gameplay to life. The environment is well-rendered, and the Beys look great. You will enjoy all the attacks as they are launched and watch in anticipation as the Beys clash.
The sound system is also top-notch. You will hear the crowd roaring as you battle. Additionally, the music is fast-paced and gets you pumped up for the action. This game is the perfect way to enjoy the Beyblade anime series.
Beyblade Burst Rivals APK Download
The Beyblade Burst Rivals APK unlimited everything is the perfect way to enjoy the game. You will have unrestricted & hassle-free access to all the items in the game. Here are its other features: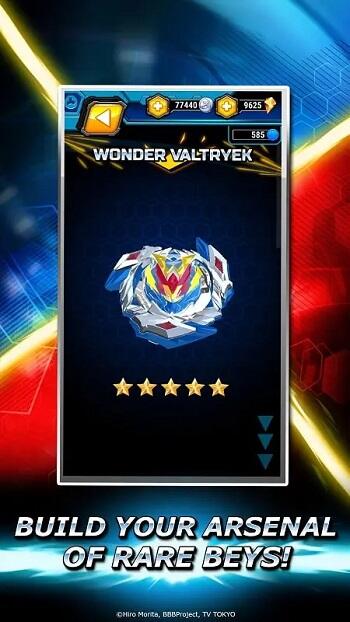 Beyblade Burst Rivals APK Unlimited Money Download. Money is critical in advancing gameplay. The Beyblade Burst Rivals APK (unlimited money and gems) gives you all the resources you need to buy new Beys and upgrade your existing ones.
Beyblade Burst Rivals APK Free Purchase. The Beyblade Burst Rivals APK unlimited gems version allows you to make free purchases in the game store. You can buy any item without spending a single penny.
Beyblade Burst Rivals APK All Beyblade. This version gives you access to all the Beyblade in the game. You can use any of them in battle without having to unlock them first.
No Ads. The game version is free of advertisements. You can concentrate on the gameplay without worrying about annoying pop-ups.
Conclusion
If you a fan of the Beyblade anime series, you will love the Beyblade Burst Rivals APK. It is a great game that captures all the elements of the anime.
The version allows you to enjoy the game even more. You will have access to all the features and items in the game.