Download Benji Bananas APK to experience the thrill of swinging from vine to vine with Benji in this fast-paced mobile action game from Animoca Brands.
What You Need To Know About Benji Bananas
Benji Bananas is a single-player game with an adventure theme. It was developed by Fingersoft and published by Animoca Brands and Fingersoft. It was released on Android devices in February 2013. The iOS version was released a while later.
Benji Bananas is an action game that has you play the role of a primate named Benji. Benji moves through the jungle by jumping, running and swinging. The game's goal is to get Benji as far as possible while avoiding the dangers that lurk in the jungle.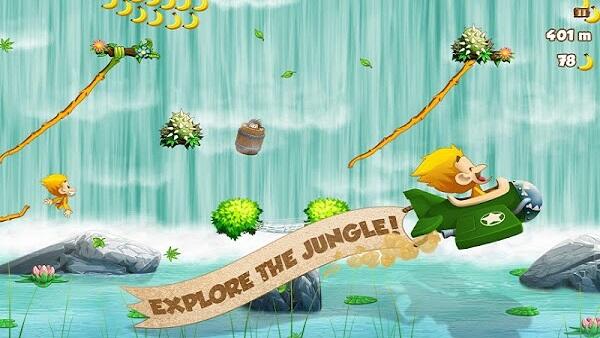 The game is physics-based. If your movements are not timed right or executed correctly, Benji falls, dies, and you must restart the game. Benji Bananas offers impressive graphics, a good game and a fun character to occupy yourself with.
Although the game's pace is quite fast, the scenery is relaxed enough for you to enjoy playing without feeling too much pressure. The game can also be played on WindowsOS devices.
Highlights of Benji Bananas
The highlights of playing Benji Bananas are its features. They come together in a beautiful mix to give this wonderful game. What's so good about the Benji Bananas game? What are these acclaimed fun features?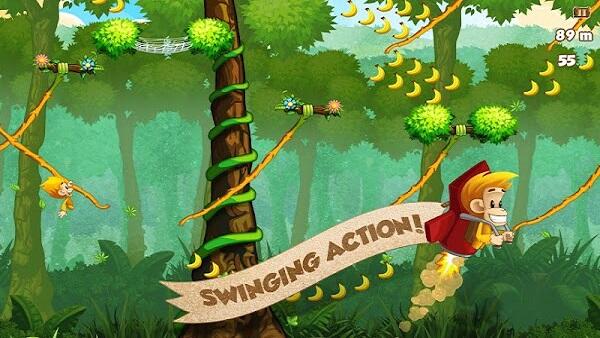 Graphics: The game's graphics seem hand drawn. There's a certain appeal to this design style.
Gameplay: The gameplay is physics-based. You have to swing along vines to move forward.
Fruits: Collect bananas and chilis for special upgrades and a higher score.
Special Powers: There are special powers to be unlocked. They include the jetpack, eagle ride and speed boost.
Customize Benji, the monkey, by switching up his appearance periodically. For example, you can get him into the ninja costume or accessorize him with a gas mask. You can also change the looks of the vines. For example, you can make them appear as normal vines, snakes or burning ropes.
Missions: Your missions include bananas collected, the number of swings made, and the distance travelled. Reaching certain levels will earn you the rewards allocated to the missions.
Free: Although Benji Bananas has great game content, it is free to play. The other features are already really nice, but this makes everything better!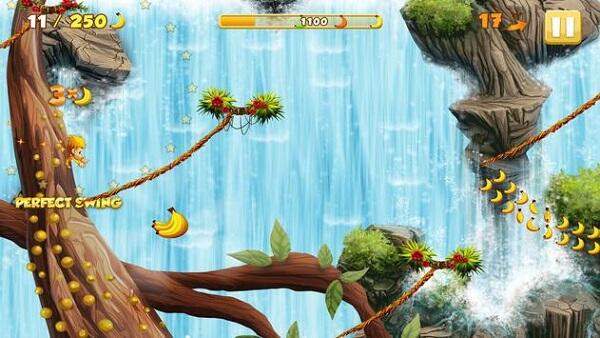 As with most free games, Benji Bananas features in-app purchases. Here, these cost about $0.99 - $99.99 per item. However, the purchases are not compulsory. You can play all your games without ever buying anything.
Gameplay Structure
Benji Bananas' main game has you/Benji swing to move through the jungle. Travel as far as you can while paying attention to your missions. The game starts with a tutorial, where the controls are explained with the aid of a practice game. This helps you get the hang of the gaming controls. You can find it in the game's settings menu whenever you need to go through it again.
To swing from vine to vine, tap your screen to hold the first vine, build momentum and release your screen to jump to the next vine. The higher the momentum you build, the further Benji jumps. This is the physics behind Bananas.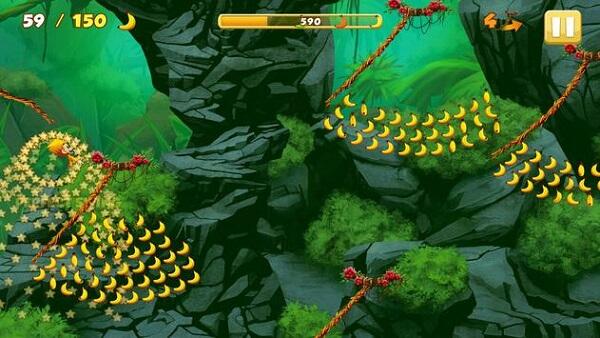 As Benji moves through the jungle, bananas are arranged in mid-air, just like the coins arranged on the tracks in Subway Surf. Collect these bananas to increase your total score. You can also use them as in-game currency to buy power-ups and gear.
Try to avoid the dangers in the jungle as you swing. Watch out for snakes, tigers and spiky plants. Gravity is also your enemy here. There's something called VS mode in the Benji Bananas game.
The VS mode is a gaming mode with a pass-the-device multiplayer game. You can play three variations of the game here. The first is a race where the winner is the one who collects the highest number of bananas. The second is a race to see who can swing the furthest. The third is to see who can get to Benji's girlfriend first.
There's a list of reasons Benji Bananas is a fun game, and the endless adventure tops the list. It is nice to keep pushing yourself past your limits, repeatedly trying to see how far you can go in the game.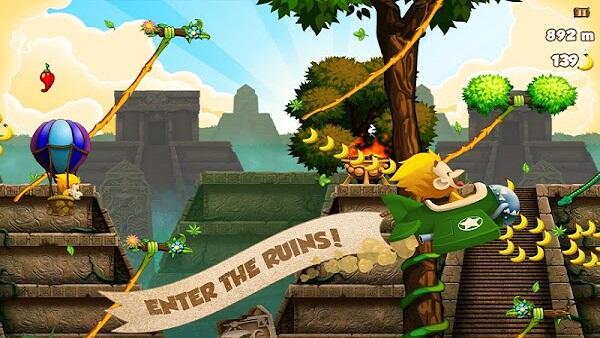 Several checkpoints would be nice for people who get frustrated when they have to start over. However, this feature is not present in the game. The good thing is, you don't lose your scores. All your scores are recorded, so you can keep surpassing them.
Fingersoft and Animoca
Fingersoft is a video game developer based in Oulu, Finland. It was founded in 2012 by Toni Fingerroos. Famous for their hit games, Hill Climb Racing and Hill Climb Racing 2, this company has racked up over two billion game downloads. It is made up of diverse professionals with uniting love of creating quality video games.
Animoca Brands entered a legal share sale and purchase agreement which granted it ownership of Benji Bananas, a game originally published by Fingersoft. Animoca Brands is a game software and venture capital company based in Hong Kong. The Chinese company was established in 2018.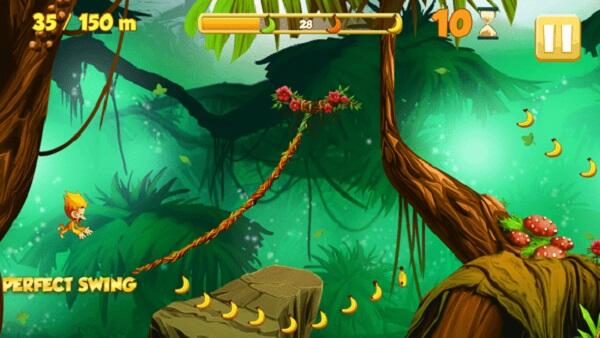 Yat Siu, executive chairman of Animoca Brands, believes in glimpsing the future through the lens of the past. To do this, the company has various subsidiaries geared towards developing and publishing traditional and blockchain games.
Conclusion
Benji Bananas is best played on devices with large screen displays, but it is enjoyable on any device. Unfortunately, it is only available for mobile devices at the moment. However, installing Android emulator software on your laptop makes the game accessible on your PC easy. The smooth design of Benji Bananas is another attractive feature. The characters move seamlessly, and there are no bugs or glitches.
Playing the game is an awesome experience since the gameplay is simple, and all you have to do is focus on your swing technique. The monkey theme of the game is also detailed. So it makes sense that a monkey would try to move through the jungle and pick up bananas along the way. Benji Bananas hits the spots when it comes to endless gameplay. See for yourself!