Download Bad Trucker 2 APK to play a driving game suitable for mobile devices. Experience traditional truck driving and delivery responsibilities in one game.
What Is Bad Trucker 2?
Bad Trucker 2 is a cargo transport game where you play the role of a driver who is good at driving big trucks. The game offers entertainment and transportation gameplay in a classic driving simulation game. If you like simulation games with a little twist, keep reading!
You have the duty of transporting gods from one point to another and ensuring your trips are safe. Each trip has obstacles you must get past to complete it. Making it past is possible if your follow the game instructions obediently and understand the driving mechanics in the game.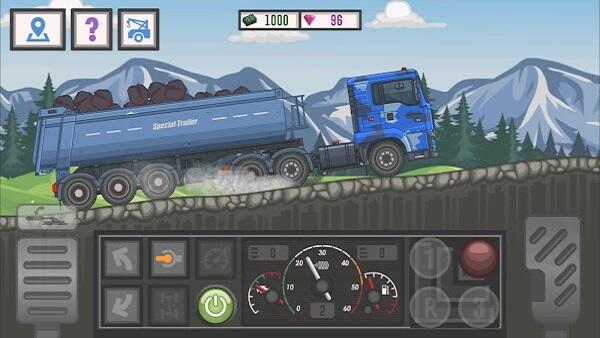 Bad Trucker 2 was developed by POLOSKUN. The game has diverse mechanics. It gives you different views of the car and driving indicators to help make your driving experience intuitive. It also offers special side tasks you can complete to earn bonuses and boost your earnings.
In this game, your driving skills will seriously be tested. You're not just driving any vehicle, you're driving a big truck on rugged roads full of other challenging obstacles. You're also transporting important items, so you can't even drive too roughly.
Gameplay
Bad Trucker 2 gives you a detailed tutorial the first time you launch the game to help you get familiar with its workings. You won't have a truck at the beginning of the game. You need a bank loan to buy your first truck. It costs a lot of money to buy a truck, so you'll have to borrow a lot, but it's easy to repay the loan if you work hard with the aid of your first truck.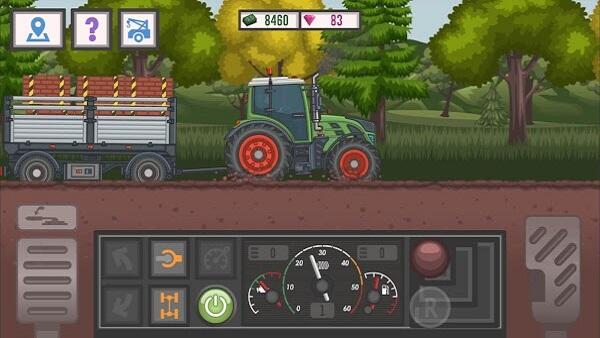 After you buy the vehicle, your transport driving journey begins. A large map appears on the screen, showing places like the Service Station and the Jewelry Factory. These places require you to pick up and deliver goods for them. Therefore, you must find the best cargo transport plan for each delivery.
For example, receive an order to deliver food from the Food Factory to the Service Station. You will have to consider all the routes available and choose the shortest one that has the least possibility of you dropping things along the way.
To do this, it is important to determine the shortest distance between locations. Each route has its advantages and disadvantages. You'll have to choose the one that favours you and your cargo the most.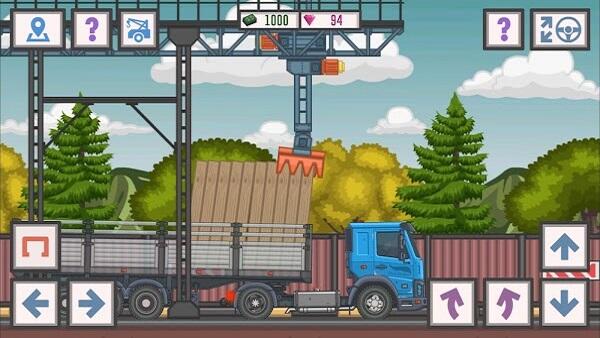 Finding the right route is half the challenge associated with that trip. It must also be the least time-consuming because spending less time on a trip enables you to take more trips and make more money.
Highlights Of Bad Trucker 2
The biggest highlight is that you get to make money while roleplaying. It's not real money but at least, it'll enable you to buy things in the game. So you're having fun and getting richer in the game simultaneously. The other highlights include:
Driving Fun: After you choose your route, you can relax and enjoy the drive. Bad Trucker 2 offers a variety of driving views, one shows a 2D view of the side of the truck, and another shows the content of your truck. The lower part of the screen shows your speed, navigation, brakes, and other driving factors. The controls are arranged sensibly and in a way that is convenient for your driving.
Mission System: Bad Trucker 2 is a 2D driving game with a defined mission system. The tasks are missions. You have to complete them to progress in the game. Each mission comes with instructions and challenges, but they're not impossible to handle.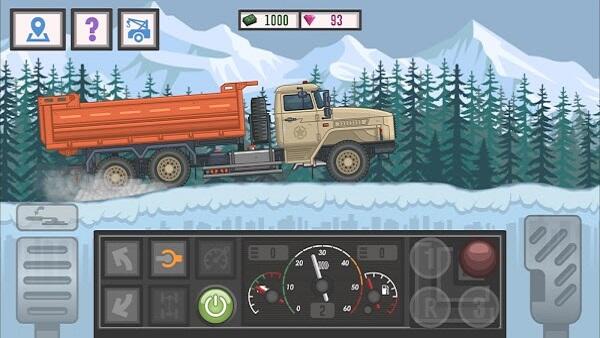 Truck Upgrade: Completing your trips safely automatically increases your customers. With more customers, you get to make more money and trips. Therefore, you must upgrade your truck to handle the workload. Use the money to buy new vehicles, strengthen and maintain them, add more containers, and switch to better trucks; your trips and your business boom when your trucks are better.
These are just some of the perks you'll enjoy playing Bad Trucker 2.
What To Do In Bad Trucker 2
The game is mainly about delivering goods using a truck, but in that game theme, other things are involved. Let's look at some of these things.
Research Transportation Options: Completing all your tasks is your main goal. To do this, you need to think up efficient transport options. In addition, your options must be able to aid you in completing your tasks in time.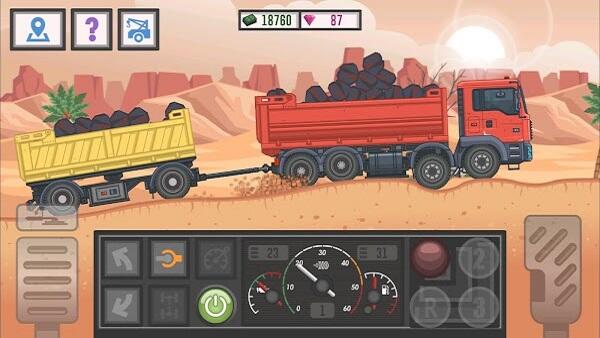 Overcome Difficult Road Conditions: You'll face many difficulties in the game, and the terrain is the first. The roads are really bad. You must find ways to go through the highways, mountain roads, and other roads and still get to your destination safely.
Avoid Losing Goods: Be very careful, so you don't lose the goads you're transporting. Come up with a driving speed and route that won't destroy your cargo or make you lose them on the way.
Assess The Truck Collections: Each truck is unique and made in different colours. Do not be distracted by colours. Instead, choose a vehicle that will help your operation.
Gain Experience: In the challenges in Bad Trucker 2, there are lessons to be learned. With each trip, you become better at driving the trucks and finding ways to transport your cargo safely.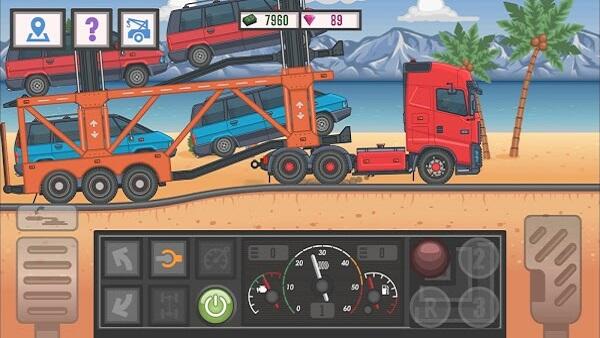 Bad Trucker 2 is a fun game once you get past the bad roads. The skills acquired in previous levels will be useful for you in the coming ones. You never stop learning.
Conclusion
Bad Trucker 2 places vehicle control in your hands. It is up to you to find the best ways to maneuver your truck so you can make the journey. In that sense, it is a simple game at its core. The 2D visuals and cartoon-style designs only add to this simplicity.
It is a game that teaches you not to give up no matter what happens. There will be many obstacles and annoying situations on the roads, but you'll learn to keep going because that's the only to get the goods delivered.