Download Armed Heist for an interesting third-person shooter game. Assume the role of a veteran robber and shoot your way out of challenging bank heists.
About Armed Heist
Armed Heist is a third-person perspective game that allows you to enjoy the thrills of robbing multiple banks. The game puts you in the position of a professional bank robber. So, your primary objective is ti carry out stealth and successful robbery missions and steal as much money as possible without losing your life. Considering how armed they will be, you'll have to carefully plan your heist to ensure none of the security officials can take you down.
The game has superb controls, making it easier to face anyone attacking you. For example, you'll be able to face off against dozens of cops trying to take you down, and you'll be armed to the teeth too. But the control system makes it easy to maneuver your character quickly and defend yourself against assault from the cops. The game also has many elements you can interact with, which makes it easy to take cover behind any obstacle when you're being shot at.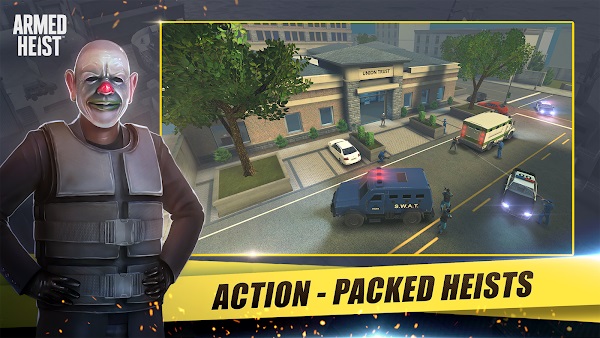 There are several weapons too, which makes the game more interesting. You'll be able to grow your weather as a robber and afford more sophisticated weapons the more you play. There are also different costumes you can buy when you make enough money. For example, you can change the mask and clothes you wear to the mission if you want. Armed Heist also uses various realistic features to make the game believable and relatable to the players.
You can play them on various models and versions of android phones. It's a product of Sozap Gaming Inc and is free to play. You can also interact with the game in multiple languages, such as English and 47 more across various countries. The content is rated for anyone below 16 years. So, you can only play when you're older.
You can download the game to join millions of players and enjoy the exciting gameplay.
Become A Warlord Criminal
The game allows you to become a professional criminal by carrying out robbery missions. With the number of missions available on the game, you'll be known as the greatest armed robber. However, unlike regular shooting games where you probably shoot against the bad guys, you're the bad guy. The game's context and concepts are why millions of players have downloaded and enjoyed the game.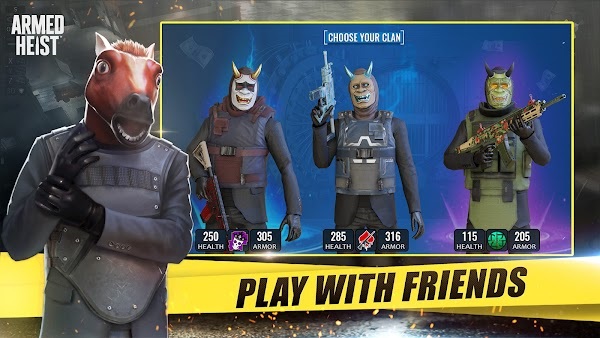 You'll be ushered into the game when your character has completed a robbery mission and is about to escape. So, since the police have been alerted and will do everything to ensure you don't run. So, you must be innovative and figure out how to get yourself out of the tight spot. You'll therefore have to eliminate all the police surrounding you and then make a run for the car waiting for you. You'll get to complete over 70 missions in this game with exclusive deals.
Game Features
The game has some pretty exciting features, ranging from immersive graphics to diverse maps. Check out these features below:
Graphics
The graphics quality on Armed Heist is sufficient and befitting a game in this category. You'll get a third-person view of the whole game, so you'll be able to interact with many game elements. Likewise, the sharp and clear graphics allow you to see the differences between various objects in the game.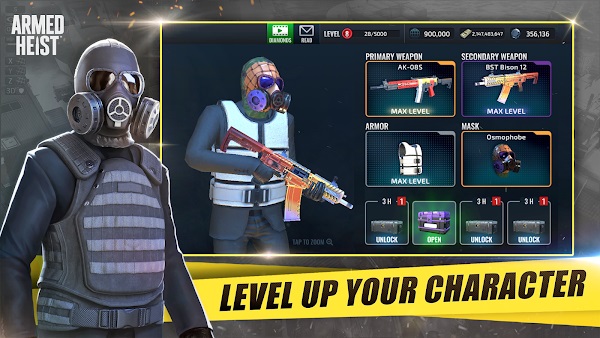 You'll also be able to experience some modern graphics effects such as gunshots effects, movements, and other visuals that boost the game's realistic gameplay. You can hide behind obstacles that help you stop bullets and shoot through cars or glass windows, which are impressive features you can hope for in a shooting game like this.
Control System
The control system is quite basic, and nothing peculiar is added either. For example, you'll be able to control the armed robber's movement with the left-hand side button on the screen while the actions are on the right-hand side. Hence, shooting, aiming, and reloading are all functions of the right-hand side button. In addition, armed Heist allows you to control your character by crouching and jumping behind obstacles. However, there aren't control systems for vehicles since you won't be driving any cars in the game.
Costumes
Many features are noticeable in an armed robber, and one of them is the costume. Hence, as a professional robber, you'll be able to choose the right outfit that suits your tastes and make you look like the coolest villain in town. You can spend some time in the editing room to change your appearance. Various accessories such as masks, clothes, etc., let you go classic with your style. You can also recreate a robbery scene in the popular Joker movie by wearing a clown costume as worn by the robbers in the film.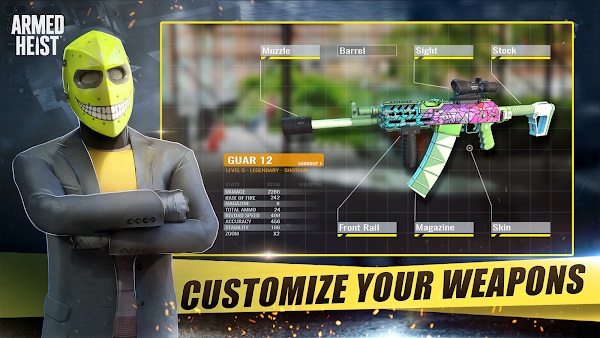 Weapons
To successfully evade the police and escape with all the money you robbed, you'll need to have a gun. The game puts players in a position where they have to face the cops to escape, and since you can't do this without a fight, there are weapons to help you. You'll have access to more than 30 types of vehicles in the store, and you can even customize each of them to your liking. These weapons include pistols, machine guns, snipers, shotguns, rifles, and many others. So, you'll have enough arsenal of firearms to select from when fighting the police and other criminals. There are also support items such as handles, sight glass, silencer, etc., which will be useful depending on the mission.
Maps
You'll get access to various locations here. Since you won't be robbing the same bank every time, you'll be able to visit different places on the map and find out which bank fits your model. In addition, when choosing the location to visit, you can check for proximity to the police station, alert system, etc. Of course, you'll also have to prepare for different scenarios for different locations you go.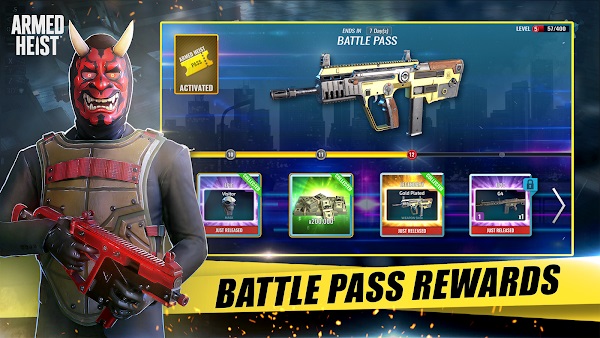 Conclusion
Many players consider Armed Heist one of the best shooter games you can ever play because of the crazy concept. Hence, you can always opt for Armed Heist anytime you are interested in shooting to kill time.