Download Argo VPN APK, the highly efficient VPN app for all your internet browsing. Access all hidden and blocked sites and maximise your internet experience without any restrictions.
About Argo VPN
Argo VPN is a security tool that allows users to access websites and apps and watch videos they would normally be restricted from due to location bans, website censoring, and the like.
Developed and offered by Filtershekanka and released for Android devices on the 17th of July, 2020, Argo VPN has been a very reliable tool for penetrating all forms and kinds of websites and pages and will continue to be. This VPN works on a wide range of Android devices, requiring the minimum operating system of an Android 4.2 to perform perfectly.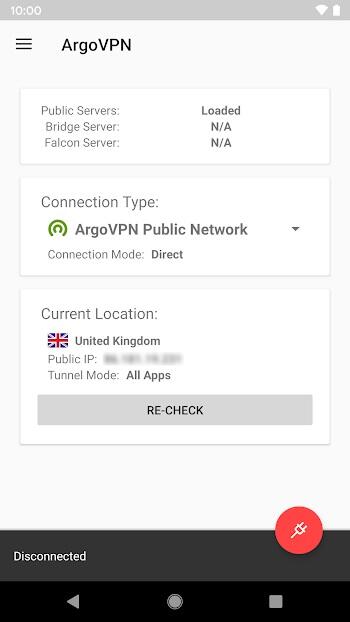 Argo VPN possesses many awesome features, some normally only available on commercial VPNs but have been made available on Argo VPN without any terms or restrictions. As a result, this VPN has amassed a near-perfect rating on Google Play Store, having a 4.9 out of 5. The software is also widely used and accepted among many users requiring its services over other VPNs. This is because Argo VPN ensures maximum security and privacy for its users with its super strong encryption and efficient services, among many others.
Features of Argo VPN
Argo VPN has numerous special features that stand out from the average VPN software. Asides from perfectly carrying out what one would expect from any VPN, Argo VPN is taking its game to the peak. Some of its features include:
- Argo VPN Falcon: Argo VPN allows you to register and add your unique domain name that can be used within the app. The unique domain name will be highly useful in accessing strongly censored or limited websites.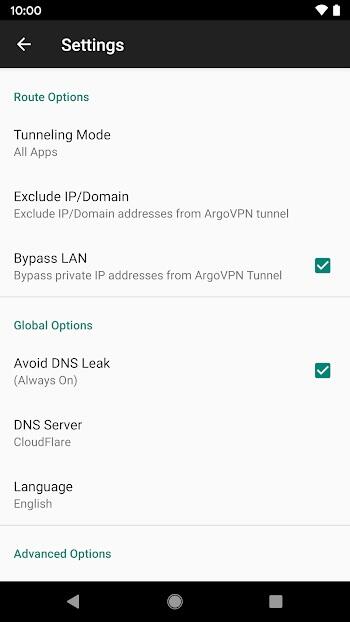 - Argo VPN Bridge: Argo VPN Bridges are unique additional servers through which you can connect to Argo VPN servers through non-public addresses. Websites that cannot be accessed on the public internet or that are hidden or encrypted in some way can be easily penetrated using the Argo VPN Bridges.
- In-built Firewall: The in-built firewall allows you to block certain websites or restrict unwanted internet traffic from coming your way or interfering with your browsing. All blocked websites will remain completely off your traffic and restricted from your device as long s you connect to Argo VPN's servers. This feature is usually only available in commercial VPNs but has been made freely available for Android users connected to Argo VPN. In addition, this also provides you access to Cloudflare Family and Cloudflare Malware, providing users with both features of Argo VPN and Cloudflare Family, respectively.
- Ability To Exclude Specific URLs: Argo VPN can restrict certain download websites that you don't want to access by registering them in the 'exceptions' list. Thus, the excluded websites will not pass through Argo VPN's traffic when connected to Argo VPN's servers.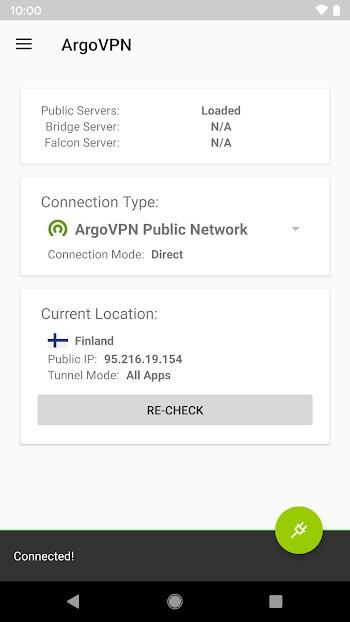 - Kill Switch Feature: This feature automatically blocks all internet traffic on the device, whether coming or going, should there be a situation where the connection to the VPN is suddenly lost. This prevents data leaks and keeps your device details secured to prevent exposure.
- Blocks Virus and Malicious Software: Argo VPN provides a safety feature that automatically blocks the user from coming across all forms of the virus on the internet or malicious software and websites that could harm it, like phishing sites.
- DNS Leak Prevention: This secures your DNS requests from your ISP, the government, or any other third party. The Argo VPN app works only with you and for you, so all your data is solidly secure and confidential. All your personal information is hidden from the public internet or any other web user.
- Secure Community and Public Repository: With Argo VPN, a unique public repository helps keep other users safe from malicious sites that other users have already detected. Argo VPN users can submit websites they find suspicious on the community for blacklisting and, once verified, will be immediately made unavailable to all other users. This keeps the users at ease when browsing on Argo VPN servers.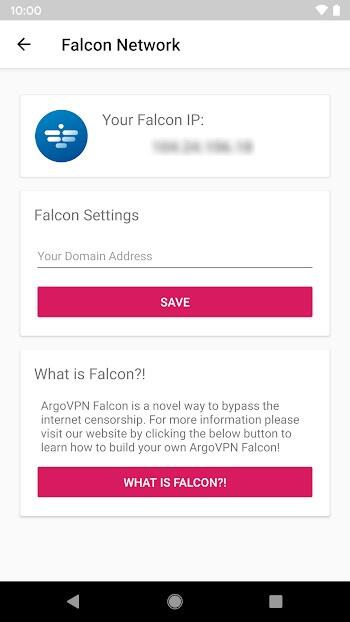 - Cuts Across All Geographical Locations: On Argo VPN, thousands of public servers and IP addresses are available from various locations. Users can log in or access sites that would normally be restricted from their location by providing IP addresses from other locations that do not have this restriction.
Other Features Include:
Easily navigable and friendly interface. Argo VPN is easy to understand and follow through, even for first-timers.
Argo VPN is completely free to download and operate. There are no in-app purchases whatsoever, either.
No registration is required on Argo VPN. Business is carried out completely confidentially, and no personal information is necessary.
Available in many different languages to serve a wide variety of users.
No advertisements on the app. Argo VPN provides a straightforward and uninterrupted user experience with no interference from ads.
Argo VPN is exceptionally efficient and ensures no connection breakage. There are no hitches while using the app, as Argo VPN promises a smooth and perfect experience.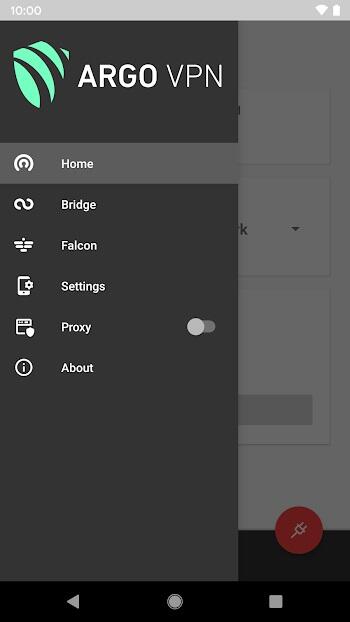 Super Strong Encryption with The Argo Authenticator
Argo VPN provides a special feature with the Argo Authenticator protocol. Encryption is the basic feature of every VPN since user safety and privacy are primary. Every VPN has to ensure that its user information and browsing history are not being monitored or exposed in any way, and Argo VPN uniquely ensures this.
The protection and safety on Argo VPN are already top-notch, but be there a case where there is a breach of user history, and such a compromise does not automatically affect all aspects of the user's data. This is because Argo Authenticator automatically generates a different encryption key after every session, such that no two sessions can be decrypted using the same key.
Conclusion
Argo VPN is a very handy and unique tool for all Android users, especially in countries where the government has blocked certain apps or websites. With Argo VPN, nothing is out of reach on the internet. You can also have full assurance of unbreakable security and privacy while using the app.