Download Angry Bird Go APK and enjoy 3d adventures downhill and uphill with car racers and characters like in Angry bird. This is the latest version of Angry bird.
Angry Bird Go
Angry bird go is the most famous bird video game in the world. It is a free-to-play game that has humorous tones and arcade style with super powers. The gameplay of angry bird go is similar to Diddy Kong or Mario Kart racing which has an angry bird theme. Angry bird go was developed and published by Rovio Entertainment.
The game features the charismatic character from the angry bird saga. You can compete with your friends over the internet or play against the AI. Angry bird go is an exciting and fun racing game that has taken the popularity of angry bird with various playing modes.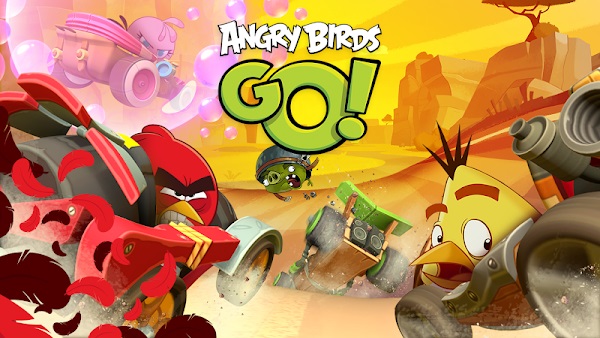 The biggest difference between the angry bird and the angry bird go is the visual move from 2d to 3d. Angry bird go has become so addictive that it has left its users/players returning for the race. Also, there are awesome features angry bird offers, which distinguish the app.
Angry Bird Go Description
Angry bird go is a kart racing game that gives you thrills and adventures like the Mario kart game. This is a free-to-play game where you play as a character in the event of racing. You can play with friends or play with the computer.
There are different race tracks in the game, which are fun and interesting. In the game, you are tasked with steering a wheel kart down a race track to achieve the goals of each racing level, which could be to get on the podium, win a race, or smash up a certain amount of fruits on track, beat opponents and more tasks.
Angry bird go contains classic playable characters like Stella, Terence, King Pig, and Mustache Pig. Each character belongs to one of these groups -Birds or Pigs. You will find several tools to make your character bigger and aid your win in the level, such as shields, power-ups, missiles, turbos, etc.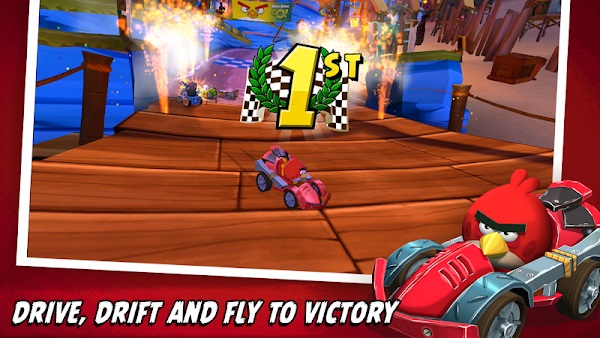 The gameplay is smooth as you are just assigned a task or goal to achieve in each level. Its gameplay is similar to other games with the angry bird title. You start with a racer – it could be red or any other character and a car. As you play/progress in the game, you will earn cash to help you upgrade your cars or purchase new ones. There is a reasonable number of races to shuffle in the game. The longer the race, the more cars or karts you can unlock and upgrade.
Furthermore, the game controls are simple and easy to understand; there are two types of controls in Angry Bird Go is to tilt the screen and the other is an onscreen control center. Also, a power-up button allows you to explore the racer's ability. The racer's ability differs; hence the power-up switch lets you use their control.
Each race is a level game; you will beat other races and compete with challengers to unlock tracks and further your racing. The game is available for all mobile devices – IOS, Android, and Windows, providing a thrilling experience. To unlock different characters and cars, you are required to pass all levels, which gives coin you will use to compete in challenges, upgrade and unlock items in the game.
Features of Angry Bird Go
The game has several distinctive features; here are all the exciting features it offers;
Setting Preference
This is an important feature of all video games. Angry bird go lets its users explore with the setting feature. You can choose. If you want sounds in the game or not. Also, you can set the character and the racer you want in the game.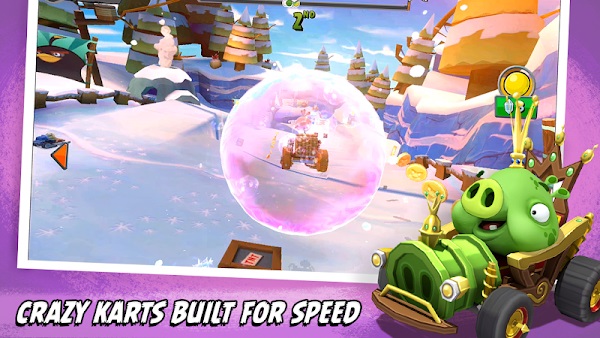 Diverse Game Modes
When you hit the play button of the game, it brings out a new level which you can select from. There are four game levels in the game, but it's unlocked by default, which is Seedway; it has tracks, each containing five different game modes race, fruit splat, versus, time boom, and a boss race against one unlockable character.
Furthermore, each game mode has a series of levels you must complete; race, Fruit splat, and time boom have five levels, while boss race and versus have three levels. This feature won't makes the game boring for players.
Customization Option
Angry Bird Go allows users to personalize their cars in the game to whichever color and type. Also. Customize characters in the game.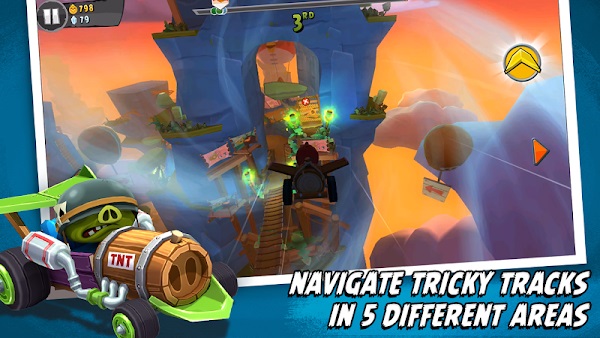 In-app purchase
Since Angry Bird Go is a free-to-play game, It has some in-app purchases which might be disturbing and might ruin the fun.
Conclusion
Angry bird Go is an excellent and updated angry bird game. It is exciting, engaging, and thrilling with loads of fun.
Download angry bird go latest version, and enjoy unlimited rewards and gifts. Enjoy the thrills it comes with


Join Telegram Group
Download Angry Bird Go APK and enjoy 3d adventures downhill and uphill with car racers and characters like in Angry bird. This is the latest version of Angry bird.