Download Amazon Music APK for access to 90 millions+ songs. Amazon Music has a rich media library, flexible subscription plans, and an excellent streaming experience.
What Is Amazon Music?
Amazon Music is one of the top 1% of music streaming platforms that dominate the internet. Although it's not the best, you still get many features from Amazon Music. Its lack of radio is one of the reasons it lacks full credit, but for its price, it's one of the most reasonably priced streaming platforms, considering the volume of music in its database.
The audio quality also gives Amazon Music an edge over some of its competitors. Although the streaming platform didn't offer a free version when it was first released, there is now an ad-supported offer that allows users to enjoy limited music at the expense of a few adverts during streams.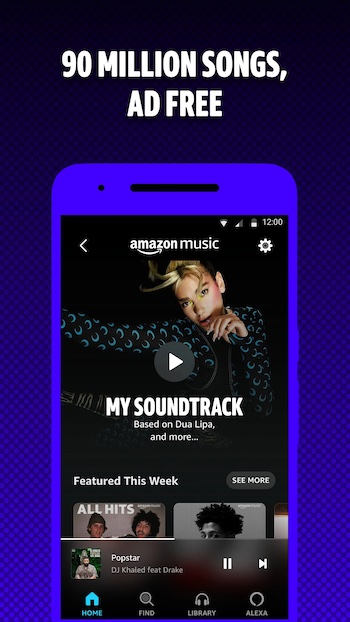 The Amazon ecosystem is also broad, so it's a good idea to link your Amazon devices, such as Echo and Fire TV. Amazon Music offers flexible pricing plans that make the options seem like different platforms. Depending on your plan, you can get limited or full access to the 90 million songs Amazon constantly boasts of providing its users in the premium plans.
Pros of Using Amazon Music
Amazon Music has an extensive library that offers millions of music to users.
The interface has a stylish scrolling page for lyrics, so you don't miss out on what artists say in your favorite songs.
There are also podcasts and other audio files asides from music on Amazon Music.
It has fully functional and integrated streaming with multiple Amazon devices.
It offers a full range of audio quality, from standard to HD and Ultra HD.
There is a free version for anyone who doesn't mind coming across a few ads while streaming.
There is an extended 90-day free trial period.
Features of Amazon Music
Integrated Voice Assistant
Whether Android or iOS, you can integrate Amazon Music with a voice assistant and play songs or playlists without moving or pressing your phone. If you prefer to play it over your phone, you can always call on Google Assistant or Alexa to play you the specific song.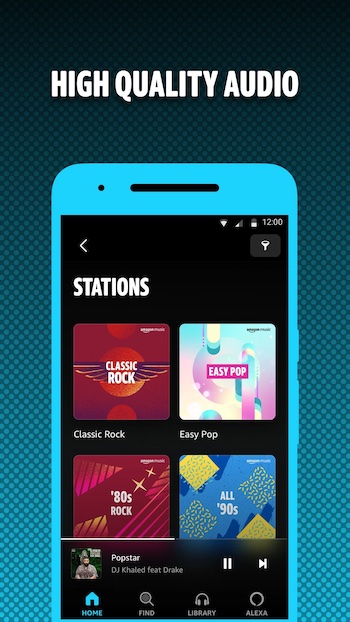 Meanwhile, you can also listen to the songs over other voice assistant devices installed in your home; ensure you have Amazon Music connected to it.
Ad-free Streaming
You could only run into ads on Amazon Music if you're using the free plan. Otherwise, you will enjoy an ad-free environment, not even any interruptions from Amazon or any in-app updates. You also get access to everything on the app with a subscription, so you don't need to pay extra to access more features after you have already subscribed.
Side-by-side
Aside from the voice assistant features, Amazon Music also has similar features, such as the dubbed side-by-side feature. It allows you to play a side-by-side dub of a song using a voice assistant like Alexa. For instance, you can ask Alexa to play side-by-side with "Suck My Kiss"/and comments available about the new album. This way, you'll access two audio resources with proper coordination.
Music Library
Amazon Music has a rich library of popular and latest songs. You can access up to 90 million pieces in the media library with the right subscription, cutting across artists from various countries and regions worldwide.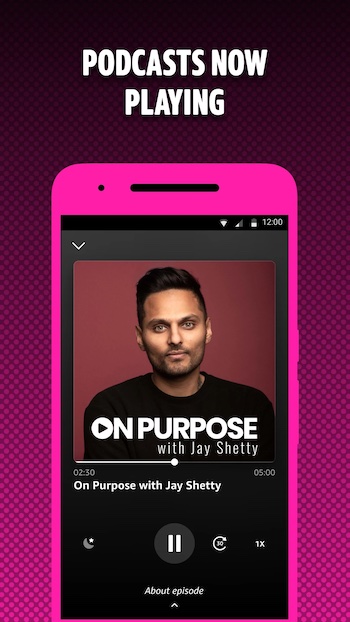 In addition, lyrics are attached to officially released songs to aid the users in keeping track of the music content and singing along with their favorite artists.
Compatibility
Amazon Music is quite compatible, especially with other Amazon products. So if you're a family person, you can subscribe to Amazon Music and use it on various devices around the house (ensure you subscribe to the family plan). So you can use it on your Echo or Fire TV easily. It's also compatible with third-party platforms like Roku or other Android TVs.
Audio Quality
There is a wide range of audio quality on Amazon Music, a feature that isn't available on many streaming platforms. Tidal offers the same feature for a higher price, so Unlimited users are in luck with Amazon's subsidized price for the Music HD feature. The feature allows you to enjoy audios with high-quality sound (CD quality) or even go as high as Ultra HD, which can be up to 10x bitrate of songs you listen to on regular streaming platforms.
How Much Does Amazon Music Subscription Cost?
There are mainly two pricing plans for Amazon Music, which include Prime and Unlimited. But there is also an Ad-supported offer, a Free plan with limited music access.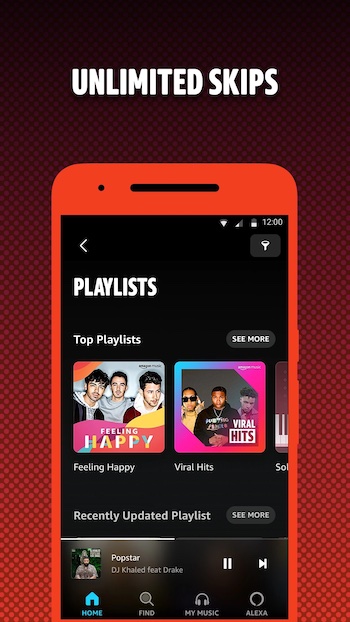 Amazon Music Prime (US$139)
As an extension of the Amazon Prime membership, you get a cut from the actual cost of a proper subscription plan. However, this also means you get limited access to 2 million songs compared to the Unlimited plan.
Amazon Music Unlimited
Amazon Music Unlimited is the peak of the subscription plans available here. Amazon Music's services include 90 million songs, podcasts, and audio files. It also includes HD and Ultra HD sound quality for anyone who has the requirements to access them.
Amazon Music Vs. Amazon Music Prime
There is a popular misconception about Amazon Music and Amazon Music Prime birthed by the similarity in services. Amazon Music is standalone music streaming app with various pricing options. One of these options is Amazon Music Prime, a special plan reserved for users who already have an Amazon Prime Video subscription and would love to add music to the package.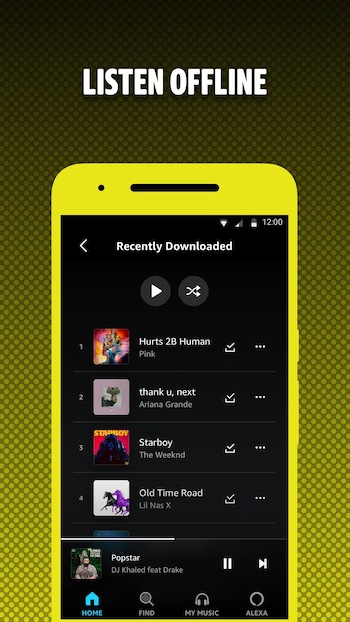 Although there isn't much difference in the pricing since the last increment, Amazon Prime is still much preferred by users. Amazon Unlimited, on the other hand, is the premium and most expensive option, which allows users to access all the kinds of music, podcasts, and audios that exist on Amazon Music.
Conclusion
Amazon's audio streaming service provides more than just excellent music; it also delivers podcasts and HD audio to various sources on the internet. You can access it through the web, mobile apps, or other smart devices.