Download Tidal APK, your go-to music app guaranteed to give you an elevated music streaming experience. Enjoy different songs across all genres with little interruptions.
An In-Depth Description of Tidal
The Tidal music app is one of the best ways to enjoy your music streaming experience, with over eighty million tracks at your disposal. The Tidal app is the first global music streaming service where users can listen to songs in high fidelity sound (HiFi) and watch videos with high-definition quality. What more could a music lover ask for?
Tidal is a Norwegian-American streaming service (podcast, music, and videos) that offers songs across different genres and music videos. This app was launched in 2014 and is available on various platforms, including iOS and Android; the Tidal download process is straightforward, so that you can get right to it.
Is Tidal free? The good thing is you can access the Tidal app for free, or you can choose to upgrade to Tidal premium - you can enjoy Tidal for free or through their paid subscriptions (Tidal HiFi and HiFi plus). You are guaranteed an immersive audio experience, as all three options provide great advantages.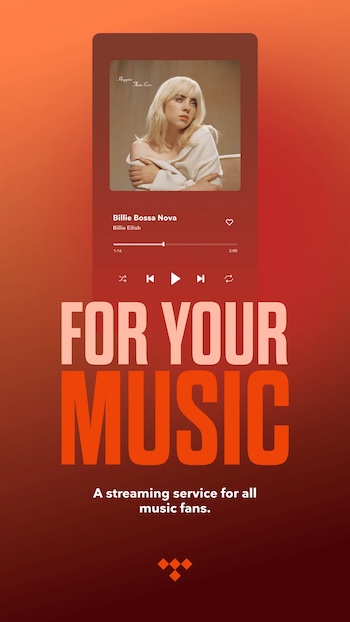 Tidal allows users to elevate their sound through their high-fidelity sound quality and lossless audio experience. They get to listen to their audio track the way it is meant to sound, the pure sound with zero compromises.
There is the normal AAC quality sound which is the easiest to access and gives users a balance between sound fidelity and data usage. The second option is the HiFi lossless quality sound which allows users to stream their songs using a lossless format. This gives them a crisp and rich audio streaming experience.
The last option is the master high-resolution sound, which allows users to stream their songs using the highest possible resolution. With the many mouth-watering features the Tidal music app offers, you surely do not want to miss out on this one.
Features of Tidal Tidal Plans
As stated above, Tidal offers different plans to enjoy your music streaming experience, and you can choose whichever option suits you best. The first is the free streaming music plan. This allows users to enjoy music across all genres for free (more than eighty million songs with a sound quality of 160 Kbps), with limited interruptions (this means that your listening experience will be interfered with by ads every ten to fifteen minutes), and unlimited skips. That is about all you can enjoy with the Tidal free streaming plan.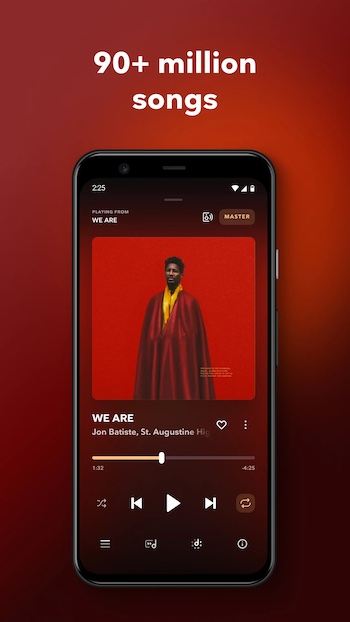 You can also upgrade to Tidal HiFi; this plan allows users to enjoy music 'the way it is meant to sound.' With this plan, you have access to over ninety million songs (with a sound quality of 1411 Kbps using a lossless FLAC format), an ad-free experience, offline streaming, and over 450,000 music videos.
You can also read and enjoy lyrics while you listen to your favorite songs and connect to your favorite devices, including your TV, Alexa, and over 150 other integrations.
HiFi Plus is another Tidal plan which gives you everything in the HiFi plan plus innovative audio formats (listen to music in master quality audio, Dolby Atmos, 360 reality audio at 9216 Kbps), and 10% of your subscription goes to your highest streamed artist every month. Lastly, Tidal offers a HiFi and Premium family plan.
Playlist, Mixes, and Radio
Tidal music app offers different themed playlists hand-picked by their team of experts or put together by your favorite artists (guest playlists). These playlists are divided into different categories (events, time, days, moods), so you can choose whichever suits you.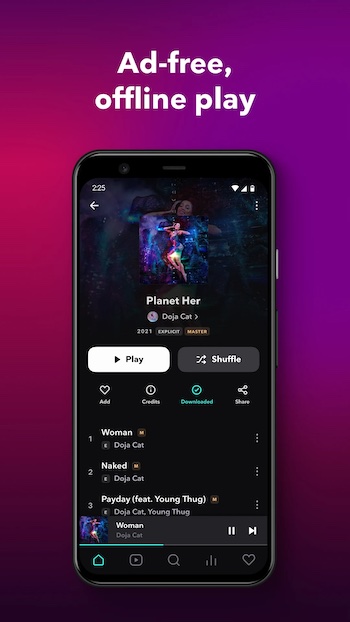 My mix is a Tidal feature that creates the perfect music mix for you based on the songs saved to your collection and your recently listened songs. You can choose to save your mix as a playlist so you can easily access it whenever you want. This way, you do not always have to search for what you like; Tidal will include your favorite songs and other audio tracks with similar vibes.
On the other hand, artist radio is a great way to discover new music tracks from different artists.
Catalog and Content
Tidal offers tons of music tracks and other mouth-watering content that users will surely fall in love with. When you upgrade to Tidal premium, you get access to premium content such as original articles about artists on the magazine page; these articles have the artist's songs included so you can read and listen simultaneously.
Premium users also access exclusive video content such as music videos, backstage concert footage, music video outtakes, etc. So yes, you can enjoy many things when you upgrade to the Tidal premium plan.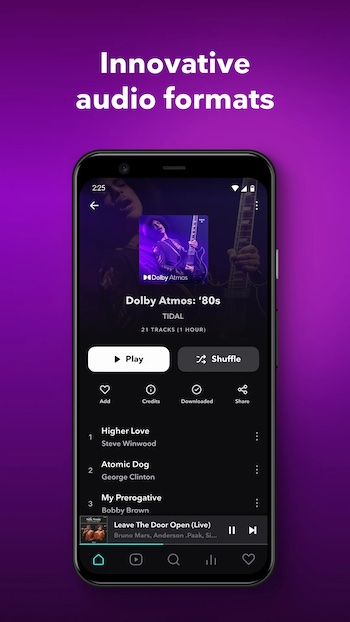 Tidal has over ninety million songs and 450,000 music videos to enjoy, which goes a long way to show how stacked its music catalog is. They have signed agreements with popular music labels like Sony and Universal, and you can find different artists alongside different genres on this music app. There are also video game and movie soundtracks on the Tidal music app, and everything is on here!
When searching for songs, you can use the discover tab (a list of rising music stars across all genres of music) or the hits and classics tab (a list of today's hits and yesterday's classics). You can also use the search box to look for your favorite tracks or choose a song from the genre category. You are sure to find whatever you are looking for.
Tidal vs. Spotify
Tidal and Spotify are two impressive music apps with exciting features. Tidal offers over eighty million tracks, while Spotify has a catalog of over seventy million songs. So, whichever you choose, you will get a vast library of music tracks. Tidal is a more expensive option than Spotify, but the good thing is that this music app offers high-quality audio.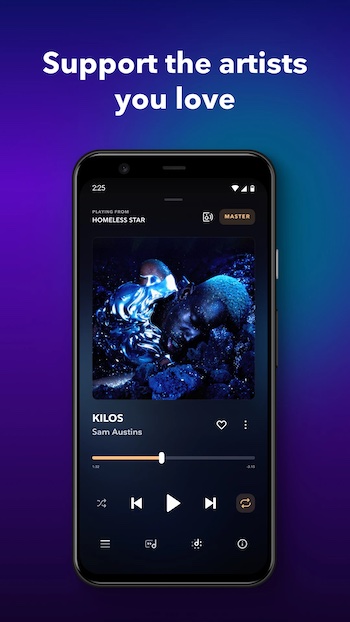 Spotify is currently the world's most popular streaming service, with over one billion downloads and 165 million subscribers. Spotify has a more suggestive search function and a better interface.
Conclusion
Download Tidal, a music app that allows you to listen to your favorite songs and watch your favorite music videos on your preferred device, anywhere you are.


Join Telegram Group
Download Tidal APK, your go-to music app guaranteed to give you an elevated music streaming experience. Enjoy different songs across all genres with little interruptions.