Download Chordify APK, an excellent application with multiple songs. Improve your music skills, enjoy your favorite songs and get the entire cords to practice easily.
Chordify
Chordify is a mobile application developed by Chordify B.V., released in March 2018, and free to install. Users can listen to any song depending on their music needs and level. Enjoy your favorite songs, and practice using its entire cord to boost your music skills. This app is available to Android and Apple users and has gotten good ratings since its release.
Chordify app is a music application that offers multiple types of music and also supports your process of learning and practicing music. The app allows users to explore several instruments like the ukulele, guitar, and piano. Regular practice and help from Chordify will have you playing any music you desire in a short while.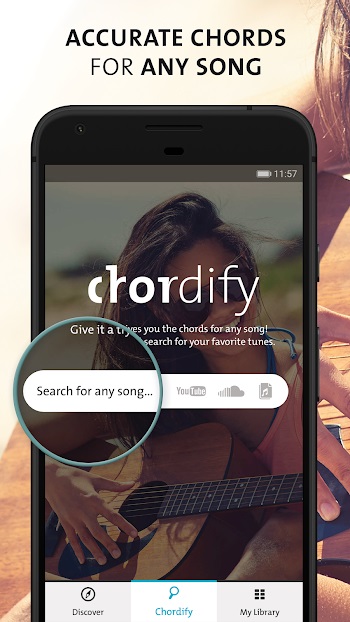 However, your learning process can be shortened when Chordify premium automatically recognizes a song'ssong's audio and chord cues and syncs them into your song. This amazing app will create chords and play music to aid your learning process.
Practicing songs through classical or theory methods will quickly make you lose interest. While learning old songs can be tiring and boring, famous or popular songs are quite easy because they are exciting to practice. You stand a chance to get achievements after practicing hard; these achievements can be shown to friends and family so you can experience a proud moment.
In Chordify for piano, beginners are bound to experience some difficulties during practice because it is hard to find chords that match their favorite songs. There are several sources for learning on the internet, but you might not find your favorite songs that are not updated.
Features of Chordify
If you have wondered, "how does Chordify work?" open your mind to learn about the app. Here are the features of Chordify you should look out for:
Piano Lessons Inspiration
Learn how to use Chordify piano by using the easy practice lessons. Finding chords quickly makes it simpler for new players to access their favorite tunes quickly and enables those who have mastered the instrument to play with more inspiration.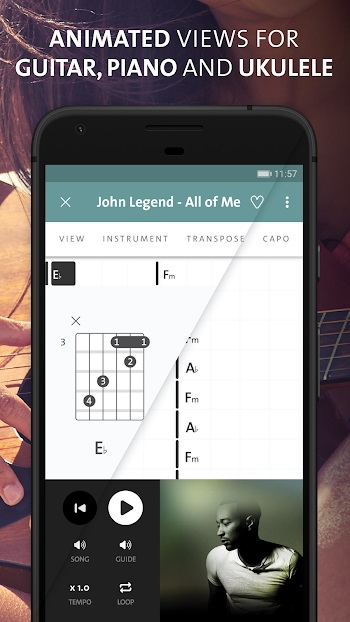 Chordify now supports guitar, piano, and ukulele chord creation for these three instrument types. You may quickly browse through the app's collection of more than 22 million song chord libraries to uncover unusual chords and learn how to play them.
You may also open an animation mode for each instrument when you launch the app to show how to play with the appropriate chord when you select your favorite song and then acquire the necessary chord sequence. After then, it will be simpler and quicker to get used to.
Adjust Your Tempo
Users may occasionally find it challenging to practice the chords of songs with intricate notation. As a result, remembering it will take a little while before they can begin practicing. Of course, the change between two chords might occasionally be challenging. To consistently practice the chords as the pace and complexity of the practice also rise, you can alter the tempo at the bottom. As a result, rehearsing a song is quite difficult.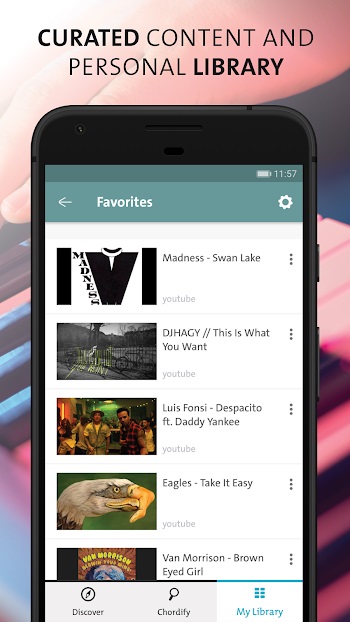 Save Songs to Favorites
You can uncover numerous songs you enjoy on Chordify because it has a huge selection of music, and if you discover one you like, you shouldn't look for one immediately. You should add it to your favorite list after reviewing the linked data. Users may occasionally struggle to recall their favorite songs. Thus, this function is important to enable faster searches. The famous collection will do this for them.
Learn the Guitar
When playing an instrument, you begin with the notes and move on to chords that range from simple to complicated. Every melody and song starts with a set of chords.
Finding the chord progression for a song or other intriguing piece of music is frequently necessary when studying and practicing music. Not everyone has the time or the perseverance to complete this task alone. Therefore, having a program that can tell you the chord progression for any song will be quite helpful.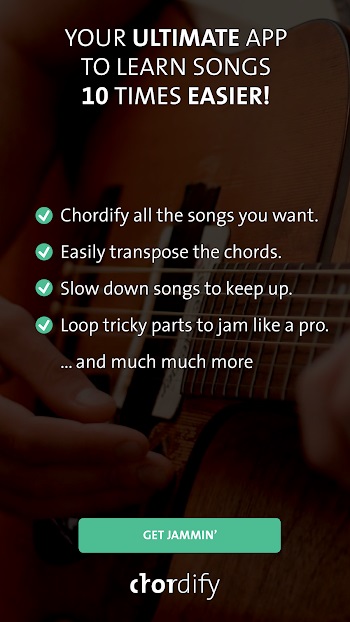 One of the most effective applications for producing chords from a user's favorite songs is Chordify. The app is simple to use and manage. It can be used by anyone, regardless of musical ability.
Expanded Library
You can listen to music with Chordify, including rock, country, blues, metal, or jazz, as well as holiday-specific theme songs like New Year's, Christmas, Valentine's Day, etc. There are dozens of songs on Chordify in every genre, ready to be heard.
Chordify's free premium version assists you with a multitude of activities in the learning and practical process of musical instruments, in addition to performing music and producing chords: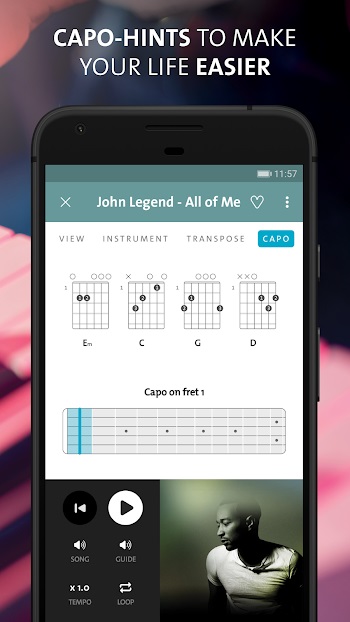 It slows down songs in animation so that you can follow them easily, whether you are new to the instrument or not.
It supports printouts of songs with detailed chords available in PDF format so you can access them anywhere.
It makes chord styles that are difficult and varied but with better advantages.
It supports switch chords so that you can play on different keys.
Final Thoughts
Play instruments and listen to music with the Chordify free app. Learn how to use Chordify frequently, explore musical instruments, and listen to your favorite songs. Chordify free download is open to everyone who has a passion for music and is willing to enhance their knowledge. Download the chord maker and music player to make learning easier.


Join Telegram Group
Download Chordify APK, an excellent application with multiple songs. Improve your music skills, enjoy your favorite songs and get the entire cords to practice easily.