Download AudioLab APK to edit any audio file ok your Android device. Get access to audio editing tools that improve your skills and help create quality audio files.
About Audio Lab
Audio Lab is a mobile App that has the features and ability to edit any audio file stored on your Android device. It is a specially made app with various editing tools that make it easy to get the best out of your music, audio recordings and any other sounds you might have recorded on your smartphone.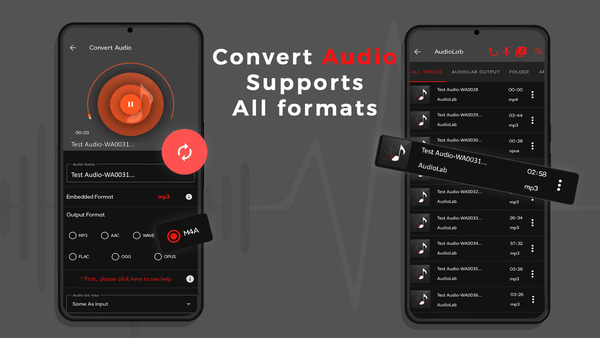 The app is developed by HitroLab with a free license and has up to 48 languages, including English. The app has a content rating for all ages and has already generated over 200,000 downloads since it was released a few years ago.
To get started with Audiolab, it has all its tools on the main menu for easy access; choose any tools that create your desired effect. For example, selecting the voice editing tool that makes it easy In case you want to make a ringtone with someone's voice, but you want to make it more attractive and well presentable by editing it a bit.
Audio Lab also has a modulator that can transform a human voice into an animal or an alien and a unique feature that can convert between text and voice formats based on the different default voices in the app library; you can use this feature to convert text to speech and speech to text.
On top of all that, Have you been wondering how you can mix different sounds in one place to form a harmonious flow? Worry No more. Audio Lab has the feature that allows you to achieve your desired sound by mixing four types of maximum sounds in one place and enabling you to change the rhythm speed and pitch with their Audio Mixer tool. So you can now finally form that beautiful sound you've wanted.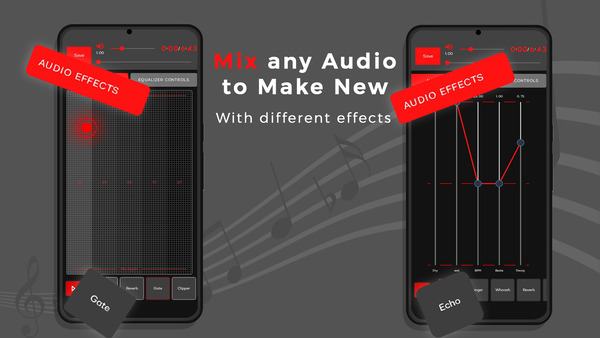 Why Use AudioLab?
Merge two or more audio to create single remarkable audio.
It allows you to work with multiple file formats,.so you can merge audio fields with different formats.
Switch between multiple formats and convert any audio file to your preferred format.
Split audio files into smaller parts and remove any unwanted parts of your audio.
Convert text to speech with the brilliant Text to Speech feature.
Use voice changers to change the sound and effect of your audio files.
Easily extract audio files from any video and save them directly on your smartphone.
Remove background noises and unwanted sound's to normalise your audio and boost clarity.
Features of the App
The App is quite useful as long as you're doing anything related to audio. It packs many comprehensive tools to help you do anything with your audio files. Check out some of the features below:
Simple UI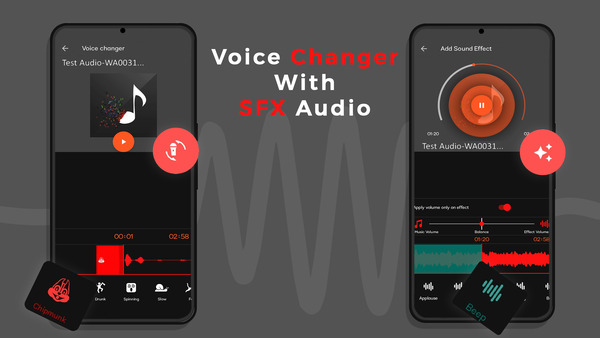 AudioLab has an impressive rating on Playstore, owing to its beautiful and easy-to-use user interface. The app is designed to be used by both beginners and professional editors since all the features are easily accessible on the screen. It also has a proper layout for various elements, with different screens for different features. So you can extract audio from a video on a different interface while you use another one to add audio to your video since you'll b needing a separate tool for each.
MP3 Trimmer
The app also allows you to trim your audio files However you like. For example, users can remove certain video parts, such as mistakes or irrelevant content. That way, the cut audio is ideal and only provides the specific content the users want to convey. The audio trimmer also works in several ways, so you can trim the end of an audio or proceed to cut the middle part, which makes the feature more functional and ideal.
Ringtone Maker
This feature is not commonly found on audio editing apps but is available on AudioLab. It lets you get creative and make a person ringtone you can use on your phone. First, you must produce the right sound and import it into the app. Then, it will help you create a ringtone version that you can use to set alarms and reminders and even share with your friends and colleagues.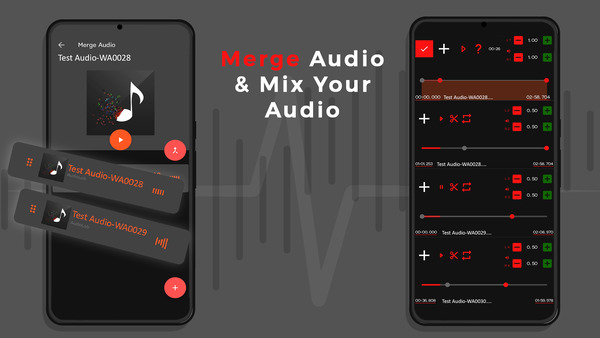 Speed Changer and Audio Normalizer
The sped changer is another feature that needs elaboration on AudioLab. This feature allows you to alter the speed of audio files. For example, suppose you listen to an audio that seems a tad bit too slow for your liking or doesn't rhyme with the video you want to add it to. You can always use the speed changer to transform the speed level and make the audio go faster than the original version.
There is also an audio normaliser that helps you soothe the nerves of your listeners. This feature enables you to cancel and reduce noise from the audio's background. So, you will be able to bring out the sound of the important part. For example, you can normalise the sound of audio because you want to hear or want others to listen to the main content delivered in the audio.
Voice Changer
By switching between pitches, you can also change the voice from your audio. This helps to create a feminine or masculine sound o distort the sound so that no one recognises the person speaking. It's a nice feature if you want to make an impression with your audio without giving an authentic voice. You can also use this to emphasise or remove it from certain audio parts.
Audio Extraction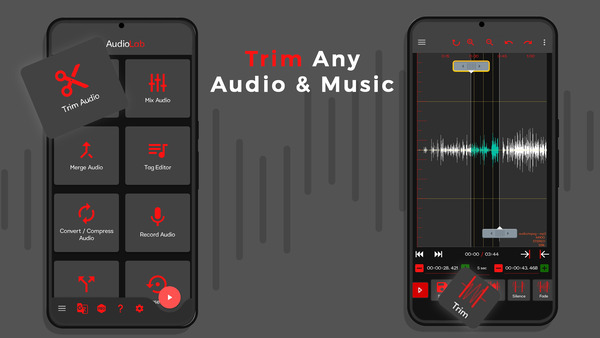 If you have a video, you'll b able to remove the audio sound from it with AudioLab. This app feature lets you import video files and then extract the audio from this video. You can save this extraction on your phone or use it with the Audio Addition feature to add the sound to another video.
Conclusion
AudioLab has some of the most impressive features you can use for your audio editing adventure. You can create, manage, convert, and save audio files on your smartphone as you wish with AudioLab, which makes editing easy and fun.