Download TuneIn Radio APK and tune in to listen to music, live events, live news across the world, and podcasts from your favorite speakers on AM/FM radio stations online
About TuneIn
With the TuneIn app, over 75 million monthly active users can access live news, sport, music, podcast, and radio through the global audio streaming service. TuneIn released the app on November 7th, 2010; ever since then, it has risen to become arguably the best radio app on the Google Play store. With TuneIn, you can listen to almost all the Radio stations in the United Kingdom (only the licensed ones) and many others worldwide.
TuneIn is a great app for an ideal radio-lover. You can listen to more than 70,000 radio stations from around the world using this Android app. In other words, you can choose to listen to local or foreign radio stations.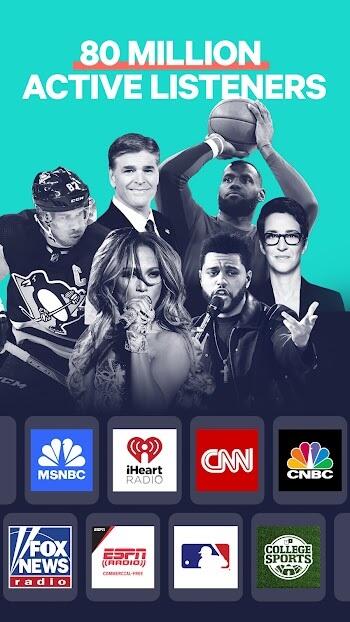 However, TuneIn Radio offers live sports and podcasts in addition to playing music and providing the latest news. This enables you to find any content, national or international, quickly. In addition, the platform has developed over time to provide a growing selection of content.
Additionally, you can connect TuneIn Radio to your smartwatch, vehicle, or other services like Google Home, Amazon Echo, or Alexa if you enjoy listening to the radio on any device. That way, you'll always have a radio and won't miss a thing!
The TuneIn Radio app allows users to stream any radio station from anywhere in the world. Its content is universally appealing. Therefore, don't wait any longer and download the TuneIn Radio app if you want to listen to any radio station.
TuneIn Radio features
TuneIn has some fantastic features that you would love. This app was designed to give the best to radio lovers.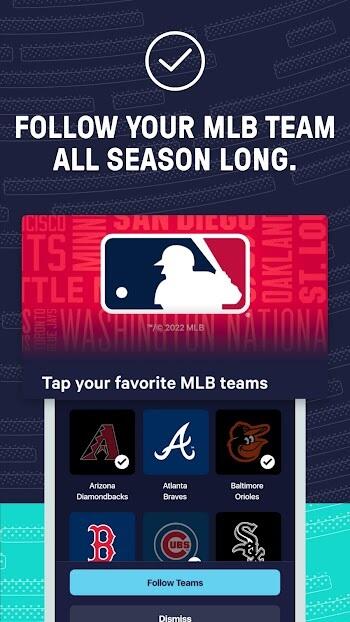 Listen To Whatever You Want
You can stream your country's AM/FM stations with TuneIn on all of your devices, along with more than 100,000 international stations, news, sports coverage that includes game-winning plays, music for every moment, and podcasts that interest you, and many more.
Listen To Your Music And Radio Live!
With more than 100K AM/FM stations worldwide from more than 197 countries, you can stream nearby stations live on your tablet or phone. Vibe to different genres of music ranging from hip-hop to Afropop and even gospel with premium music stations like Today's Hit, Smooth Jazz, and more.
Listen to news and music from the best U.S. radio stations on iHeartRadio, like Power 105.1, 102.7 KIIS-FM, Los Angeles 106.7 Lite FM, and KOST 103.5 FM, 93.9 Lite FM, 98.1 The breeze, and 104.3 MYfm KBIG.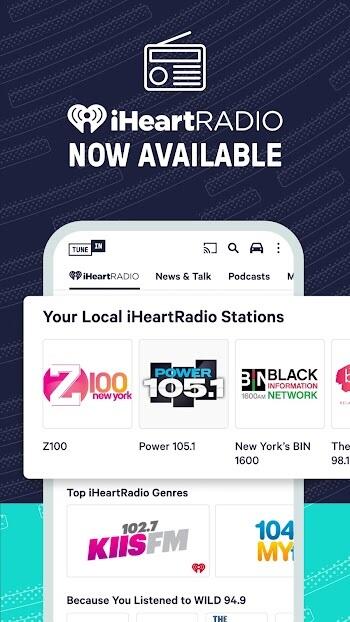 Find The News You Want
Stream all your favorite networks on the TuneIn radio app, including MSNBC, NPR, CNBC, Fox News Radio, CNN, and many others. Keep up with your local news and listen to international news whenever you want.
Some of the best news stations on this app include WBEZ Chicago, WNYC-FM, WTOP Washington, D.C., KQED-FM, and many more. With popular news podcasts like Up First from NPR, The Daily from the New York Times, and others, you can find whatever stories and information you want.
The Best Sports News
The most critical matches from leagues worldwide, such as NFL, EPL, MLB, NHL, NFL, Racing, College Sports, and many more, can be heard on TuneIn. Listen to your preferred local sports programs and talksSPORT, Fox Sports Radio, ESPN Radio, and many other sports news radio stations on the internet.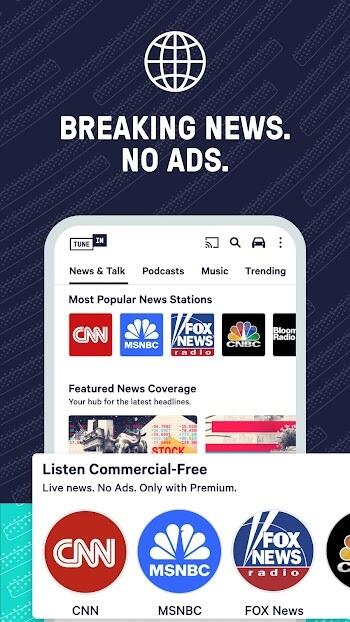 Follow your team's progress throughout the season with in-app notifications during games and personalized content. On-demand sports podcasts like Skip and Shannon: Undisputed, First Take, The Bill Simmons Podcast, Pardon My Take, and others let you follow the action all day long.
Podcasts For All Interests
Hear the most popular programs from around the world, such as Wow in the World, Hidden Brain, and many more. Listen to the top international podcasts when you're walking, working, or during a workout. Start from where you stopped and stream the episode online or offline.
Listen On Every Device, Anywhere
TuneIn follows you everywhere you go, be it on your tablet, smartphone, or any other mobile device; TuneIn is portable. With Android Auto's extensive Deep automotive compatibility and native support on Mercedes, Tesla, Volvo, Land Rover, Rivian, Jaguar, and other cars, TuneIn will improve your listening experience.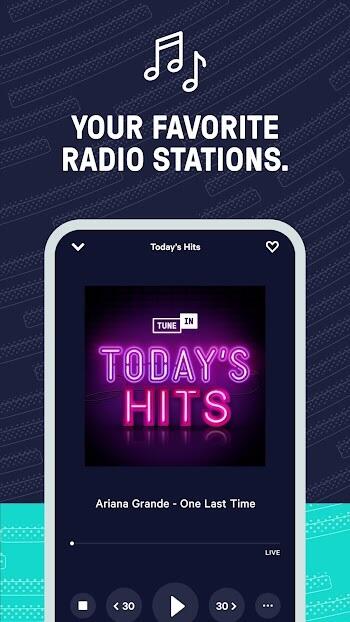 Use Google Home speakers and displays to activate TuneIn with your voice and to stream content.
Put Your Listening To High Gear By Upgrading To Tunein Premium
For extra content, upgrade to the TuneIn Premium plan. Where you get:
Real-time sports talks, and you'll get to Listen to every NHL and MLB game with play-by-play (no stopping), plus auto racing, ESPN Radio, and college sports without commercials.
No advertisements, only new: Remove the ads from all the news channels you love, and get daily access to more than 5 hours of bonus programming on CNN, MSNBC, FOX News Radio, CNBC, and other news channels.
Never-ending, advert-free music: Enjoy carefully selected music stations free of ads.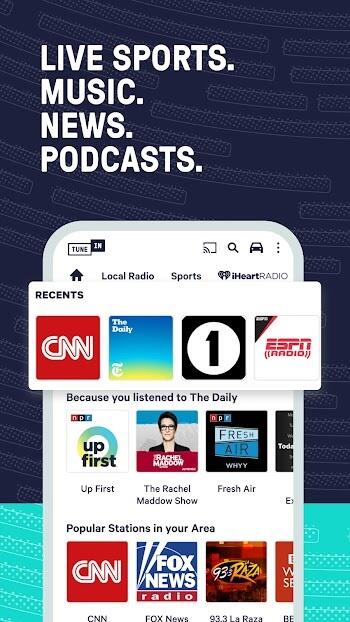 Lower Ad Rates Across the Board: Listen to more than 100K radio stations while avoiding commercials.
Conclusion
With a 4.7 star rating, TuneIn is an App Store Editors' Choice app. Additionally, it has received four stars on PC Mag, a 4.7-star rating on the Google Play Store, and a 9.2/10 rating on CNET. Those positive reviews are due to TuneIn's ability to consolidate all your audio into an app.
You can subscribe to TuneIn Premium on the free app if you want to make the most of the TuneIn app. Depending on your country, you will be charged a monthly or yearly subscription fee if you decide to subscribe. With this premium service, there won't be any commercials to interrupt. If you haven't turned off your auto-renew 24 hours before your current subscription ends, you'll automatically get a new subscription each month or each year at the then subscription price. Within 24 hours of the then-current period's end, an automatic charge will be made to your Google Play account. Per your subscription, the subscription fee will be billed either monthly or annually. Anytime from your Google Play account settings, you can disable auto-renew.