Download Alto's Odyssey APK for an endless sandboarding experience in the wild desert. Join Alto and his crew for a fantastic running adventure in the desolate desert.
About Alto's Odyssey
Alto's Odyssey is the sequel to the famous game Alto's Adventure, which features the same gameplay and concept as the initial game. You can join Alto and his friends for a fun experience, exploring the beautiful landscapes on your board.
The game has simple controls, and you must click on the screen to jump while running endlessly. You can also do some flips in the air while playing to land more points and get a speed boost. To do this, you must leave your finger pressed on the screen.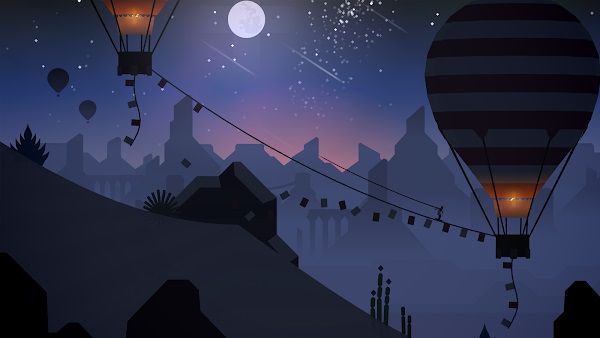 The main aim of Alto's Odyssey game is to run as far as possible, but you also get to complete different missions as you play. You level up every time you complete missions and can unlock new characters and boards. The game has impressive graphics, too, that will leave you amazed.
There are different settings, atmospheric changes, and customization options that Alto's Odyssey offers. The game is provided by Noodlecake and was first released on the 25th of July, 2018.
Exciting Gameplay and Storyline
One of the best parts of Alto's Odyssey is the gameplay and storyline that will keep you engaged. The game is a side-scrolling endless runner game with a single-player focus. It is based on sandboarding, and you can play by tapping the screen to jump and holding it down to do tricks. The tricks can increase your score and improve your ranking on the leaderboard.
In this sequel, the game is set in a desert with three biomes that you can unlock, all focusing on separate mechanics. At the beginning of the plot, you start in the dunes, which have rocks and rolling hills that the player needs to avoid. Another place you can unlock is the canyons, where you can even climb up the side of the canyons by holding down the screen. Then, you can run in the temples and use the vines to ride and the waterfalls to run faster.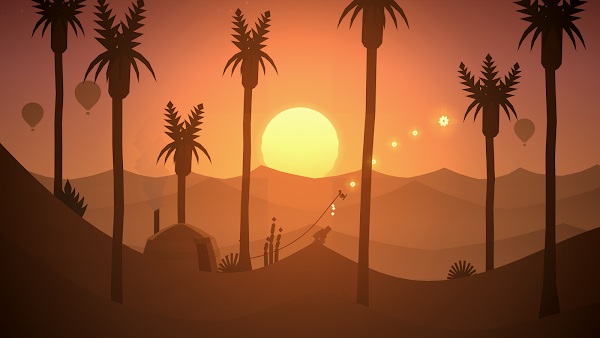 As you advance through Alto's Odyssey, you can unlock a compass and use it to travel through these different biomes. The game has some exciting features like water mechanics, falling platforms, balloon bouncing, wall-riding, tornadoes, power-ups, and mechanics like weather, day-night cycle, and wingsuit. There is also a Zen mode where you can get up after hitting obstacles and win better.
Alto's Odyssey offers you the chance to level up and unlock new characters after you complete challenges. You can gain coins after playing and use them to unlock new abilities and features and upgrade power-ups.
Game Features on Alto's Odyssey
There are different features that you can enjoy while playing Alto's Odyssey. These include: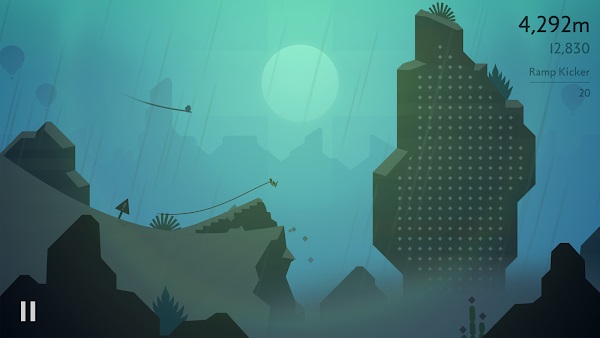 Despite being a sequel, you don't have to play the initial game to enjoy the second one.
With a one-touch trick system and intuitive controls, it is easy to learn and hard to master.
Explore the different biomes and diverse landscapes, each one with impressive visuals and gameplay.
Discover secrets in the sky with wall riding, hot air balloons, and moving grind rails.
Meet Alto and other unique characters, all having their abilities and attributes.
Master the different elements in Alto's Odyssey, with weather effects, shooting stars, sandstorms, and swirling wind vortexes.
Activate Zen Mode, where you can run in a relaxing mode with no scores, coins, or power-ups. Run for as long as you want in this endless dessert, and if you fall, you can stand up again.
Photo Mode allows you to take pictures of the stunning dessert after pausing the screen. You can take the perfect photo by pinching, panning, swiping, and zooming the frame.
Enjoy impressive sound when you wear headphones while playing Alto's Odyssey.
Impressive Graphics and Visuals
Alto's Odyssey also has excellent graphics that will appeal to anyone. It has a 2D graphic design, with a romantic sky and quality scenery that pulls you into the game. It pulls you in with its dynamic design in every theme. Regardless of the setting, you are playing in, you can expect excellent graphics and visuals.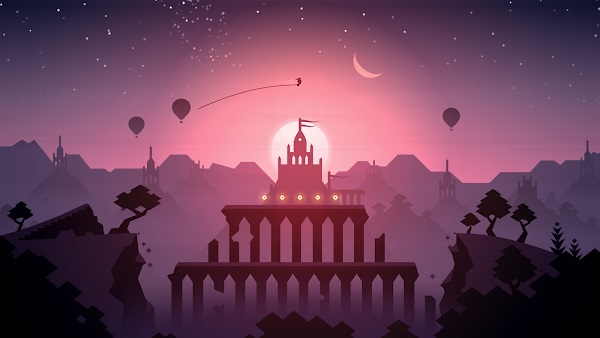 Customize Your Character Designs
There are six main characters in Alto's Odyssey game, each with its strengths and weaknesses. You get started with the default character and can unlock other characters as you play.
Alto is the game's main character, as seen in the title. You will start playing with him in the beginning by default before upgrading and unlocking other characters. Alto is a regular guy with average abilities and skills.
Then, we have Paz, who is a significant and strong guy. Due to his size, he has a slower sliding speed that makes him slow at running, but he is good at overcoming obstacles and smashing through rocks.
You can also play with Felipe, the unique character in Alto's Odyssey. The character is designed to look like a camel but has no hump and is very good at jumping over obstacles. It has the highest jump ability.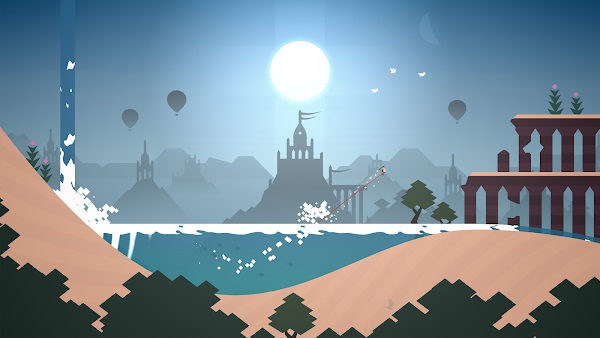 Maya is another character and one you will like playing with. She is tenacious with the skill to do flips in the air. But, her weakness is her sand surfing speed. When you have many bumpy obstacles in a round, you should play with Maya.
Izel is great for sandboarding, as she has a rocket sandboard for long-distance journeys. She is an expert at speeding and sliding on the sand.
Another good character is Sumara, who is connected to wildlife. There are other animals like foxes, weasels, and gibbons wherever she is. These animals help Sumara collect coins while playing.
Conclusion
Alto's Odyssey is a fun, endless running game that keeps you engaged. If you enjoy unique gaming designs, this allows you to play in any character and scenery you want. You can collect the coins you wish to and use them to purchase even more upgrades for a fun gaming experience.