Download Absolute RC Plane Sim APK to learn how to control flights. This game does not only offer players entertainment but also teaches them how to control planes.
Description of Absolute RC Plane Sim
This plane simulator provides an incredible experience regarding professional and virtual flying on a mobile phone. The game has several sets of vehicles –boats, drones, and helicopters controlled by radio. It is easy to navigate the vehicles by using the levers that will appear on the screen of your mobile device. Also, you will be granted the chance to view surreal and meticulously designed models, designs that are very close to real vehicles. All the vehicles have easy control; it does not matter if you are already an expert in this kind of game or simply a new user; navigating the vehicles is pretty easy. So, if navigating different RC aircraft models is what you enjoy doing, this game is for you – you will indeed have a great time playing it.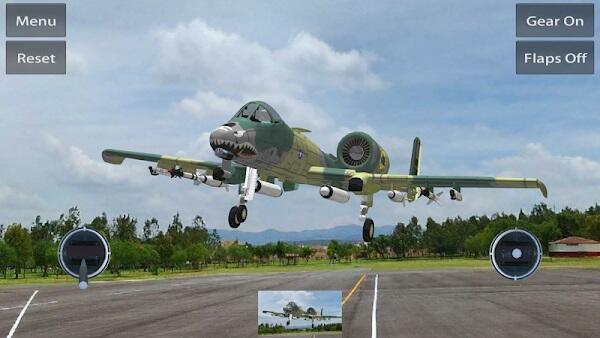 The meaning of RC is Radio Control. Therefore, RC aeroplane models are designed so that there is only very little difference between them and the real ones you see, and these models are often easily controlled with radio signals. Absolute RC Plan Sim allows you to drive these aircraft models on your mobile device with only a couple of easy steps. However, another interesting thing about this game is that all the aircraft models are designed with 3D graphics, offering realistic images, realistic environmental conditions, and a highly intuitive control interface. In addition, there is a vivid description of the collision effect. You can decide to spoil the model whenever you want. Perhaps you are looking forward to taking a trip on expensive aircraft models, and then you should first try the RC aeroplane flight simulator.
Take Charge and Navigate the Models as You Want
This particular game differs from other realistic flight simulator games people have on their phones today. This particular one is more compact than any other game in the same genre, and this friendliness is due to its simple controls. However, you will still enjoy an incredible experience of flying because you have the liberty to control everything, such as deceleration, acceleration, navigation, and so on. You will begin by launching an RC aeroplane model, then maintain the right speed to take off and put yourself up there in the clouds, and then you can land. All these are what the game will teach you. You need to reduce your speed whenever you are landing the plane to avoid a disastrous aircraft accident on the runway.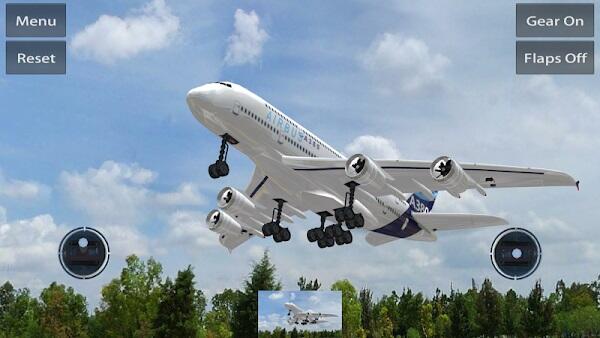 You must apply the levers on both sides of your mobile device's screen to perform this. Before you begin driving, you will have to take a little time to adjust some functions, such as flying area, wind mode, camera, and more. Absolute RC Plan Sim provides several camera modes to give you the feeling of being in control of the model from different angles, such as from the back or the sides of the aircraft. Also, for the wind mode, you have the choice to activate or deactivate it. The flight area is also pretty diverse, with various locations across the city.
Gain Special Models of RC
At the moment, you can find about four vehicle models you can use for free in this game. You have the choice to unlock and select any control model from RC to helicopters, cars, boats, and drones. However, some more advanced models may require purchasing stuff from the app. These special models are aircraft with more impressive outlooks and more powerful stats. In addition, you can unlock new flying areas and places to explore while flying further.
Various Weather and Scenes
From where do you want to take the flight? Absolute RC Plan Sim provides flying areas like deserts, realistic airports, streets, parks, and s on. You have the chance to rotate locations to explore several special landscapes and fields. The terrains you will see along the path of the flight are always realistically described with full details, giving you the feeling of flying a real aeroplane. You can also customise the condition of the weather, such as including storm, wind, or rain. These elements will put your flying skills to the challenge, especially if you fly long distances at a very high altitude.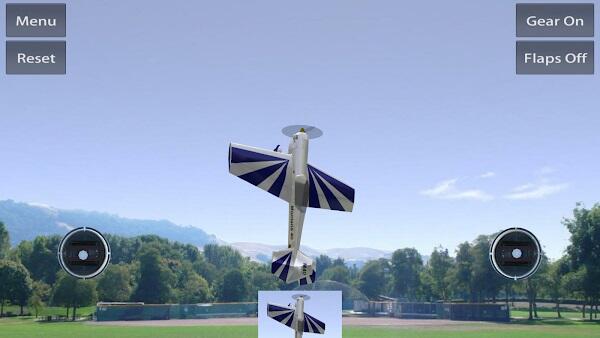 3D Graphics
To provide gamers with the best driving experience of RC models, this game is created with the intention of a 3D graphic platform. The graphics highlight RC boats, helicopters, and aeroplanes. You are free to check the specifications of each aeroplane and admire them, and you can also check out how they move when being navigated on the sea or in the sky. Another added feature is the realistic sound of the engines. The environmental factors are also vivid.
Comprehensive and Deep Simulation
Unlike the other apps in the same category as Absolute RC Plane Sim, this game does not only focus on the entertaining aspect of playing it or anything that makes it diverge from its main goal of teaching its users how to navigate RC aircraft. All the processes simulating aircraft driving are fully displayed at the start of the game. You will pass through the steps of controlling the machinery to assist in the operation of the aircraft. And as soon as you are flying in the air, you can perform detailed operations to navigate the aircraft in the right direction, maintain a stable balance, and finally safely land the aircraft.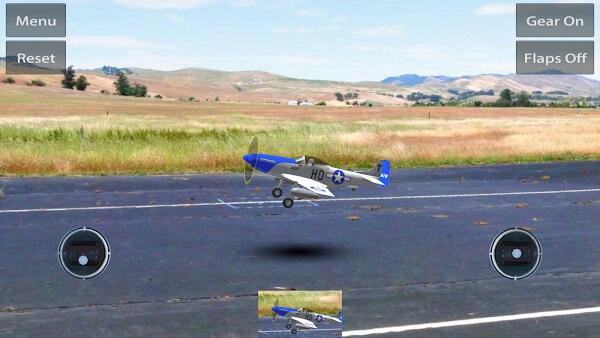 What the Game Offers
This game possesses all the qualities to bring players maximum fun while at the same time teaching them the basic rudimentary of flying RC planes. Any player of any age can effectively play this game. When you play this game, you won't be able to deny being in total control of a beautiful aircraft, watching the surrounding scenery, feeling the attractive colours – everything is simply amazing. Some other players even derive more from the game. For instance, you don't have to purchase expensive planes.
Conclusion
A piece of advice from the developers of this game is that you should not attempt to fly your real model before playing this game, especially if you don't have an in-depth idea of flying yet. This app does not only offer you maximum entertainment and fun, but it also keeps you from wasting money unnecessarily and helps in limiting risks during control simulation games. This game will teach you how to control real aircrafts without fear.


Join Telegram Group
Download Absolute RC Plane Sim APK to learn how to control flights. This game does not only offer players entertainment but also teaches them how to control planes.