Download Youcam Makeup APK and get access to 3D accessories, fresh makeup looks, smooth filters, different hair kits, and top brand beauty products to spice up your look.
Introduction to Youcam Makeup
Youcam Makeup mobile application is a face and photo editor app that allows you to beautify yourself through the use of filters, makeup accessories, and other items. You can edit your look by adding trendy hairstyles, freckles, and even eyebrows.
Upgrade your selfie experience and install Youcam Makeup to enjoy top-notch filters that smoothen rough edges and allow you to come out with clean and awesome pictures. You can also change your eye color, try on new wigs, and include eyebrows of the finest quality.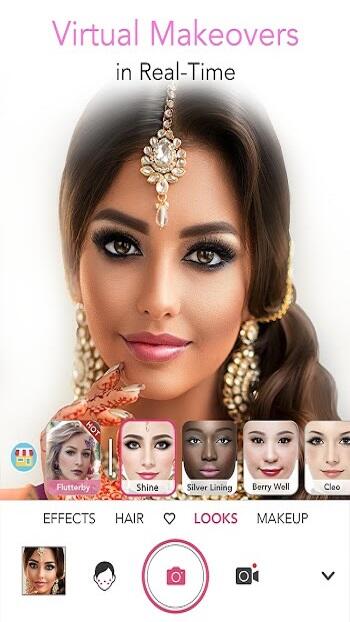 Imagine having a salon on your mobile phone where you can access many makeup items. This is what Youcam Makeup gives you effortlessly. The range of Youcam Makeup editing capacity is far-reaching, and there is something for everyone.
It comes with a virtual salon where all the magic happens. You can dye your hair in various colors and completely change your look.
Whether you want to keep it simple, with a basic look, or you want a stylish well made up glamorous face with enough accessories, Youcam Makeup gives the best results. You will also find items like earrings, sunglasses, hats, and necklaces.
Youcam Makeup is packed with editors for different parts of your face. You will find something for your eyes, nose, lips, eyebrows, teeth, and even skin texture. Depending on the festivities in a year, you can also switch to attires that represent a different period of the year.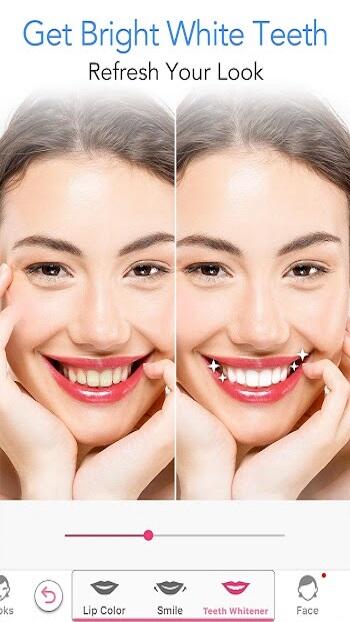 Youcam Makeup mobile application allows you to style your lips with bright and dark colors. Different types of lip accessories like lip gloss and lipsticks of different types. You can also reshape your lips, whiten your teeth, and stylize your smile with the smile editor.
Youcam Makeup is easy to use with straightforward navigation options. Circle through the different types of makeup options and select your preferred facial area and edit with simple tap-ins. You can also adjust your selected option till it gives your desired realistic look.
Youcam Makeup allows you to engage your creative strength to beautify yourself uniquely and especially. Take advantage of its amazing design kit and create a glamorous you that will have everyone purring over your pictures.
Features Of Youcam Makeup
Youcam Makeup mobile application is built with a good number of unique features that are perfect for adding that extra edge or completely changing your look. Using these features in the right proportion will help you create a realistic Makeover without totally eroding your original look.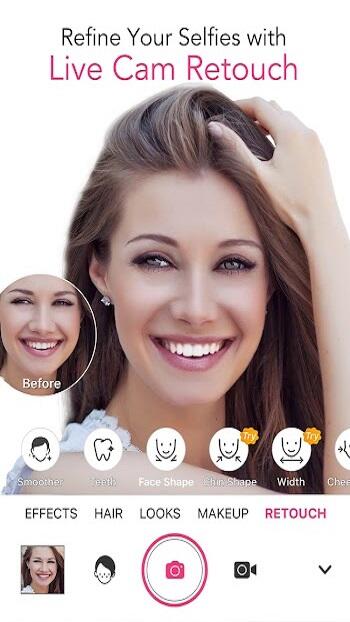 Youcam Makeup mobile application comes with well-balanced features and some of these features are listed below:
1. Selfie Editor and Beauty Cam
Youcam Makeup mobile application comes with an editor that completely redefines your selfie experience. It actively removes blemishes and presents you with numerous filters to capture your mood and the spirit of the occasion.
It comes with enough filters fitting for every different moment. It also helps in removing contours and eye bags. You can also add other items like concealers, eyeliners, and highlights for effect. You can smoothen your face, use the face shaper for cheekbones, and fine-tune your changes with the face tuner.
2. Hair Makeover and salons
Having the right hairdo can radically change one's look. Youcam Makeup mobile application comes with a good variety of hair options. From hairdos to stylish wigs, you have a large selection to pick from.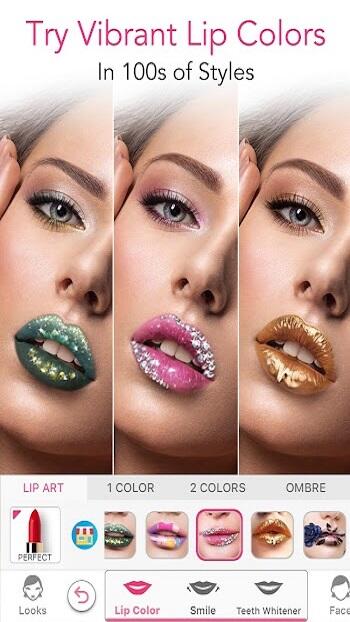 You will find wigs of all types from short to long ones or even curly ones. Youcam also allows you to dye your hair in different colors in well-equipped virtual salons. Depending on the different seasons of the year, you will have access to Halloween-themed, Christmas themed, and valentines themed makeup kits.
3. Eye Makeup
Youcam Makeup mobile application includes an eye makeup kit in its package. With the eye makeup kit, you can make several adjustments like removing your eyebrows or even adding a new one. You can edit its thickness, color, width, and position.
The Eye editor is also capable of making the eye appear brighter. It also helps in red eye correction. Youcam Makeup eye editor allows eye color editing, eyeliner editing, and dark circle removal. It also allows you to try out contact lenses from leading brands.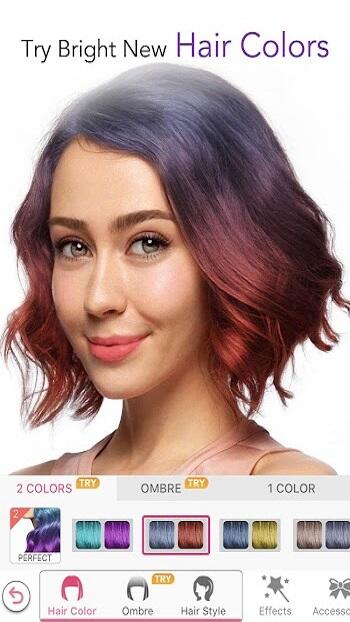 Youcam Makeup mobile application comes with a list of eyelashes and eye shadows to get you looking chic and fly.
4. Lips Editor
We all know the importance of styling your lips with the right type of lipstick or lip gloss. You may choose the color that perfectly reflects your mood or the moment. Youcam Makeup comes with more than enough varieties to select from.
You will find matte, metallic, and shine lipsticks and lip gloss types to choose from. Each brand accentuates your beauty in more ways than one. You can also use the lips reshape to get those plump lips you desire. Also included are teeth whiteners and smile editors.
5. Skin Care Capacity
Youcam Makeup mobile application comes with a special skin care feature that helps you analyze your skin in no time. It also recommends the best possible skincare regimen that would get your skin glowing and flawless.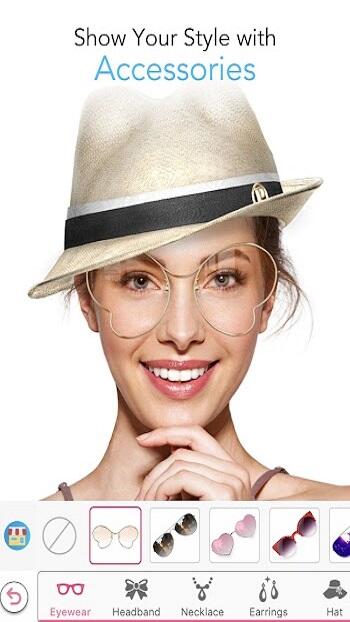 Youcam Makeup performs a skincare test to identify wrinkles, zits, spots, acne, and dark spots. This is coupled with makeup and dermatological standard skincare suggestions.
6. Accessories Editor
In Youcam Makeup mobile application, you will also find several accessories to play around with. These accessories include basic eyewear like sunglasses and normal glasses. Other accessories available are Hats, Hairbands, Necklaces, and Earrings of various types.
Conclusion
Youcam Makeup mobile application is an all-in-one editor that is capable of meeting all your editing needs, from special filters that standardize your pictures to makeup kits that beautify you in unique ways. For best results, use the available makeup kits in a way that your uniqueness is not completely replaced. Download today, and be all that you can be.