Download YouCam Perfect APK to create memorable photos. Edit your eyes, take selfies, cut, resize, filter, remove backgrounds, and do another editing with YouCam.
About The App
YouCam Perfect is a photo editing tool with some of the best features you'd need for your everyday editing needs. The app allows you to apply tons of cool effects to your photos and impressive modifications that boost your picture quality. Like every standard photo editor, it can help you add filters and adjust brightness, contrast, color, and other features of the picture you can tweak to improve.
One of its most revered features is the auto-embellishment feature which retouches your picture. You don't have to do anything when using this particular feature, which most users love. It simply analyses your image and gives it the best retouch possible. The result is often outstanding, and you'd only have to make a few manual corrections sometimes.
YouCam also takes editing to the next level with its specialized editing tools for special parts of the face. For example, you'll be able to edit the shape of your face and eyes when you use the app. With this tool, you can make your face seem thinner or make your eyes smaller, which will significantly affect the final result of the editing. This tool is also easy to use; you can drag it over the area and select the intensity you want it to apply.
Other impressive features have earned the app its reputation over the years, some of which will be outlined here. For example, you can insert various predesigned frames and color filters or manually add them yourself to give different tones to your picture.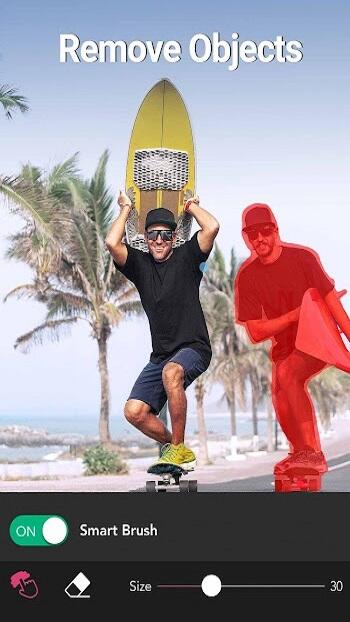 YouCam is free to use and was developed by Cyberlink, one of the leading companies in the camera software development industry. The app content is rated for 3-year-olds and above, so even kids can use the app. YouCam has over 100 million downloads on Playstore and a 4.4 million rating from 2 million users.
Why Use YouCam Perfect?
YouCam is one of the most widely used photo editing apps due to its impressive features. You can check out some of the reasons millions of users opt for it below:
Use the built-in app camera to take perfect selfies and edit them in seconds.
Beautify your pictures with an extensive library of filters and effects to add.
Change your skin tones, and create a blend of perfect skin color.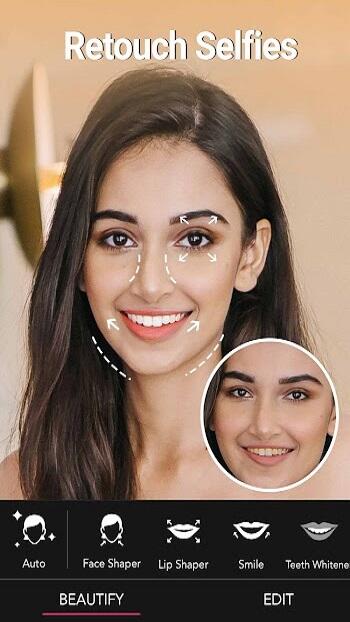 Use modern photo grids to customize your pictures.
Add animated effects and create live images on the app.
Use the magic brush to change the shape and color of your photos.
Cute, crop, resize, and have access to other editing tools.
App Features
As mentioned earlier, many features on YouCam are perfect, each as useful and the next depending on the user's needs. Check out the features below:
Selfie Camera
The app has a built-in selfie camera that lets you take instant selfies with your front camera and immediately edit the picture. You can also add many effects before taking the picture, such as filters, which can change your tone and environment. It can also take you directly to the editing page so you can add any other thing you want.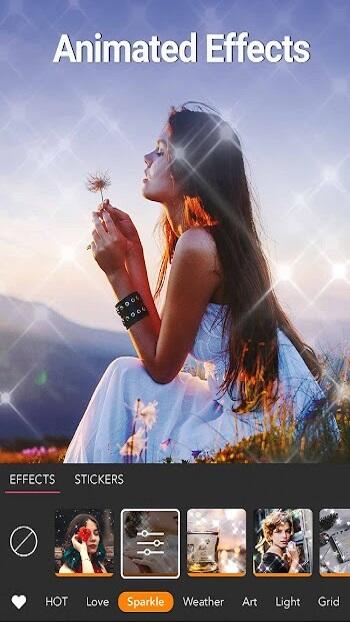 With just a single tap, you can add features like Teeth Whitening, Smooth Skin, Reshape Faces, Adjust Tools, etc. Use the blemish tool to remove acne, pimples, and any other skin condition and smoothen your skin. Use the live photo editor to edit your pictures instantly before taking the shot.
Frames and Collages
You can find unique frames and collages for your pictures on YouCam. It has an extensive library of photo grids, collages, and scrapbooks to help you create a perfect collage. You'll also be able to access the numerous filter effects that help boost your picture tone and appearance and change the whole mood.
Customize your favourite photos with the stylish photo grid and exceptional templates you can share with your friends and colleagues on social platforms. There are also updated effects in the app that other users share. You can use these designs too and follow the trending designs.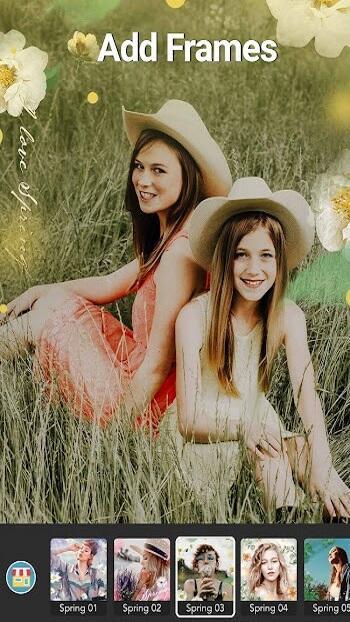 Animated Effects
YouCam also gives users the liberty to add life to their pictures. You can draw people's attention to a particular part of your picture by adding animated effects and overlays with the animation tools. You can also convey more messages by adding texts or stickers. The live image effects allow you to transform each picture into a beautiful art piece. In addition, different sparkle filters for images or live cam can leave a better impression on your friends and viewers.
Magic Brush & Layers
You can add magic brush and shapes to your images to create a more artistic piece. Many types of colourful brushes with different intensities match your skin tone. Then, create a beautiful later of photos, stickers, and texts to show your professional skills.
Background and Object Remover
You can use essential tools to cut any photo's background and extract only vital information. You can also remove unwanted objects with the smart object remover. This creates a perfect removal process that makes the video as neat as if nothing was removed. You can also access many backgrounds as a green screen for images.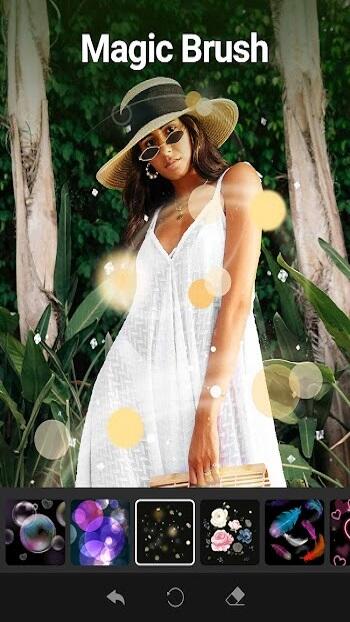 Blur and Picture Adjustment
This app has image adjustment tools like the HSL and Blur tools. These tools help add more depth to your image and bring out the most important parts of the image. For example, blurring the background adds more clarity to the main parts of the image you edit. Use these tools to hide photo bombers or irrelevant background objects to make your picture look more professional.
Conclusion
YouCam has loads of functionalities that help you get the best out of your images. It offers the most basic editing tools to advanced features you won't find on many editing apps. It also has an extensive list of filters, effects, backgrounds, stickers, etc. Easily share your images to Twitter, Facebook, Instagram, Dropbox, etc., once you're done editing.