Download Standoff 2 APK, an action first-person shooter game with impressive modes that keeps you on guard—download Standoff 2 to fight against terrorists.
Standoff 2
Standoff 2 is an intense action-filled first-person shooter game that explores a variety of compelling game modes and weapons to choose from the get-go. As a special force, your task is to defeat and kill terrorists. Arms in hand, formulated strategies and tactics in your head, and you are ready to embark on a mission to the war front. The game modes of Standoff 2 allow you to play across different maps, from fighting battles in caves and mountains to underground laboratories. Note that you either fight to win or to death; your accuracy skills in shooting to death terrorists will keep you alive and on top of the game.
Standoff 2 is a prequel of its first version created by AXLEBOLT LTD, is available on Android and iOS systems, and was released in 2017. The Standoff 2 developer has gone on to modify and create better versions of the intriguing game. Standoff 2 for apk latest version, 0.19.4, was released on July 22, 2022, with compelling features that include realistic animation that fits an action game. Free weapon collections to pick right from the beginning of the game with different game modes; Deathmatch, Defuse the bomb, Arms race, Capture the flag, and Robbery.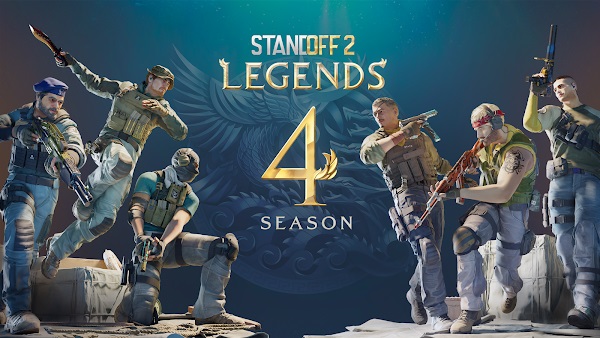 Standoff 2 developers sure know how to serve its players; there is a friends and lobbies system to play against, skin and stickers for weapon models, and a counter strike style first-person shooter that gives players a rush of adrenaline.
The user interface of Standoff 2 is relatively easy to use as it can be used on touchscreens with a virtual d-pad on the left side and a crosshair on the right side, all on the games screen, which makes the game easy to play.
Standoff 2 features.
Why should you download the Standoff 2 game? We got you covered as the features are outlined below;
Realistic graphics and animation.
Standoff 2 offers an appealing visual quality for a multiplayer 120 first-person shooter game. You get to have a seamless gameplay experience from a shooter's perspective with HUD customization that helps players contribute to the aesthetics of their game; players get to customize their weapons and media.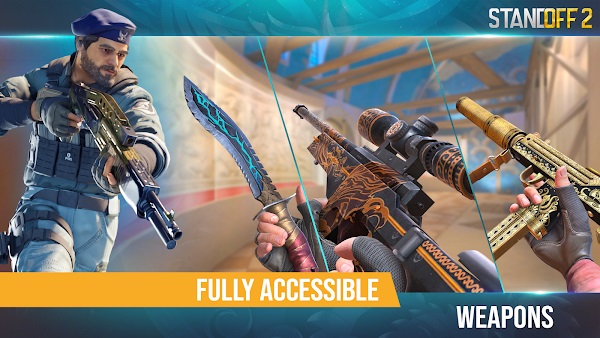 The 3D graphics in Standoff 2 are pretty detailed and realistic in high resolution. From the shooter's perspective, movement is quite strange, especially for new players who find it hard to navigate. Still, with consistent playing, expertise is attained. Note that players have the liberty to choose from either of the opposing forces. You either pick to be a Specialforce or a terrorist and fight with your friends to win.
Explore detailed maps.
Explore the world with Standoff 2; on the available lands, you can choose the desired map at the right corner of your screen. Get to kill terrorists in battles from a town to secretive laboratories in the mountains. Set out to fight from Italy to the vast West, battle Royale, Arabia, and much more.
Standoff 2 has a total of six different challenging maps. On two maps of the game, two irreconcilable forces come together [the special forces and terrorists] with a particular purpose to either win a battle or die trying.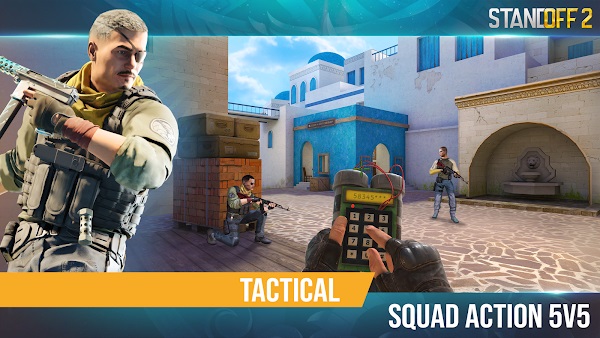 Players in standoff 2 navigate various maps to look for a stand while firing shots. You have to continuously check your map and use numerous bonuses and strategies to kill targets so you can clean the sites as soon as possible.
Tactical skills gameplay with controls.
Standoff 2 calibrated controls make it easy to play. Players need fast reflexes, high prediction, and on-point accurate moves while standoff 2.
The shooting button appears on both sides of the screen, which gives players accuracy in shooting the opponents faster and easier. A d-pad on the left and a crosshair on the right sides of your screen makes it easy to kill opponents.
Finding a good angle is the key here. Locate a good position using your controller system, make your first shot and move to peak again from a new angle. Ensure that you are not exposed. It would be best to survey your environment before finding another position to target again, especially in single-player fights.
Another lesson to note here is to find a strategic position to stay alive; this strategy used in a single-play fight is called jiggle-picking. You can achieve this by pressing the 'A' and 'D' keys continuously; this will show you where you stand, and you can target your opponents from your stands, always remember you either win or die.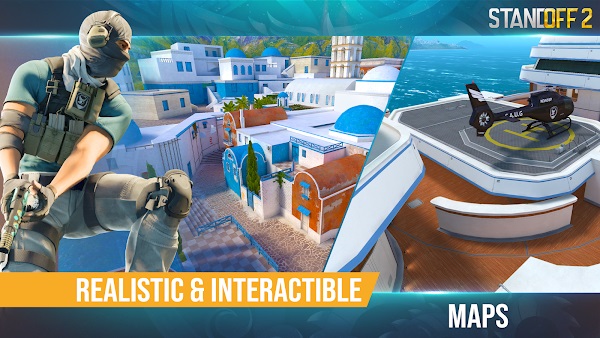 With standoff 2, you get to enjoy customizable control settings.
A library of weapon models with new skins.
Standoff 2 has many different weapons, like AK47 or M4A1. The exciting part is players get to unlock this feature right from the start of the game. So, grab your favorite arm, and off you go to the battlefield.
New models of knives, grenades, guns, and players can customize their weapons with new skins, which are replacement equipment produced in different models and designs. Players can trade guns, costumes, and weapon skins with each other.
Competitive modes and ranks, clans and clans battles in Standoff 2
Standoff 2 allows you to form teams with friends where your rankings are at stake. Skills like teamwork and mastery of the game do the work. You even get to own your clan with friends to fight clan battles.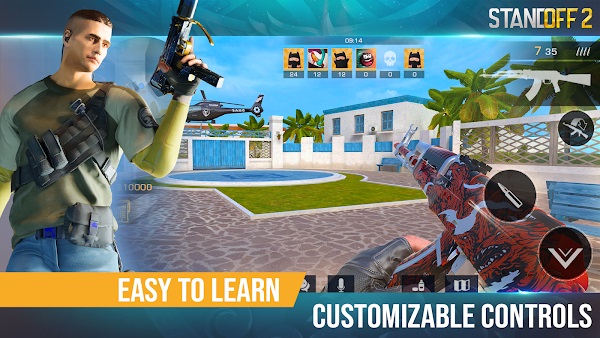 New modes are also available on standoff 2; apart from Deathmatch, the game has additional modes like Defuse the bomb, Arms race, Capture the flag, Robbery, and Tournaments. Players also get to interact and communicate while playing. Guns are bought with the virtual money obtained from the game, while cash can get skins. Although, winning tasks and opening gift boxes get you the best guns.
If you love guns, you should try the Arms race mode because killing the enemy with guns the game offers makes you a winner.
The Deathmatch mode is a challenging two-team battle played within five minutes; any team that survives the struggle emerges as the winner. The respawn is also very fast as you only have to wait five seconds.
Conclusion.
Standoff 2 is a first-person shooter thrilling game with features that allow players to refine and use their tactical and accuracy skills to win battles.
Download Standoff 2 to win battles and rank the highest.