Download SpongeBob Krusty Cook Off APK to participate in a food adventure with SpongeBob. Become a chef and cook varieties of food in this restaurant simulation game.
SpongeBob Krusty Cook Off
SpongeBob Krusty Cook-Off is a mobile simulation game developed by Tilting Point in May 2020. The game features the famous cartoon character SpongeBob and keeps players hooked with various food adventures. SpongeBob Krusty Cook-Off comes with a challenging storyline and a culinary theme. If you want another cooking experience, play SpongeBob Krusty Cook Off on your Android and Apple devices.
Game Description
Returning to SpongeBob SquarePants from his acclaimed series, Players are given a chance to interact with this charming man and walk beside him as he develops into a true chef. Additionally, the charming characters will make a comeback. Watch out for Patrick Star, who is unavoidable, Mr. Krabs, the boss of the Krusty Krab, where SpongeBob typically works, and his grumpy coworker Squidward Tentacles. At SpongeBob: Krusty Cook-Off, SpongeBob SquarePants and his friends' daily lives will be re-enacted.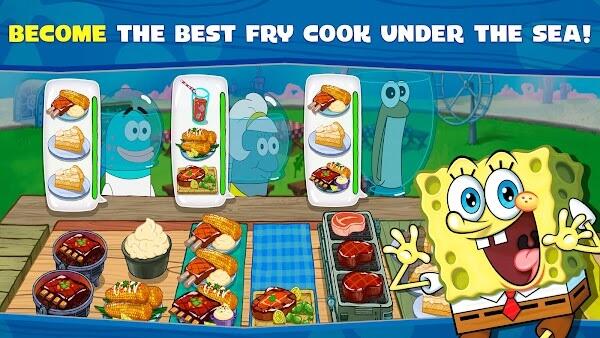 Prepare to show off your culinary prowess at one of the best Italian restaurants, Pasta La Vista. It's a great strategy game that lets you alter the settings to suit your preferences. SpongeBob: Krusty Cook-Off would immerse you in the game's detail by requiring you to manage a lot of eateries. The game's gameplay is similar to Cooking Craze or Cooking Fever. Your exploration will lead you to a lot of entertaining and odd things.
In this cooking simulation game, have fun designing your kitchen, personalizing your furniture, honing your culinary talents, and preparing to serve delectable meals to your visitors. Your ability to manage your time effectively will be crucial to the success of our well-known restaurant chains: Prepare to have fun and light up the well-known grill as you begin to prepare meals across the various levels and eateries of the fantastic SpongeBob universe.
SpongeBob Krusty Cook Off Gameplay
SpongeBob: Krusty Cook-Off is a game mostly focused on food-related issues. Collectively, you and SpongeBob will prepare delightful meals to entertain guests. You and SpongeBob enter a tiny booth with a kitchen to prepare food as the culinary adventure starts. There are many different foods, and clients will order certain dishes. Coffee and cake are in. Additionally, you do a quick and easy job, which allows you to make a lot of money.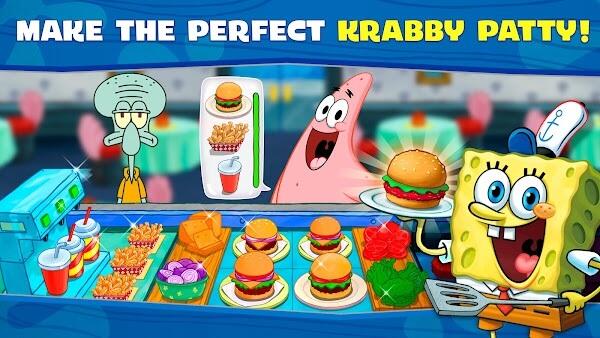 New foods become available when you achieve the objectives to advance to a higher level. As a result, the menu expands in variety, which brings in more patrons. But there are a lot of issues as well. The first change is an increase in each level's objective. The next step is to cater to a huge number of clients. They will have a horrible experience if you delay them for too long; as a result, they will depart with a negative attitude and never return. And how can you achieve your objective if you don't amass enough positive expressions?
Features of SpongeBob Krusty Cook Off
Here are the features of SpongeBob Krusty Cook Off:
Enjoy The Cook-Off
In our addicting cook-off challenge, prepare mouthwatering Krusty fast food, including burgers, steaks & ribs, hot dogs, drinks, and more. After each level, you may get all kinds of quick food at our well-known restaurants and brand-new kitchens. In this café service simulation, learn new dishes and improve your chef and kitchen tools to cook food more quickly. Build the ideal kitchen of a master chef after starting with a simple burger restaurant layout.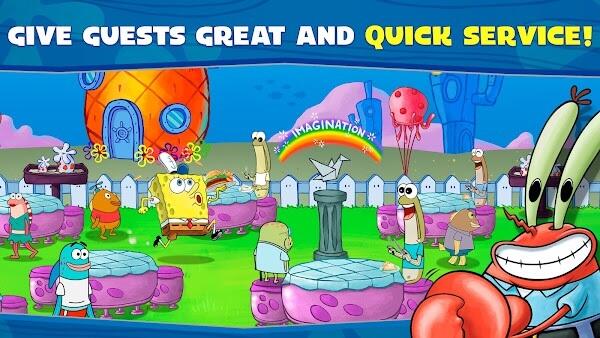 Time Management Game
In this cooking simulator, be sure not to lose the cooking events, boosters, and awards. Optimize your SpongeBob's SquarePants grill and feed all the show's characters, including Patrick Star, Sandy Cheeks, Squidward, and others; quick food: Enjoy this restaurant simulation game with SpongeBob and his pals! In this time management challenge, prepare your fast food recipes to keep clients satisfied and earn interesting incentives. In this SpongeBob café, start as a junior fry cook and learn the skills necessary to get to the position of a premier restaurant chef.
Funny Character and Hilarious Storyline
To give SpongeBob SquarePants' restaurants your own special touch, pick your favorite kitchen tools, décor, and supplies. In this SpongeBob SquarePants café, you may unlock your favorite characters, gather awesome bonuses and rewards, and make the best burgers in town. In our restaurant simulator, you may upgrade your chef with fantastic attire for the restaurant chefs inspired by the show and receive a wide range of fantastic rewards and activities to enable you to cook in fresh and delectable ways.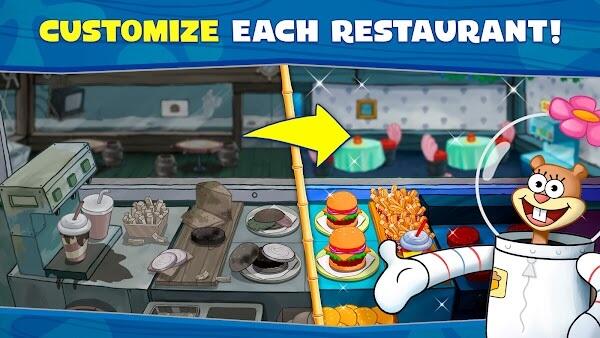 New Cooking Challenges and Restaurants
Discover a new range of culinary techniques in our television-inspired tale featuring SpongeBob SquarePants, Mr. Krabs, Squidward, Sandy, and Patrick. We provide fast food games and events for you!
In this fantastic culinary simulation, you may earn awesome rewards and display your Krusty cook-off prowess on scoreboards. With amazing events and fresh tasks added every week, SpongeBob's Burger Restaurant offers you the chance to become a genuine cook. Take control of the kitchen by beginning to cook right away.
Expand The Restaurant
When you have SpongeBob Krusty Cook Off unlimited money and gems, think about growing your company by leasing extra space. There are many choices for this, such as renting a different location in the park or the seashore or purchasing extra tables and chairs so that people can sit and enjoy the cuisine. Each place has its features, such as visitors and ingredients for cooking cuisine. Generally, the atmosphere above ground is better suited for alcoholic beverages, fried foods, and sweets than the ocean.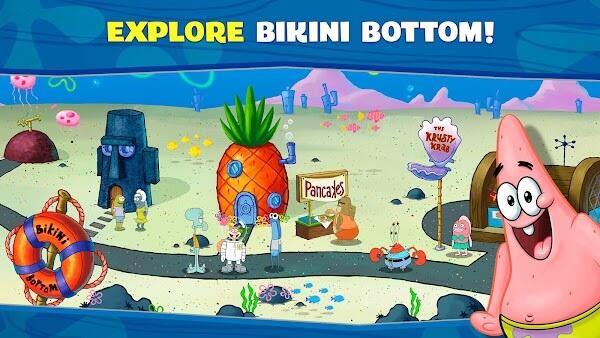 Game Graphics
The game centers on utilizing the players' speed and observational skills whilst still developing their customer service abilities. SpongeBob: Krusty Cook-Off is the perfect game for you if you want to experience a business-like atmosphere or enjoy this casual game. The game is just as entertaining and visually appealing as the animated version.
Conclusion
Players may watch the unique and humorous plot of SpongeBob: Krusty Cook-Off's happy mood while interacting with Mr. Krabs, Patrick, Squidward, Sandy, and many more well-known characters. All you have to do to take action in the primary gameplay, which is identical to Cooking Craze, is tap anything. Overall, the game is enjoyable.