Download Slap Kings APK and become the world's best slapper! Do you think you have what it takes to make it far in the Slap Kings game and become the true slap king?
An In-Depth Description of Slap Kings
Slap Kings is an intriguing game, one that is sure to provide players with hours of entertainment. The goal of this game is to slap or be slapped – the game checks out your timing skills and strength so that your slap can be the hardest. The Slap Kings game is easy to learn and filled with fun characters asking to get slapped. Hopefully, you do not get addicted.
In Slap Kings, players participate in a world slapping competition where they take turns slapping each other until one person gets knocked out. This funny game only involves slapping, and you have to try to be the slapping champion because the harder you slap, the more likely you are to win. Then, you can watch your opponent lose the fight when you land the last championship slap.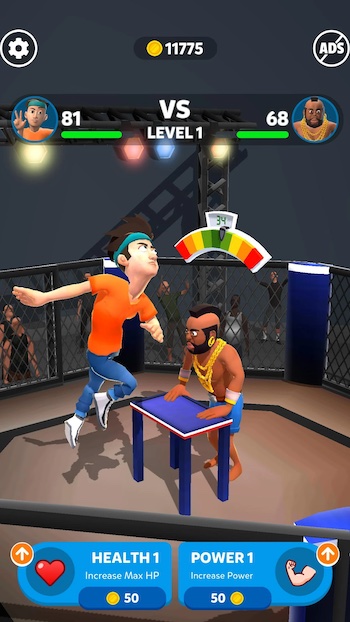 The Slap Kings gameplay is quite simple to learn since all it involves is slapping your opponent as hard as you can till you knock them out cold. A 'slap gauge' appears in the middle of the screen when it is your turn. You have to tap the gauge at the right time to deliver a hard slap to inflict as much damage as possible.
When it is your opponent's turn, you must wait to be slapped and pray that you do not get knocked out. Each player gets three shots, and the more progress you make in the Slap Kings game, the tougher the opponents you have to face become. There is the power and health bar, which you can improve by earning coins and watching ads.
Players should balance the health bar (indicates how healthy or strong you are) and the power bar (shows the force you can knock out your opponents). This will keep you powerful enough to emerge victorious against every opponent and help you last and stand your ground through the toughest slaps.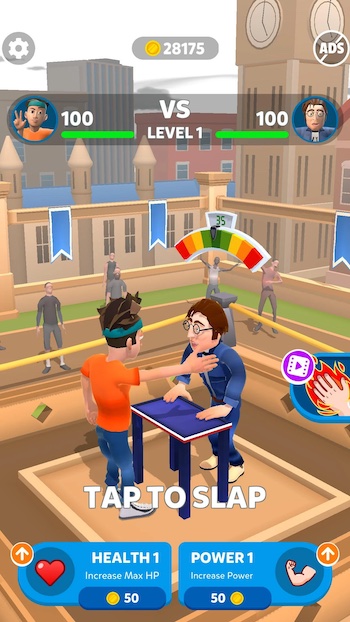 Slap Kings was developed and published by Lion Studios. We cannot deny that Slap Kings is somewhat silly and amateurish, but it has about 35.6 million downloads (it was the most popular mobile game in March), so this shows how addictive it is. With its enjoyable cartoonish graphics and wide range of characters, it is difficult not to download this game and enjoy a few rounds.
So, if you want to become the world's best slapper, download the game; the Slap Kings game download is an easy process as it is available on Android and iOS devices.
Features of Slap Kings
Let us look at some exciting features of downloading the Slap Kings game.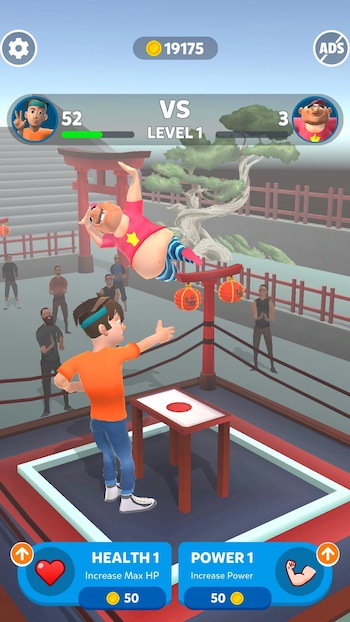 Earn Coins: as stated above, players can improve their health and power bar using the coins they earn. You earn a certain amount of coins every time you win a fight in the Slap Kings game.
Graphics: the graphics in Slap Kings game are pretty good and enjoyable for a game that slaps your opponent until you knock them out. It is suitable for a mobile game.
Power Bar: the power bar in Slap Kings indicates the amount of force you can use to knock out your opponent. It is your strength level and a significant determinant for winning a fight.
Health Bar: the health Bar in Slap Kings is like the power bar, only that it indicates your health and how long you can last in a fight. Your health bar should always be high, so you can last longer in fights.
Power Boosts: in the Slap Kings game, power boosts are additional features that help players to win fights. If you are stuck on a tough opponent, you can level up with power boosts which are only available for a limited time. Defense helmets are one of the power boosts you can use; it helps players to cushion and withstand some of the most brutal slaps and blows.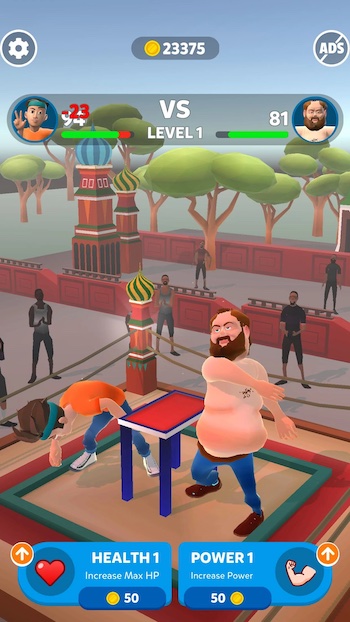 Characters: Slap Kings has a wide variety of fun characters that players can choose from; these characters are amusing and ready to challenge you to see who the best slapper is. You can never get tired of choosing from this game's wide range of characters.
Slap Kings has simple but addicting mechanics; players must time it right for maximum power (wait till the timer is perfect and tap on the screen to inflict the most damage through a powerful slap).
Relax and Enjoy: Slap Kings is a fun, relaxing game that will keep you engaged during your free time.
Conclusion
Slap Kings is a fun arcade game you surely do not want to miss out on; although it has plenty of ads, this does not stop players from having a fun gaming experience. Slap Kings is based on a controversial Russian sport; download the Slap Kings game today and become the slap king in no time.