Download Mad Gunz APK latest version, the ultimate action, and battle game. Defeat the opponents seeking to eliminate you, and claim your victory!
About Mad Gunz - Pixel Shooter and Battle Royale Game
Mad Gunz, also fully known as Mad Gunz - Battle Royale, is a 3D pixelated battle shooter game developed and offered by Shooting Games For Everyone, a gaming company based in Cyprus, on the 31st of October in 2017. Mad Gunz is available on both Google Play and App Store for Android and iOS devices. The game functions maximally on devices with minimum operating systems of Android 4.4 and above.
Over time, battle and shooting games have gained prominence in gaming, having been widely embraced by gamers worldwide. As a result, many different types, designs, and concepts of shooting games have been released back to back. However, it is amid this rush that Mad Gunz was released and yet has been embraced and loved by gamers worldwide, with positive reviews and ratings on app stores.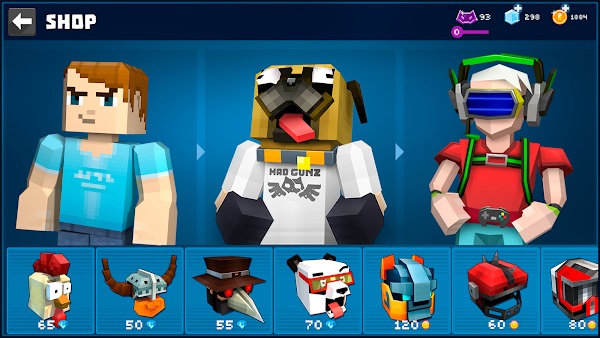 Mad Gunz is known for its user-friendliness, creative and amazing weapon collection, graphics and animations, and intensive gameplay. Mad Gunz is one of the best online shooter games, with relaxing graphics and relatively accessible gameplay. Remember that Mad Gunz includes crazy and creatively unrealistic characters and events, all serving to fully transport you into a whole new gaming realm.
Storyline And Gameplay
The game begins in a perfectly normal environment, with the main character (you) going to feed your cat. As you prepare to feed your cat, suddenly there is a strange transition; everywhere dissolves into a sort of black hole that appears out of nowhere, and you are transported into a strange world. This strange world contains weird and troublesome creatures always thirsty for a fight. You will have to take them down when need is and secure your victory even in this bizarre world, and here your gameplay begins.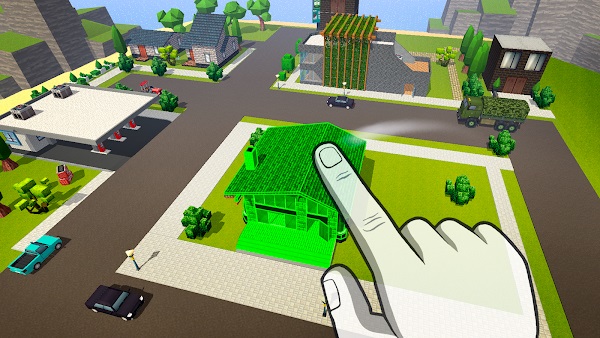 Mad Gunz is easy to control and play. It uses simple touch and control mechanism; touch the screen to the left, and the character moves to the left, same if you intend to move to the right, up, or down. To go up or down a flight of stairs, the required touch mechanism is clearly outlined on the screen when playing for the first time. First-timers also get tits and bits of tutorials on how to use their weapons, how to duck, bend, jump, and so on. These tutorials are very useful in getting the hang of the game.
Weapons and Customization
The weapon collection in Mad Gunz is quite a striking feature, and here's why. The arsenal contains a collection of guns, mostly pistols and small rifles in a colourful pixelated form. This is to be expected of a normal shooter game. However, Mad Gunz is far from normal and also includes a crazy variety of tools and weapons to attack your opponents. These weapons could be as simple as guns that shoot out fur, a magic wand, explosive hamsters, turkeys in armor, and you name it! The collection goes as wild and far as you can imagine, so the player is not rooted in the conventional style of using guns. Think up other fun and creative ways to defeat your enemies with handy tools that they definitely will not see coming.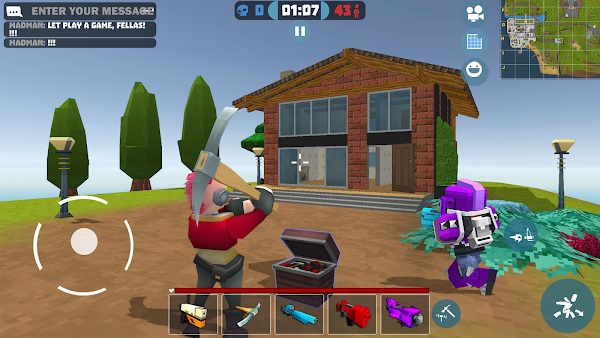 There are a lot of weapons, and while you can pick some up around the game environment as you play, you can also buy them or upgrade your existing weapons. This can be done using gold coins amassed in the game when you win levels or complete missions. Aside from the guns and creative fighting tools, there are also hammers, sickles, axes, and the likes for destroying property or wiping out your opponents.
The characters in Mad Gunz are numerous, and you can buy new characters, upgrade the ones you have, and change and customize their looks. You can buy these customizing features with gems collected in the game. This allows you to change the skin colour, gear, clothing, and even the handy weapons on your character. With the numerous customization options in store, you can make your character or characters look exactly how you imagine them to be.
Different Modes in Mad Gunz
Mad Gunz offers a variety of modes for players to choose from. Naturally, different players might be more inclined to play certain modes than others, although the fun is equally present in all the modes. They include Multiplayer, Challenge, Adventure, Battle Royale, and Arena modes.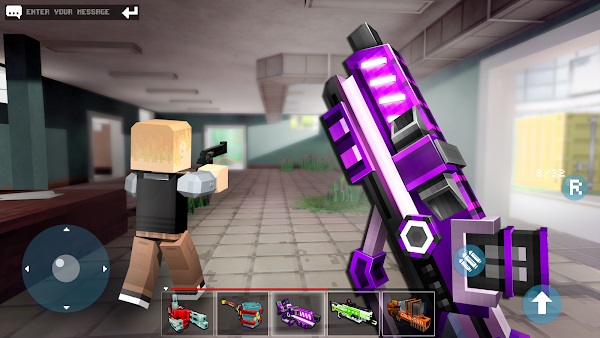 You can link with your friends and play with or against them in Multiplayer mode. Form a fighting crew and defeat the opponents alongside your friends. Or you can play against them to remain the last man standing. When playing together as a team, the team attains victory when they have successfully wiped out the opposing fighters or have the most number of teammates standing at the end of the game.
Amazing Features of Mad Gunz
- Available in over ten languages, including English, German, French, Arabic, Thai, Portuguese, Chinese, Russian, and many others. This makes the game very accessible to gamers all over the world.
- Clear and colourful graphics. Mad Gunz, unlike most modern shooter games that use 3D graphics, uses pixelated graphics. The visual quality is top-notch and clear.
- Suitable for all ages. The portrayal of violence, as is normally emphasized in other shooter games, is reduced in Mad Gunz. The characters are less bloody, and the visuals have been made to have an almost comical effect.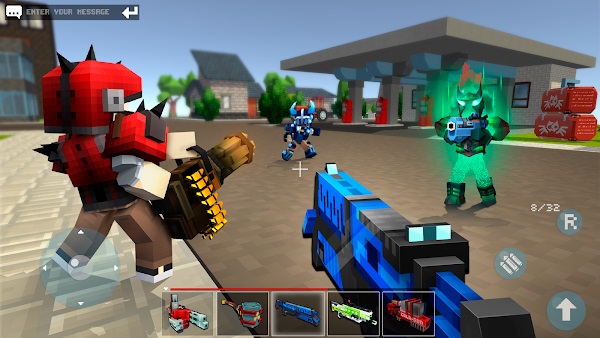 - Offers multiplayer mode to increase gameplay.
It- Completely free to download and play.
- Unique weapons and characters that can only be found in Mad Gunz.
Conclusion
Mad Gunz is one of its kind, its concept, and settings remaining like no other. It offers a variety from conventional modern shooter games, still with the general idea but in a more relaxed setting. Mad Gunz is perfect for gamers of all ages and can be played anytime and anywhere, online and offline.


Join Telegram Group
Download Mad Gunz APK latest version, the ultimate action, and battle game. Defeat the opponents seeking to eliminate you, and claim your victory!