Download RAR APK for access to decompressor for various file formats. Preview document content, review file history, encrypt files and use a file manager on RAR.
About RAR
RAR is an Android application that helps users decompress encrypted or compressed files to reserve space. Due to the great demand for some files, they are compressed, and the entire file will be available when decompressed. However, this is not part of the features on Android, so you won't be able to decompress files unless you have a third-party app installed. Hence, RAR is one of the best decompressing Android apps you can use for decompressing files like RAR, ZIP, GZ, TAR, BZ2, XZ, etc.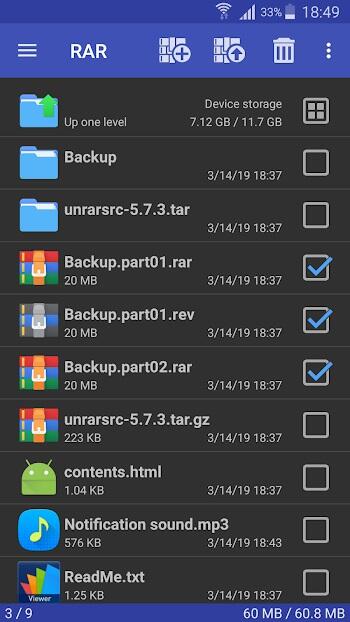 You can also use the app to compress files, although you're only limited to two types of files: RAR and ZIP. You'll be able to preview the content of the files before decompressing and extracting, and you'll also review the history of files you've processed using the app. For users who want some privacy, you can lock the files too and choose a password that will give you access to the files anytime you input them.
So when you compress a file with a password, you can also encrypt the file. This feature is, therefore, ideal for blocking unwanted access to any file you encrypt since no one will be able to access the file names or folder. You can also use the app to recover lost file content when the RAR file is damaged or suffers a memory loss.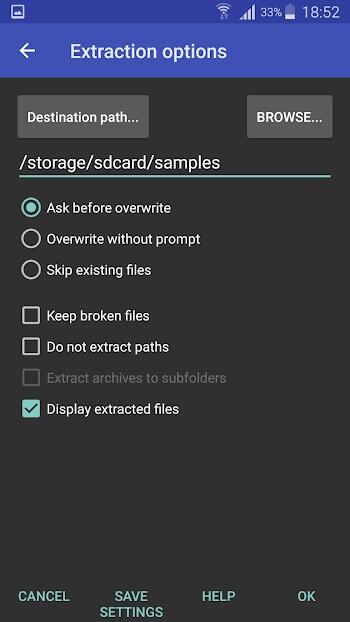 RAR was developed by Rar Labs and is one of the most functional decompressing apps. It's available in over 28 languages worldwide, has a rich fan base of 100 million downloads, and has a 4.56 rating in Playstore. It's free to use the app, so you don't have to worry a
Why Use the App?
Compress and decompress files on your mobile all in one tool.
Keep files encrypted and protected from public view with a password.
Manage and monitor all compression and decompression processes on your device.
Enjoy a simple and user-friendly interface.
Access the compression and decompression tools for free.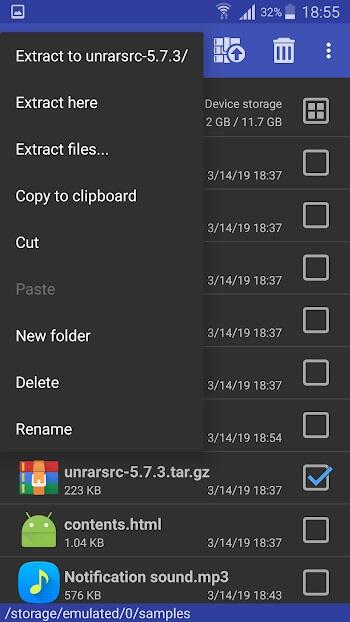 Create an organized and personalized file logging pattern for your device storage.
App Features
RAR is a functional and comprehensive file compressor and decompressor which works on various devices. The mobile device version offers similar services as the PC version. So, here are some of the features you'll enjoy when you download RAR for your file management:
Files Supported
The RAR app supports many files for decompression. However, you have limited options when you compress using the app. This is quite understandable because different platforms can create these types of files. For example, only RAR or related apps can create RAR compression, but most other apps can decompress it. But luckily, the range of files you can decompress is extensive, including RAR, ZIP, GZ, TAR, BZ2, XZ, 7z, ISO, and ARJ.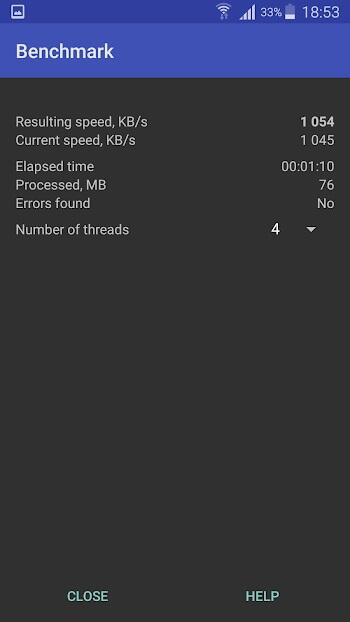 User Interface
At first, the app might seem overwhelming, but once you start using it, you'll get used to the interface. RAR has a simplistic interface that users can easily relate to and navigate anytime they want. The settings are well detailed, and the app features are easily accessible from any part of the app. If you prefer these configurations, you can change the fonts and set the app to dark or night mode.
History Tracker
RAR allows users to keep track of all their activities on the app. So you can check out any file you have processed over the past few days. This data helps recover files and keep a clean and organized file library. You don't have to save your activities, too, since the app automatically logs them as soon as you're done. In addition, you can view each file easily from the history section, so it helps with the app navigations.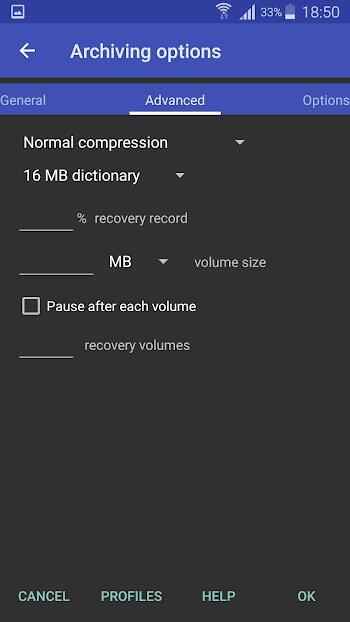 Quick File Backup Tool
If you'd like to keep your essential files saved and protected from loss, you can back them up with the app. The backup tool creates a cloud storage space for you once you register, and this backup is accessible only to you. So if you mistakenly delete the app, clear your device or lose your phone, you can quickly check the Backup tool for the files you've saved into it.
File Manager
RAR not only decompresses and compresses your files but also helps you keep them organized. So, you also get a file manager package when you install the app. Rest assured, the file manager is fully functional and does everything you'd expect to get from a typical file manager. Moreover, since it also directly syncs with RAR, it's a smart way to keep all your processed files organized and easily access any time you want.
File Protection
This add-on service helps you keep your files safe and secured. As soon as you're done decompressing your files, you can keep them protected from public access by encrypting the file. Only you can access the files that way since you'll include a password for unlocking the files. When you compress files, you'll also be able to add extra protection to them, so no one can decompress them unless they have the passcode.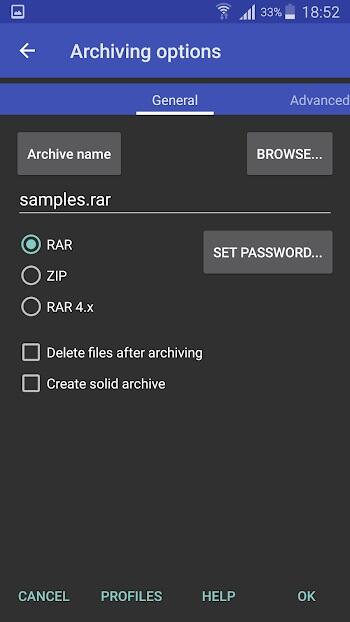 File Recovery
There is a comprehensive approach to file management on this app. That's why you can always rest assured of your files being in safe hands when you use RAR. The history tracker and backup server help recover your files anytime you lose them. Once you backup your file on the server, you'll b able to access it anytime as long as you are logged into your account. You can also check the history tracker for files you've lost or confirm the name of a file you'd like to recover.
Conclusion
Many features on RAR make file management as easy as possible. It's a useful and essential app if you have limited storage and would love to keep your files organized. So, if you seek an app to compress and decompress files on your smartphone, the RAR app is one of your most suitable options.