Download Omega Legends APK for an adventure into the world of classic battles. Participate in exciting large battles with deadly weapons and emerge victorious.
About Omega Legends
Omega Legends is an action and fun-filled game designed in the image of Fortnite and battle royal games. The game works similarly to Fortnite so you can expect a massive battle between many players. From this battle with up to 100 players across the internet, only one player can emerge as the winner, so it's always Impressive to watch and play since it's a survival game where players get to show off their skills.
The game is sophisticated, of course, and the graphics are pretty impressive. A lot of details are added to the interface, making it seem realistic yet giving the impression of a cartoon. Unfortunately, the characters are fictitious, and the game doesn't have a fixed storyline, so you have to play with other players and enjoy the moment.
Omega Legends has excellent control, too, using the touchscreen as the gamepad, though there are other means players can use to control the game. For example, you'll be able to use the left thumb to control the character's movements while you do all the actions such as jumping, crouching, aiming, and shooting with the right thumb. The control option is also quite flexible, allowing you to customize it however you like to suit your unique game style.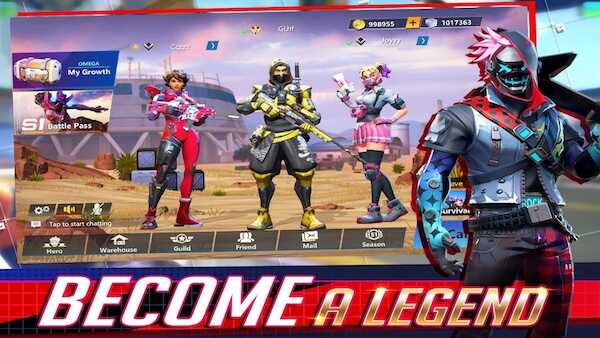 One of the basic structures that makes Omega Legends much different from similar games like PUBG Mobile, Fortnite, and COD is that you have a say in what type of character you use. You can choose between many heroes in the game, each with unique skills. So, the more game you play, the higher your level and the better you become with your weapons. You'll also be able to level up your skill and unlock game modes with the rewards you get from each game.
Omega Legends was developed by IGG, which is also the brain behind popular games like Lords Mobile and Castle Clash. The game is available in over 44 languages and is free to play. The content rating is 12 years and above, so you must be older to play it. The game has millions of players online and is relatively easy to download and install.
Gameplay: How To Play
If you've ever played Battle Royale games, you'd understand the gameplay in Omega Legends. The main game features several online players from different parts of the world. Once each player connects to the game, it'll pair them in groups, and 100 players will be dropped in a specific area. The battleground is large at first, but soon, it begins to shrink until it's small enough to ensure that the players encounter one another more often.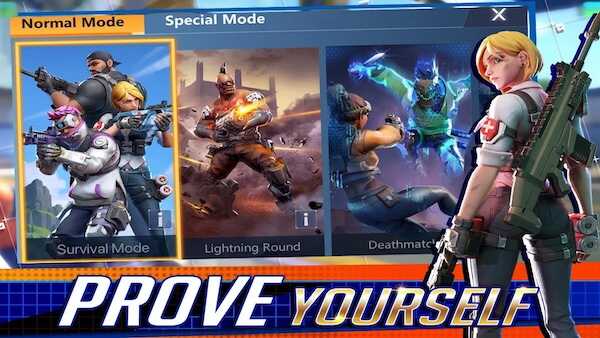 When players die, they can either be revived by their teammate or be left for dead after some time if they are not revived. All players will be dropped from an aeroplane and allowed to scavenge for firearms and resources for the battle. The game ends when there is a winner, usually the lady-man standing or a team of players who have eliminated the other groups.
Game Features
Omega Legends has a Battle Royale gameplay style but has many features you probably haven't experienced before. Check them out below:
High-Quality Graphics
The game has exceptional graphics quality, which is as expected. Numerous elements in the game make it visually pleasing. It has colourful costumes, weapons, and an environment that adds colour and makes the game brighter without losing all its elements of reality.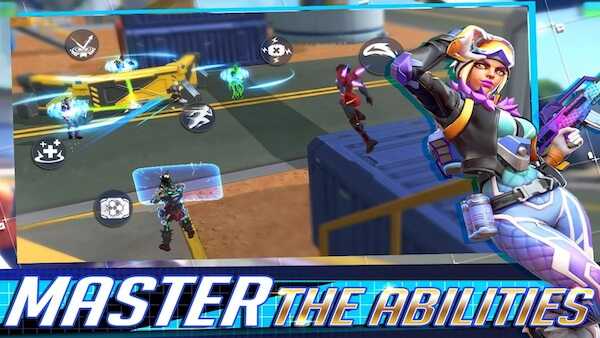 You can notice changes in different terrains and guns and even see the recoil of gunshots when you play, which shows how much effort was put into the graphics to deliver the best gameplay experience.
Heroes and Abilities
The game allows you to choose who you play as, which is a unique feature compared to games like COD and PUBG. The distinct features are why you can select your gender and decide on what type of abilities suit your gameplay. Any hero can perform exceptionally well; they do it differently, making the game more enjoyable. You can use stealth, rush attacks, healing, and other game features to enhance your strategy and show off your skills.
Play with Others Online
Like all Battle Royale games, you'll get to play with other real players worldwide and compete against them in an online game. In addition, there are varieties of game modes to choose from. So, you can select your ideal type and go into battle with full force.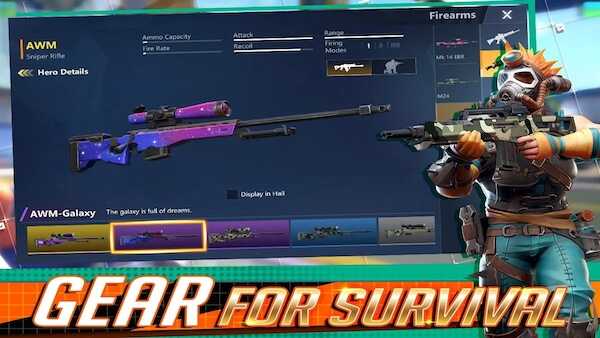 These game modes include Survival Mode, Covert Operation, or Battle Royale. The Survival mode means you have to play in adverse conditions and get rewarded depending on how long you survive it.
Game Maps
There are many maps on Omega Legends, each with its distinct features and environment. It's recommended that players start with the basic maps and master each map before proceeding to the next. But you can always go at your own pace since the game gives you a daring level of independence to decide what and when you want to do anything. Beautiful maps serve as grounds for more significant scale battles. The buildings, terrains, objects, and environment are also different on every map to add variety to the game.
Weapons and Upgrades
The game has many weapons since it's designed as science fiction. However, the system equipped is new, and you shouldn't be expecting real-life models. Some of the guns include UMP-45, Vector, and P90.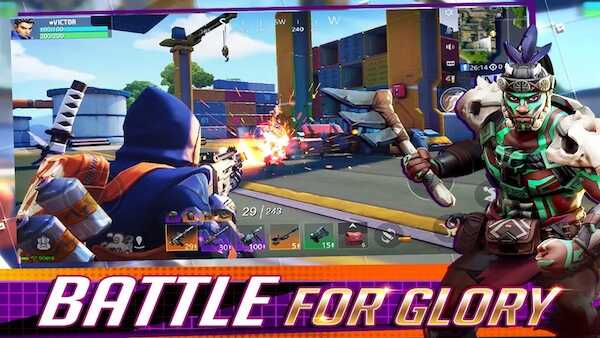 Others include bombs, knives, bullets, medic kits, and armor. In general, when compared to other games, Omega Legends has superior technology for its arsenal.
Conclusion
The game is a grand battle royale that offers a fantastic gameplay experience. It's a mobile game packed with some of the best PC action game experiences, futuristic designs, and technology to let players taste the future.


Join Telegram Group
Download Omega Legends APK for an adventure into the world of classic battles. Participate in exciting large battles with deadly weapons and emerge victorious.