Download Nova Legacy APK to fight against fierce enemies of the Colonial Administration forces. You will control Kal Wardin, a veteran with unmatched fighting skills!
Everything to Know about NOVA Legacy
Nova Legacy is an action-shooter game offered by Gameloft SE. It features Kal Wardin, a NOVA marine veteran, who is called back to active duty to counter a new security threat.
Kal will don his mobile armored suit with unique weapons and abilities. He must face the enemy forces in intense and spectacular battles.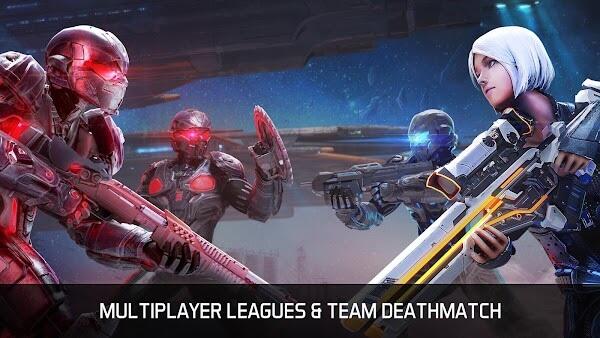 Fortunately, Kal will be helped by Yelena, a personal AI Agent. Together, they will uncover the truth behind the sudden attack and protect humanity's future!
If you're in for a fast-paced shooter game, you shouldn't miss out on Nova Legacy! It is optimized for super responsive gameplay and works well with 4.0.3 and up devices.
Superior Gameplay with High-Octane Fights
In Nova Legacy, you will take on the role of Kal Wardin. He is a decorated war veteran and skilled N.O.V.A marine. You must help him in his fight against the Colonial Administration forces that have suddenly attacked.
You will engage in fast-paced and intense battles against your enemies. And it won't be easy! Aliens will be attacking you from all sides. You must be judicious in your use of weapons and abilities.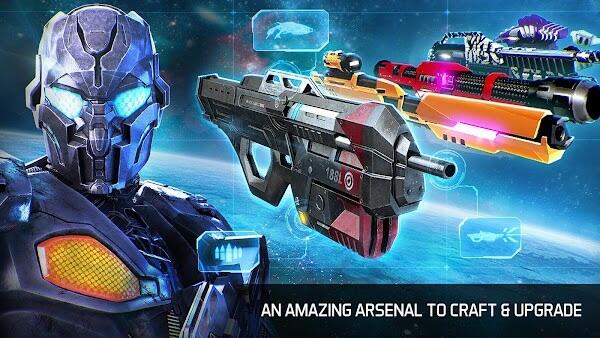 Choose your battles wisely and don't hesitate to call for backup when things get tough! Yelena and the scorpion will inject extra firepower into your efforts.
Whenever you get a chance, always level up your gear and skills. This will give you the edge you need to survive the tough challenges ahead!
Different Game Modes with Unique Challenges
Nova Legacy offers dynamic and exciting gameplay with different game modes. They include:
Deathmatch. This is the classic mode that challenges you to shoot all the seven combatants and be the last man standing. It has everything you need to showcase your skills and strategies. Just avoid crossfire as much as possible!
Team Deathmatch. Similar to the previous model but with teams instead of lone wolves. Your team must work together and communicate well to win. The 4 vs. 4 mode is perfect for showing off your teamwork!
Private Multiplayer Matches/ Matchmaking. The game has an advanced matchmaking system that lets you create or join private multiplayer matches. You can also set the password to ensure that only invited players can join the game. This is a great way to play with friends and family. You can also use it to practice your skills before going into public matches!
Offline Single-Player Campaigns. You can also enjoy offline campaigns with different difficulty levels. They are perfect for when you want to play but don't have an internet connection. Just remember that you can switch to multiplayer options unless you reconnect to the internet!
Story Mode. In this mode, you will work tirelessly to uncover mysteries. You will navigate 19 action-packed levels in a stunning cinematic campaign.
Special Ops. This mode will test your skills and strategies to the limit! You will face unique alien formations and bosses. You must complete the mission to earn handsome rewards.
Shadow Missions. This is a time-limited mode that challenges you to exterminate the special ops and save your city from sophisticated aliens.
Whichever model you choose, the mission is the same. You will use your superior skills and strategies to save humanity from a new threat!
Outstanding Features of the Gameplay
Unique 3D Models & Skins. This game allows you to unlock 3D models & skins to customize your marine. You can also use the points you've earned to purchase different weapons, gear, and abilities.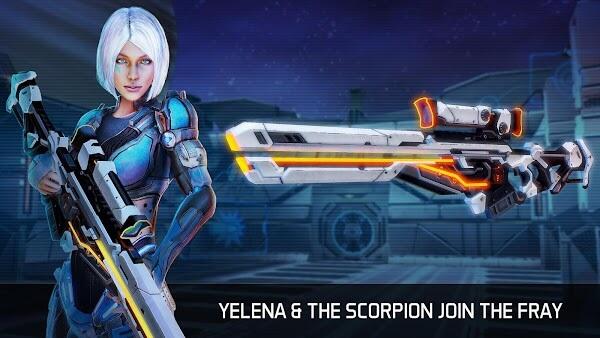 Rise through the Leaderboard. This game has an online leaderboard where you can see how you rank against other players from all over the world. You can also compare your scores and achievements with your friends.
Immersive 3D Environment & Graphics. The environment and graphics are top-notch! They are designed to give you an immersive and realistic experience.
Regular Updates with New Content. The developers regularly release updates with new content. This includes new maps, weapons, and modes.
Watch Third-Person Death Cam replay. The game also has a death cam replay feature that lets you watch your death from a third-person perspective. This is a great way to learn from your mistakes and improve your strategies.
Sci-Fi Guns & Advanced Weaponry. The game uses modern and advanced weaponry. You will have a wide range of guns to choose from, each with sophisticated features. Ensure that you collect cards to upgrade your weapons and gear!
Level-Up Your Suit Cores. This outstanding system enables you to add bonuses to your gameplay. These rewards will boost your speed, damage output, and health. They will help you survive the most difficult challenges!
Download Nova Legacy APK Unlimited everything
Nova Legacy is a truly revolutionary game. It has a wide scope, ensuring everyone can find a model to suit their skills and preferences. The storyline is great, and the graphics are top-notch!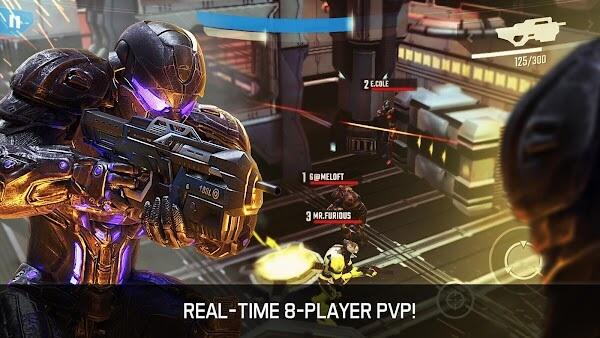 You can also customize your marine to make them unique. Whether you're a lone wolf or part of a team, you can rise through the ranks by playing to your strengths.
Even better, this game epitomizes sound systems. Every activity, whether it's shooting or reloading, makes a noise. This serves to enhance the immersive quality of the game. You will feel like you're right in the heart of alien extermination.
Conclusion
Nova Legacy is a must-have game for all first-person shooter fans. It has lots of guns, an engaging story, and top-notch graphics.
Your primary goal will be to save humanity from aliens. Ensure that you use your points to upgrade your weapons and gear. This will help you survive the most difficult challenges.
Download Nova Legacy today for an out-of-this-world gaming experience! It is lightweight and takes up little space on your device.


Join Telegram Group
Download Nova Legacy APK to fight against fierce enemies of the Colonial Administration forces. You will control Kal Wardin, a veteran with unmatched fighting skills!