Download Ninja's Creed APK for an adventure into the stealth world of Ninjas. Shoot down specific targets from a distance and improve your skills as a Ninja.
About the App
The Ninja's Creed game would seem familiar and relatable to anyone who's seen Assassin Creed or played Sniper 3D. The game follows a similar pattern to what was noticed in the original movie. It's also a shooting game where you take the role of a skilled Ninja and use various Ninja weapons to attack and defect yourself. You can use weapons like arrows or snipers, depending on how close the enemies are.
The game is the right place to learn a bit about these exciting and mysterious gangs called ninjas since it makes you a character. You'll have to commend the graphics design team for the exceptional visual features in the game. The various details that the developers added to the game make it even more realistic and add to the player's gameplay experience.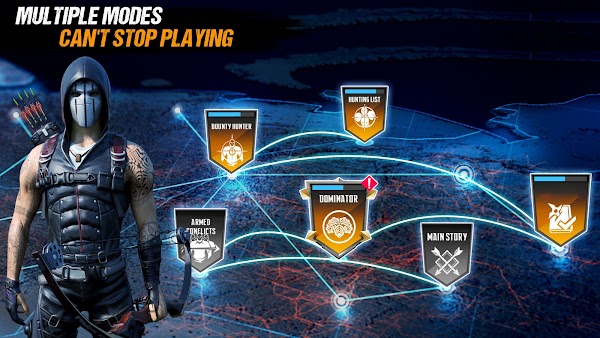 The game takes place in the city of Japan and a few other Asian areas that are available on the map. The maps are also realistic, with real-life positions included. Your main task is to ensure that you defeat each of the enemies that cross your path. The more missions you can complete, the more difficult it begins to play.
Ninja's Creed also has a unique control system, which is pretty easy to use. You don't have to scan through various details on the screen before moving. The controls are not widely spaced, too, so your finger can manage all the features without stretching them. The shooting button is on the right-hand side of the screen, while you can move with the left-hand side button.
The game was developed by 707 Interactive and is free on any device. You can access the app in up to 47 languages though the content rating is for 16+, which means younger players aren't allowed to access the app. There are over 10 million downloads on Playstore from Ninja's Creed, and it also has a 4.4 rating from thousands of reviewers.
Gameplay
Ninja Creed is relatively easy to play once you understand the plot. You are on a journey to destroy the mafia gangs of a young ninja, so the whole gameplay revolves around this. When you perform a mission, it'll land you at different locations. Your goal is to destroy the character in this location, and you'll be given rewards for every task you complete.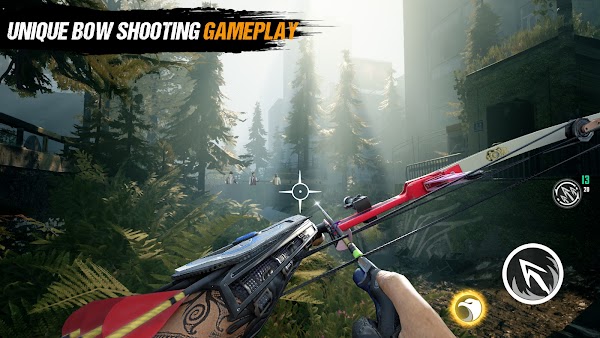 You'll get a brief intro describing what the missions entail when you start playing. It can be confusing at first, but once you start playing, you'll begin to understand what these descriptions are useful for. Sometimes, the game can be challenging, whereby you'll have many people around the person you're sent to attack. If you kill the wrong person, you'll lose the mission and have to reply, so make sure you confirm your target.
The higher you go, the more challenging the game becomes. Sometimes you'll have to fight against someone with higher skills, while the difficulty can also be due to the reduction in time for the mission. You'll be given various weapons as you continue playing, and many tactics in the game can help you complete tasks quickly.
Features
Ninja's Creed is an impressive game with several features that give it an edge over similar games. Asides from the unique gameplay, here are some of the other features you'll get on the game:
Graphics
Ninja's Creed has impressive graphics. Although it's still a long way to go compared to some modern-day games, it still has an element of reality to its graphics details. Character structures, environment, movement, gameplay, etc., are well delivered by the developer, and there is a smooth transition between each to ensure there aren't lags during the game. Players can also get a realistic view of the first-person perspective, seeing their hands as they move.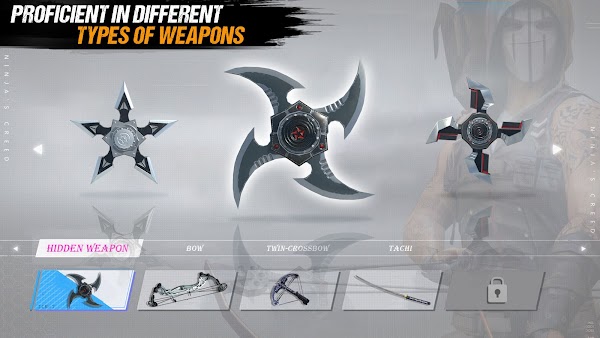 Ninja Skills
There are many skills in the game, most of which you won't have when you start playing. However, you have to master most of the skills if you want to complete missions quickly. For example, you should know how to aim well, or else you'll have to go on a speedy spree if you mistakenly kill someone while aiming at a target because you'll be required to kill the actual target with a timer ticking. Your weapons also determine how skilled you can be. For example, the Eagle-Eyes is a skill in the game that gives your target a red outline when you aim, though it makes the game less fun.
Weapon Upgrades
You can always upgrade your weapons in the game to have more experience with several weapons and find your favourite. This process costs money, but it does give you many advantages during your missions because some of them will boost your reload speed, attack speed, weapon range, stability, etc. The more you invest, the more powerful your Ninja character becomes.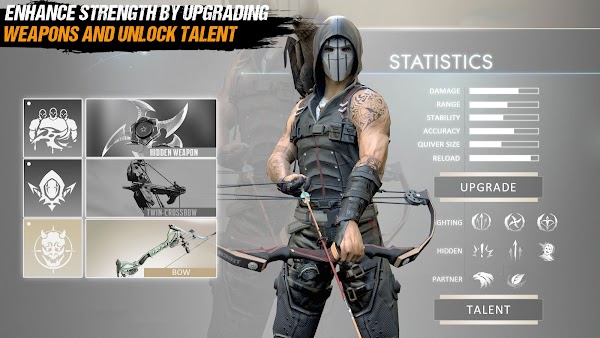 You can also mill more than one target at once with a single arrow when you upgrade to certain weapons. There are three weapons majorly used by ninjas, all of which are available in this game. They include the twin crossbow, the bow and a hidden weapon. Download Ninja's Creed to have a firsthand experience with the see weapons.
Unlock Abilities
You can also unlock your abilities to play better. In addition, various system updates boost your skills and give you an advantage during the quest. For example, you can have the ability to use camouflage in the dark, detect enemies quickly, use hidden weapons, etc. There are twelve types of powers in Ninja's Creed.
Game Modes
There are many game modes to add some variety for players. You can have the highlight of an assassin career when you go on missions as a bounty hunter, armed conflicts, hunting list,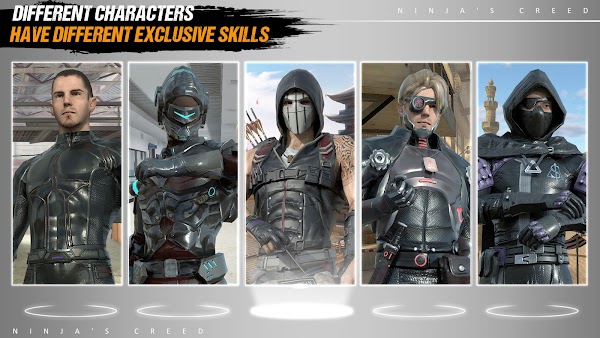 and fulfilling daily tasks.
Conclusion
Overall, Ninja's Creed is an impressive game with incredible gameplay. It's a similar game to Sniper 3D, only that you have a ninja's weapons, skills, and missions and not a modern assassin.


Join Telegram Group
Download Ninja's Creed APK for an adventure into the stealth world of Ninjas. Shoot down specific targets from a distance and improve your skills as a Ninja.