Download Idle Arks APK, a game where players have to build a boat for survival. Do you think you have what it takes to complete the task of boatbuilding?
An In-Depth Description of Idle Arks
The Idle Arks Build at Sea game involves boats, boatbuilding, idle civilization, and survivors in the vast sea. What do you do when a sudden flood suddenly submerges every town, which leads to disastrous aftermath? In the Idle Arks game, you must build a raft for survival, rescue the other survivors and form a team to explore new civilizations and continents.
This action and adventure game is a fantastic choice for people who love idle simulation games and love to build. Idle Arks is a survival game where your character has to survive at all costs, there will be no land to dock at, but there will be different materials at sea that you can use to build your team and enlarge your vessel. These materials are your survival resources, including chests, firewood, and plastic bottles.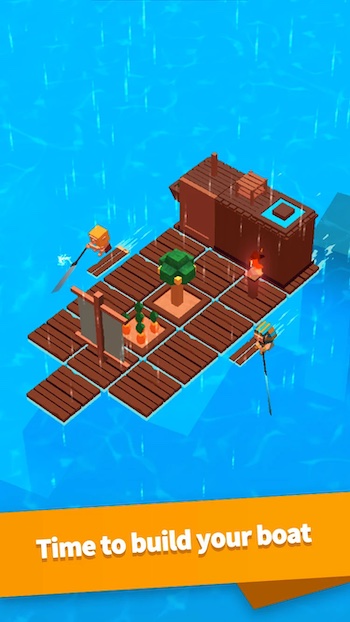 The Idle Arks gameplay is straightforward; to build your arks, you only need to click the screen to pick shipbuilding materials and wood from the sea. You should also pick other essential resources for survival, such as the floating bottles and treasure chests you will find at sea. Note that these items will not come to you automatically; you still have to swim towards them and collect them successfully. This will help improve your boatbuilding progress.
Also, you cannot build your boat yourself, especially if you want to succeed in your endeavors. So, you have to pick up different survivors you find floating on the water and recruit them to be part of your boatbuilding crew. The more survivors you rescue, the faster you complete the boatbuilding task. You do not need to coerce survivors to work as they will automatically do this to repay you for saving them.
As a captain, you can also receive idle income and earn a substantial amount of Idle Arks gold coins; these will be used to upgrade your raft. Earning gold coins is essential as a boat builder because when you have enough, you can upgrade your building materials and your workers (improve their working efficiency). Even when you are offline, your workers will continue to build the ark needed to survive. It would help if you also sailed the boat to search for surviving civilizations across the sea.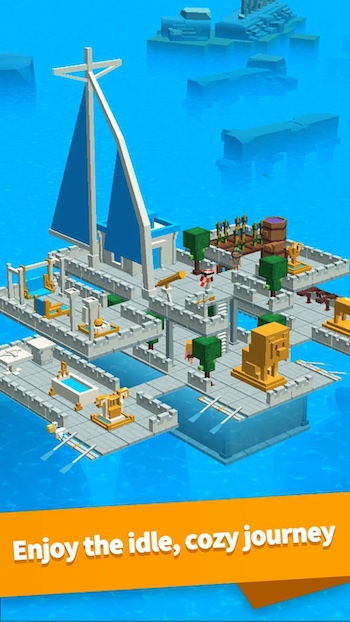 BHome published the Idle Arks game. According to Idle Arks Build at Sea, only one percent of captains can be successful in the boatbuilding task. Now that you know how to play Idle Arks, do you think you have what it takes? Download Idle Arks Build at Sea to find out (it is available on Android devices).
Features of Idle Arks: Build at Sea
The Idle Arks Build at Sea game has many exciting features that players should know about before downloading the game; they are explained below.
Boatbuilding
The major feature of Idle Arks is boatbuilding since it is a game that involves building a raft for survival. In this game, players must find resources and survivors to help them complete their boatbuilding tasks. It is not easy to finish building a boat as only one percent of captains are successful in this task. It is a time-consuming task, but if players put their minds to it, they can successfully complete their boat for survival.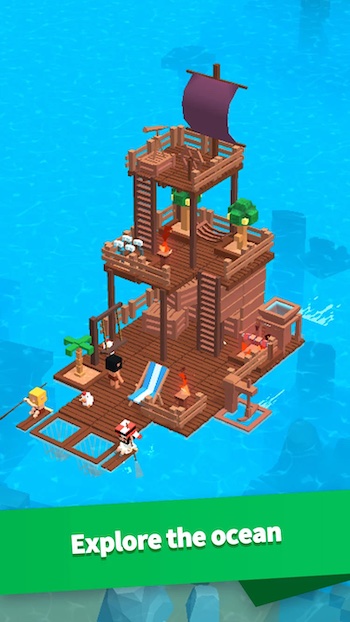 The idea of the game is for players to become ambitious captains who can craft different kinds of boats with different materials for their survival. Players will have to swim to collect resources across the sea (mysterious construction materials, floating bottles, wood, and treasure chests) as this will help them build and upgrade their raft.
3D Full Angle View
Enjoy your gaming experience when you play Idle Arks with the 3D full-angle view feature. With this 3D feature, you can utilize your boats more efficiently, and it also helps to quickly identify resources that help in building and upgrading your raft.
You can swipe the screen to switch from one perspective to another and view your construction from every angle. With the 3D full-angle view feature, players are sure not to miss even the slightest movements at sea.
Rescue Survivors and Expand Your Crew
One great feature of the Idle Arks game is that you do not have to build your boat alone; you can share that burden with every survivor you rescue at sea. Since it is time-consuming, you will need more hands on deck because the more survivors you rescue, the faster you build your boat.
So, when you see a survivor floating in the sea, you should rescue them. These survivors will work hard in return to 'thank you' for saving their lives.
Idle Income and Coins
Players can receive idle income and rewards when they automatically build boats during idle time, and even when offline, workers will continue to make the boat and earn coins. They will be able to build boats within a certain period. Coins are important because they are used to upgrade workers and shipbuilding materials. So the more gold coins you have, the easier it is for you to boost the working efficiency of your workers.
Unlock Exciting Elements
Players do not have to build their boat in the same construction location throughout the game, which will undoubtedly lead to boredom. They can unlock several surviving islands worldwide and many unique pets and crew members. There are also over a hundred free building materials and boats waiting to be unlocked. So you can rest assured that your game experience will surely be a fun-filled one.
It All Seems Realistic
Idle Arks is a realistic recreation of life at sea where players will have to deal with all kinds of weather seasons and even fight terrifying sea beasts. Expect that the weather will change from time to time; players will experience snow, lightning, rain, and thunder.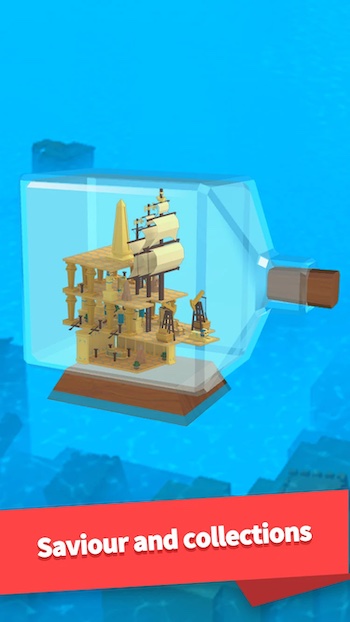 There will also be sunny days where players can easily spend time with pets and enjoy fishing. The idea is to make players continue their boatbuilding even when the weather is unfavorable.
Conclusion
Download Idle Arks Build at Sea and start your fantastic sea adventure. Sail across the sea to explore what is left of civilization, rescue survivors, defeat sea beasts, and find out if you have what it takes to be part of the one percent of captains that complete their boats.