Download FotMob APK to enjoy your latest Soccer updates while on the go. Don't miss any updates, scores, fixtures, highlights, tables, squads, and club feeds.
About FotMob
FotMob is a mobile app that displays all the latest sports updates about any club or league worldwide. It was specifically designed for football fans to keep track of the latest development in sports. It works on both Android devices and Wears Os devices. It was launched by FotMob AS, a small team in Bergen, Norway. FotMob has grown to be an outstanding sports app identified by Google, Apple, and the New York Times.
It is integrated with cool features to add more spice to the world of sports. These features complement a friendly and interactive user interface to ease its navigation process. Apart from having a simple interface, it is also aesthetically pleasing. You can operate on both the light and dark mode based on your preference while spending hours on the app learning new updates and having loads of fun.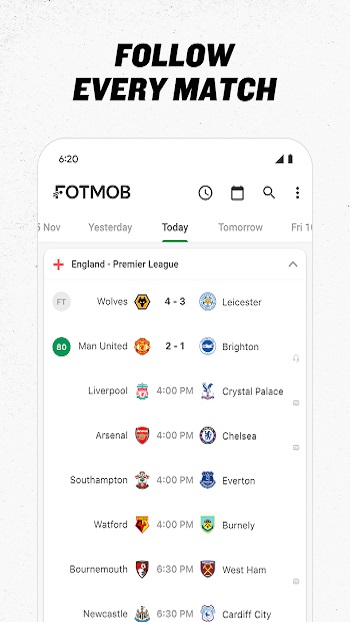 Are you a lover of football? Do you feel unhappy being unable to keep tabs on the latest sports updates? Are you always busy? Or do you need an extra source of sports information? Then, FotMob is the solution you seek.
Key Features of FotMob
FotMob is the perfect app for soccer updates. Each minute you spend on FotMob provides you with interactive, educational content about the world of sports. It achieves its proficiency through a list of cool features you can always leverage on.
Follow Every match
It could just be the weekend, and you have no idea what match is being played. FotMob provides a section where it displays various matches that will be played in different leagues. Each of these matches is arranged from the earliest to late matches. You can go through this section to view the scores of different matches played then or played earlier that day. Furthermore, you can view the time for incoming matches to know when to cool off and watch your favourite team compete with other rivals.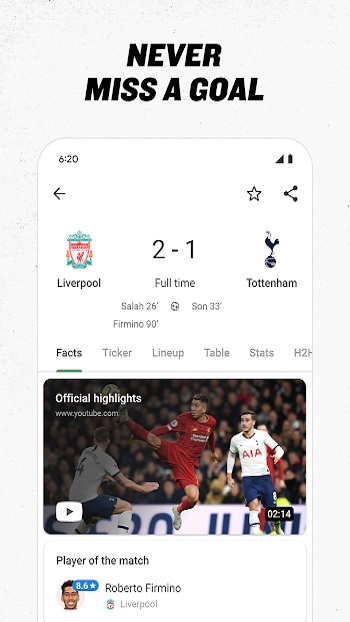 Apart from following that week's matches alone, you can also view matches to be played in subsequent weeks. That way, you know the next team your club will compete against.
Never Miss Anything
You may have a busy schedule and not enough time to go through the app to view incoming matches. FotMob ensures that you never miss anything! You can fix your favourite updates at the top of your home screen. FotMob has widgets that are integrated with your phone to make it possible. All you need to do is turn on your home screen and view whatever update you missed.
Furthermore, during matches, you get notified of the scores of the match. You follow the match stats, the players who scored, the time they scored, any foul, and even the man of the match at the end of the game. FotMob ensures that you never miss a goal!
Latest Headlines and Team News
Sports is an entirely different world with many updates every day. Unfortunately, it is often hard to track them unless you stay glued to your TV 24/7. FotMob is integrated so that no news update escapes your reach. You get updated with the trending news, the latest news, club transfer news, and even league news.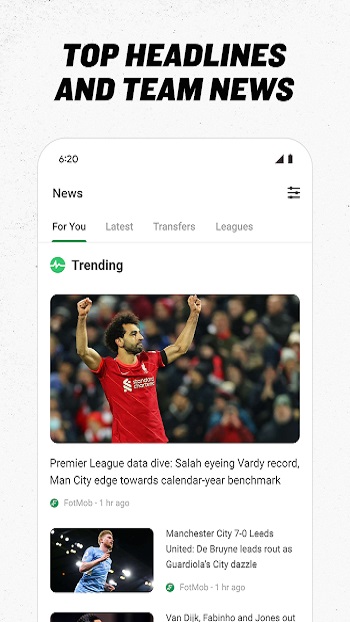 The news gives a deep dive into each club's development and comes out at the point. So you may just be the first person to know about it before anyone you know.
Live text commentary
FotMob provides a detailed report of the match as it is being played. You get to follow the match through the live text commentary feature. It is integrated in a way that displays the exact commentary of the match but in a text format. It gives a feeling that you are watching the match as you read through.
Player Ratings
Every player has ratings depending on the match they've played. This is why players are celebrated based on their skills, and there are leaderboards for different achievements in football and a man of a match. After each match, the player ratings are updated based on their performance in the just concluded match.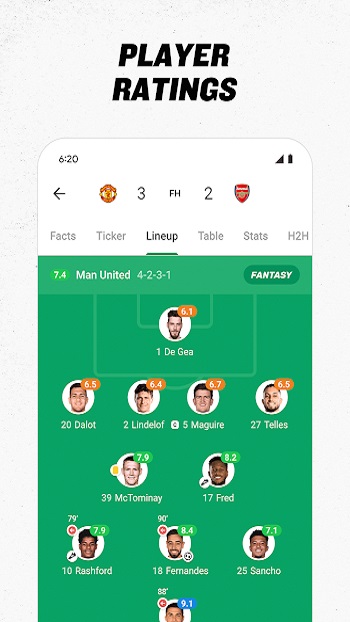 FotMob displays an overview of each player in a team. The players are rated from 1.0 to 10.0, with 10.0 being the highest. If a player's rating is below 7.0, he gets an orange bar, those between 7.0 to 9.0 get a green bar, while those with 9.0 and above get a blue one. This is a quick summary of each of their stats in the game.
Detailed Stat Reports
This feature displays the stats of the team's general performance, how they played, and other reports, including expected goals, expected goals on target, expected assists, big chances, chances created, duel, dribble, and goals prevented interception, and recovery.
It also displays each player's stats and how they played during the match. It can analyze a particular goal that was scored by reporting the situation that led to the goal, the type of shot, the player who scored, and the angle it was played to.
Other Features
- Authentic game highlights
- Organizing TV schedules
- Live audio commentary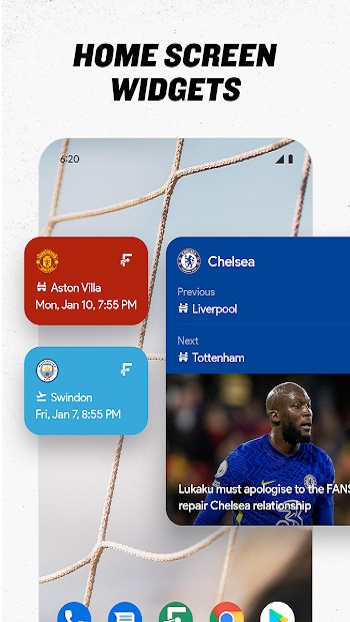 - Updates on transfers
- Football alerts
Football Coverage
FotMob covers over 375 football competitions across various leagues. These leagues include Premier League, Champions League, La Liga, Serie A, Bundesliga, Ligue 1, FA Women's Super League, FA Cup, UEFA Nations League, EFL, and others.
Conclusion
Get the most out of the world of football by using FotMob. FotMob is a great app to stay updated on the latest football trends, follow up on live matches, and get deep insights into the stats of matches. It covers several leagues in the world with updates on each of them. So it is no surprise they have impacted many football fans with over 10 million downloads on the play store.