Download Farm Heroes Saga APK and enjoy an exciting strategy game. Collect your stolen cropsies, use powerups and solve puzzles while you explore thousands of levels.
Brief description of Farm Heroes Saga
Rancid the Racoon is causing terror in the farmlands. He is damaging and stealing cropsies from the farm. Seek help from the farm heroes and go on an adventure to save the farmlands and retrieve the stolen cropsies. Farm Heroes is a strategy game, and your primary task is that you have to solve mind-cracking puzzles to progress in the game.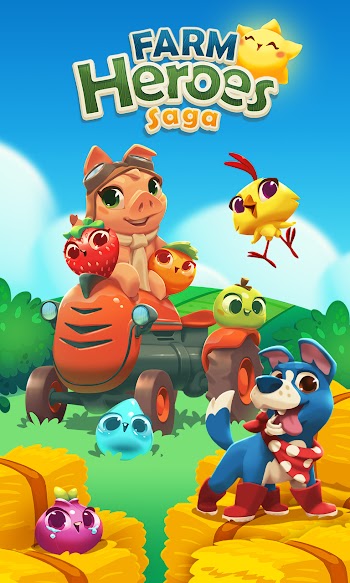 King released Farm heroes saga on the 10th of December, 2013. It is rated E, meaning everyone can enjoy playing the game as it contains no violence, blood or gore themes. The game has seamless gameplay and easy controls that anyone can use. It is selecting pieces on the puzzle, placing them in the appropriate positions, and putting all the pieces in the correct parts to solve the puzzles. Once you get used to it, you will play the game easily.
This application is an entertaining game with thousands of levels, so you have a long way to go. The dynamic game has levels, powerups and boosters that will help you solve challenging parts in the game. You will be kept engaged throughout. The game also has a very colourful layout with vivid graphics.
Fun gameplay and concept
Farm heroes saga is an exciting strategy game. Your main job is to solve puzzles, and on completion, you receive rewards and progress in the game. In this game, the layout is a grid of colourful shiny fruits and vegetables. You are tasked with swapping adjacent pieces to match three or more pieces to win, and you have to meet a particular quota. It is the typical puzzle-style game concept.
It is similar to other puzzle games, but this game has a unique twist on its concept by adding bonuses and rewards to the game board, which appear as you continue playing. When you make successful matches of three or more pieces, nearby tiles gain extra points in value, and if you can make a match on those particular spots, you finish the puzzle faster. The cool but also challenging part Is matching five pieces at once. Doing this clears all tiles of that type off the game grid and gives you big rewards.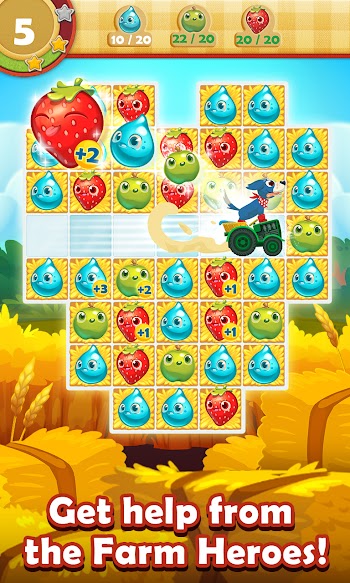 While playing, if you meet the quota set with moves still left, you enter a special game mode called hero mode, where you can use the remaining moves and play for increased scores and get as many points as possible. As you advance in the game, you also get to play boss modes which are extra challenging but winning them gives you higher points and rewards.
The game offers a variety of powerups and boosters that will help you as you advance in the game, which gives you a better gaming experience. These boosters include magic beans, shovels, tractors, and colour collection. All these boosters make challenging levels easier.
The game is very addictive and exciting. Once you start doing well, the joy comes from advancing in the game and earning more bonuses. Download farm heroes saga on any device you use to enjoy this game.
Fun features to look out for!
As you play Farm Heroes Saga, you can look out for these fun features that will make you enjoy the game more.
Boosters and powerups are available in the game to make challenging levels more straightforward for you to complete.
The gameplay is straightforward as it has intuitive controls that both children and adults can enjoy as it is relatively simple to understand.
Beautiful and colourful graphics: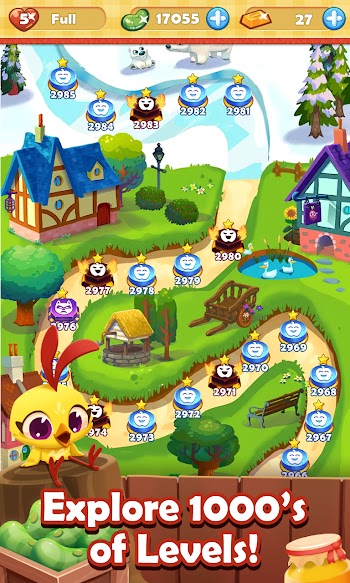 One of this game's highlights is its beautiful grid design and layouts. With the use of shiny and colourful fruits or vegetables, the game is appealing to the eyes of players.
The game has the occasional boss mode, which is more challenging than other levels and makes it more stressful for players to complete. Completing boss levels earns you more rewards and bonuses.
Play against friends and family:
Connect to Facebook to compete head-to-head with scores of your friends and family regardless of their locations. You can send your friends extra lives or play together as a team.
Farm heroes saga also has very excellent sound effects. The fruits and vegetables make cute cheering sounds as soon as they are cleared from the stage.
This game is undoubtedly one that will always keep you engaged as it contains over a thousand levels that you can play through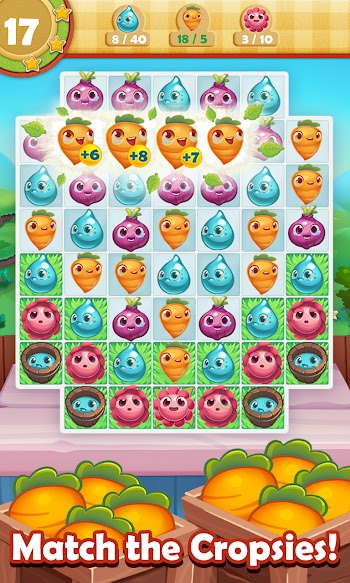 Farm heroes saga is free to play as there is no premium or pro version. But note that there are a lot of optional in-app purchases that make your gaming experience relatively easier.
Leader boards and rankings:
View your friend's and rivals' progress in the game as you view where they are on the rankings. You are ranked with the total amount of points accumulated throughout your Farm heroes saga adventure.
Rancid racoons stole cropsies from the farmland in an attempt to destroy it. Retrieve as many as possible before you run out of moves to win the level.
You can enjoy all these while playing the game, but download the farm heroes latest version to enjoy advanced features and more upgrades.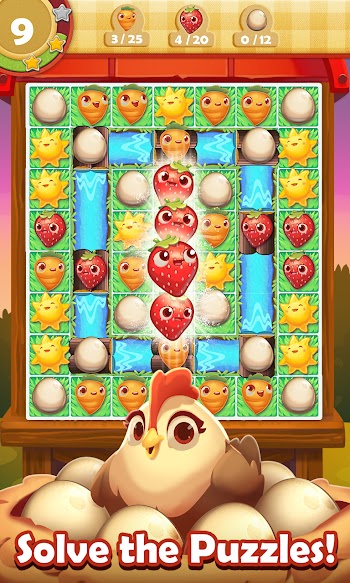 Tips and tricks
Before playing Farm heroes saga, some tips and tricks will make you play better and enjoy your gaming experience. For one, knowing patterns that will help you match the fruits and vegetables will help you be faster. Look to make rows of four and five, making L and T shapes. These are all ways to get points and finish levels more quickly. Also, when you lose, there is an option to spend beans which makes it easier to complete levels. Beans are more valuable than buying boosters, so avoid wasting them.
Conclusion
Farm heroes saga is an enjoyable puzzle game that will keep players engaged as they play. It has beautiful graphics and many upgrades to keep players interested.


Join Telegram Group
Download Farm Heroes Saga APK and enjoy an exciting strategy game. Collect your stolen cropsies, use powerups and solve puzzles while you explore thousands of levels.