Download Faceplay APK latest version and create different versions of your face in an interactive slide-like video. It is easy-to-use & super responsive.
What You Need to Know about Faceplay APK
Faceplay APK is a free Android app that lets you play around with your face to create different variations in an interactive video. It is a fun way to create unique content that can be used for several purposes such as creating reactions, stories, or even just to show off your creative side.
The app is elementary and extremely responsive. It does not take long to get the hang of it, and you will be able to create some cool videos in no time.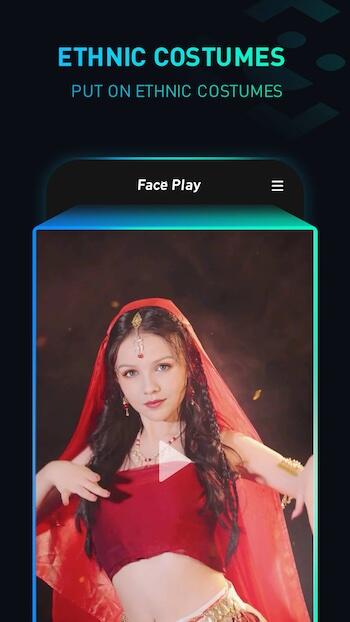 It is lightweight and does not take up a lot of storage space on your device. It is super optimized for all Android 5.0 and above devices.
Why Download Faceplay APK?
If you are an adventurous person who likes to try out new things, you will enjoy using Faceplay APK. It is a sure way to keep yourself entertained for hours on end.
Moreover, the app is 100% free to download. Most of its features are also free of charge. However, there are a few in-app purchases that you can make if you want to unlock more features.
Whichever option you use, free or premium, you are guaranteed to have a blast using Faceplay APK. Get to laugh and the different variations of your face!
How to Use Faceplay APK
Faceplay APK is quite easy to use. After downloading, you will be required to take a selfie or upload a photo. The app uses this photo to create a 3D model of your face.
Once the model is created, you select your favorite video template from the available options. When you use your just uploaded photo on the template, you become the protagonist!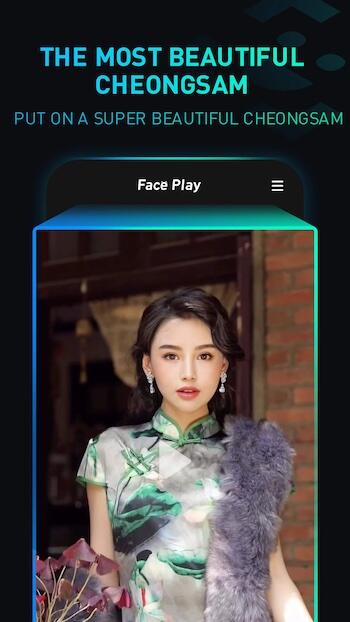 The app will create the video according to the selected template. It only takes a few seconds to create a unique face-changing video for you!
You can also add text and stickers. Use the editing tools at your disposal to make the video even more alluring.
Once you are satisfied with your work, save the video and share it with your friends on social media. You can also download it on your device for future use.
Outstanding Features of Faceplay APK
If you want to be an urban beauty, you can try on all kinds of fashionable clothes, hairstyles, and makeup styles that you like.
You can directly see what you look like in those clothes and styles without trying them on physically. This is extremely convenient, especially if you are short on time or want to experiment with your style without Commitment.
The app also has an AR effect that lets you place virtual objects in the real world through your phone's camera. This is an augmented reality feature that is quite popular among mobile users these days.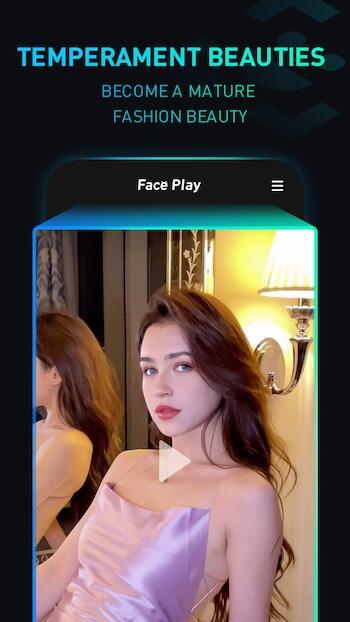 With Faceplay APK, you can have even more fun with this feature. You can place all kinds of virtual objects and have them interact with your face and the real-world environment around you.
This app allows you to adorn clothes from the minority. You can use the Chinese traditional culture, Japanese kimonos, and African clothes.
This is a great way to immerse yourself in different cultures and get to know more about them. It is also a fun way to express your unique style.
You can put on a beautiful cheongsam with Faceplay APK and be the most beautiful woman in the room. The app has a wide range of cheongsam designs for you to choose from.
Each one is more gorgeous than the last. With this app, you can have a virtual wardrobe full of all the best cheongsams without spending a fortune on them.
Incarnate a Handsome Guy!
 Would you love to see yourself as a handsome man? Faceplay APK can make that happen for you. The app has a wide range of male faces for you to choose from.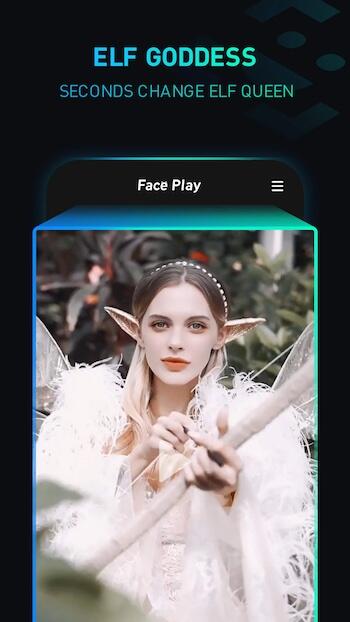 You can be anyone you want to be, from a model to a Hollywood actor. With this app, you can have all the fun of being someone else without going through the hassle of actually becoming someone else.
Simple Graphics & Straightforward Controls!
The app has simple graphics that are easy on the eyes. The controls are also quite straightforward. You will not have any trouble navigating the app and using its features.
Even if you are not familiar with mobile apps, you will be able to use Faceplay APK without any problem. The user interface is bliss for anyone!
Faceplay APK Premium Download
The Faceplay APK premium download offers superior features for an advanced gaming experience. It has the following stand-out features:
No Ads.

The Faceplay APK version comes with an ad-free gaming experience. You will not have to deal with pesky ads while using the app.

Premium Version.

The Faceplay APK pro version gives you access to premium features not available in the free version. This is the best way to get the most out of the app!
Download Faceplay Pro APK
The Faceplay APK best version is available on multiple third-party platforms. You can easily find it by doing a quick Google search.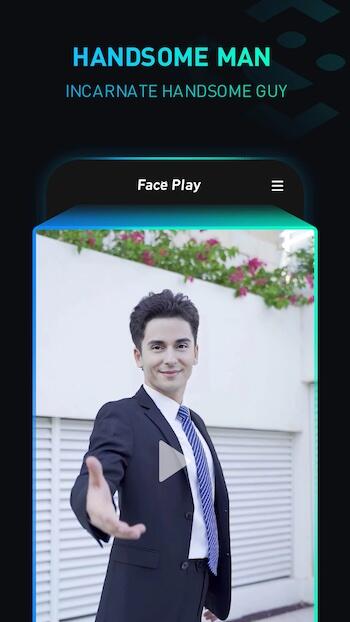 Once you get a reliable download link, you should activate installations from unknown sources on your Android device. After that, you can go ahead with the installation process and enjoy all the features of the app!
Conclusion
The Faceplay APK is a great way to have some fun with your friends. The app has a wide range of features that will keep you entertained for hours on end.
You can use the app to change your appearance and see how you'd look like a different person. You can also use it to try on different clothes and styles.