Download KMPlayer APK, the perfect media player with many exciting features. Listen to music, watch high-resolution videos, get subtitles, and enjoy flawless playback.
KMPlayer
KMPlayer is a mobile app that is free to install. PANDORA.TV developed the game and released it in March 2014. The app takes players into endless entertainment with videos, audio, and many more. KMPlayer is available to players using Android and Apple devices, and the app has gotten favorable ratings from those who enjoy it.
KMPlayer makes it easy for individuals to listen to music, watch movies, and enjoy other forms of entertainment on their phones. The app comes with a free and paid version. The free trial is limited to one time per account. A subscription plan has to be added after the free trial period. KMPlayer app comes with flexible features, audios and videos can be played in multiple formats.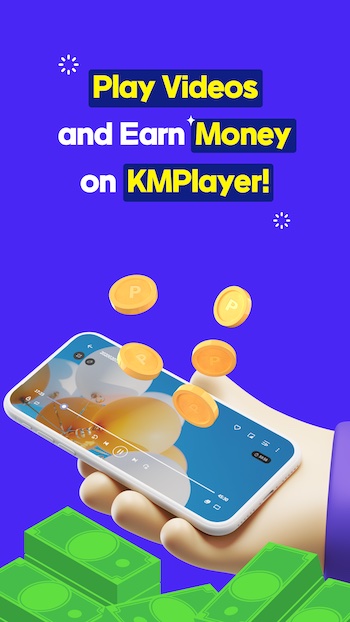 This awesome media player application comes with every form of high-resolution video and music. It features subtitle files, flawless playback features, and other exciting features. Players can use the quick button, subtitle settings, play speed, and bookmark setting to explore the entertaining app.
KMPlayer brings another form of entertainment to players through KMPlex. Players need to succeed in the missions on KMPlex to earn points and exchange those points with listed coins.
Features of KMPlayer
KMPlayer for android is designed with excellent features to enhance the fun within. Here are the fascinating features of this media application.
In-Built Codecs
KMPlayer 2022 was designed with its Codec so that users would not have to install any Codecs for support. The list of Codec KMPlayer pro supports includes Avi File: DIVX, DXMF, DIV4, MP4V, DX50, DIV3; MKV File: DIV3, MP4V, DX50, DIVX. The unsupported Codecs in KMPlayer include EAC3, DTS, TrueHD: Four CC: trhd, dtsc, dts, eac3, dtsb, mlp, dtsh, ms, dtse, dtsl.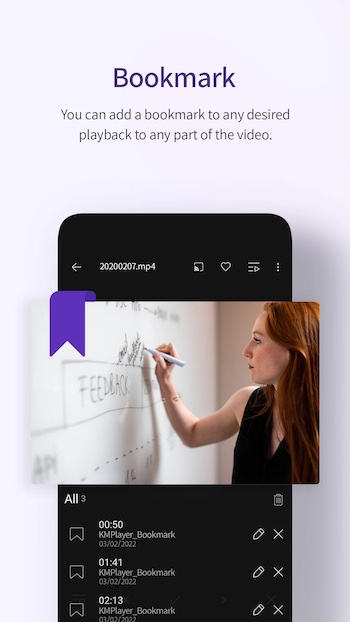 This is an advanced list of the Codecs, and KMPlayer is integrated into most of the popular Codec series. The integration process of this internal processing makes the file run smoother and faster than other apps for the same reason.
Supports Multiple Types of Subtitles
KMPlayer Pro is available with several subtitle formats: DVB, DVD, SSA/ASS Subtitle Track; SubStation Alpha(.ssa/.ass) with its full styling mode; SAMI(.smi) in the ruby tag supporting mode; VobSub(.sub/.idx), SubRip(.srt), SubViewer2.0(.sub), MicroDVD(.sub/txt), Teletext, WebVTT(.vtt), MPL2(.mpl/.txt), PJS(.pjs), and TMPlayer(.txt). These subtitles clear all the incompatibility that might arise.
Change Colors from Filters
Creating videos with basic features makes your video unappealing and unattractive to players. Invest in your videos from the smallest to the highest part. You can change the colors in your frame and segment to make your work look great. With the KMPlayer Pro, you can adjust or change the color of your frame from filters and drag the parameters to a particular threshold. The video contrast and brightness can be altered to suit filmmaking.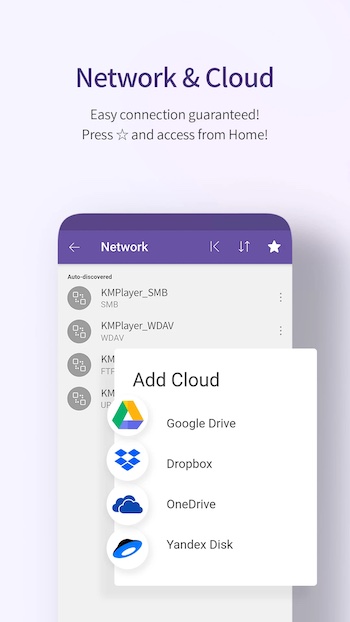 Video Playback Player
For an experience more accurate and realistic than the videos you've created. Users can move the video to different devices and monitors in addition to watching it on their phone or modifying it in the app. It's fantastic; you can adjust the video playback position without sacrificing quality. For a clearer view and for everyone to watch, users can link their TV to their phone and stream the video to the TV. You can select a high-quality video ranging from 4K to sharp full HD.
Adjust the Frame Size and Speed
With our basic zoom user support, KMPlayer free download lets you see more of your video's minor details. Users could quickly identify each flaw in the film and remedy it by simply dragging and touching specific locations on the screen. With the help of this feature, you can examine the shapes and colors of the video in greater detail and create a flawless work of art.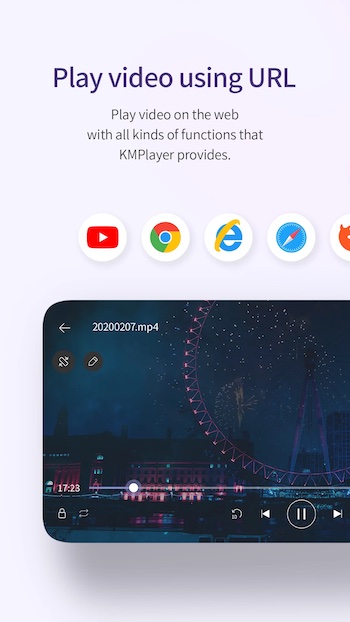 You have benefited from numerous helpful features with only just one piece of video editing software. Users can manage the maximum speed of their films, particularly using the speed adjustment option.
Each scene is pulled in either a faster or slower direction. You can use this tool to make a variety of original animated gifs.
Add Subtitles
KMPlayer's latest version allows users to add music to videos, which adds to their originality and vividness. Obtain music from the app or your library. Simply input the names of the songs you want to hear.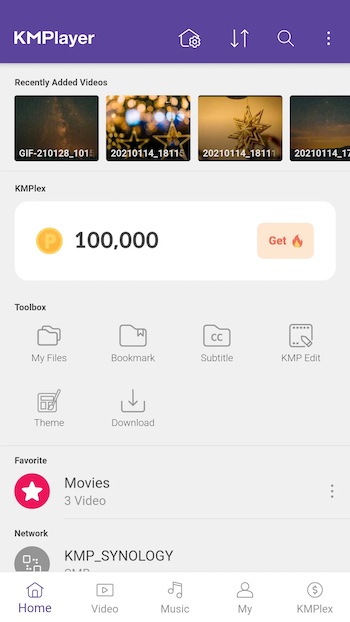 You can add subtitles to your videos specifically. This makes it easier for users to appreciate the goods and follow all the video discussions. Adapt the text's size, color, and location to the video.
Final Thoughts
Download KMPlayer where you can choose from a wide variety of apps to watch movies and listen to music on your mobile device. It has a good, user-friendly UI. But I believe it's preferable just to utilize KMPlayer android if you want a remarkable experience with a program that is operating quickly, simple, and compatible with most file kinds.


Join Telegram Group
Download KMPlayer APK, the perfect media player with many exciting features. Listen to music, watch high-resolution videos, get subtitles, and enjoy flawless playback.