Download Clash Mini APK to play with tiny Clash of Clans characters. Create formidable battle plans and strategies to defeat enemies in the fiercest battles.
About Clash Mini
Clash Mini is a strategy-based game that features various battles and allows you to be the lead character and general in these battles. The game features famous characters from the Clash universe, so you'll have plenty of mighty armies to wage war against and challenge your game strategy. In addition, this version has various tiny versions of players and soldiers' you can station across your territory to protect and defend them.
The game is based on strategy, so you need to be clear on how to attack and defend while you play. You'll be required to strategically place all your team members on the board to face the enemy squadron. Since the enemy is also protecting their territory and looking for the best way to attack, you'll have to create a balanced line of attack and defense or risk losing the game. Once you have a strategy, you can click on the combat button to see if you have developed the right strategy or will lose the battle.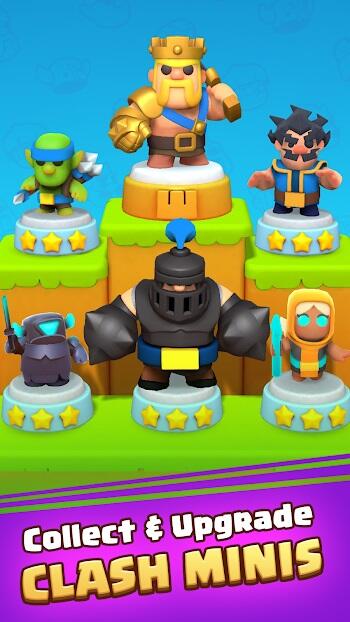 The game provides an exciting experience for players, especially those who have played other versions of the Clash series. It has impressive graphics that doesn't go into too many details with the environment but manage to deliver the Clash game vibes too. Most of the necessary features you'll need in battle are positioned on the screen, so you won't spend much time navigating or unsure where to use any of the game buttons.
The game was developed by Supercell and is entirely free to install. It's available for players in over 47 languages, meaning people can play worldwide. The game is also available on most Android devices with Android 5.0 installed. Unfortunately, the content rating for the game is +7, so you can't play if you're younger. Nevertheless, the game already has millions of downloads on Playstore since its release and an impressive rating from players who have enjoyed it.
Gameplay
The game has a gameplay pattern, so you don't have to worry about unnecessary frameworks of the battles but focus on the strategy. So, your task is 90% planning, and you should spend more time arranging ranks and formations for the warriors on your side of the game. The game can therefore be divided into two major parts, one is preparation, while the other is combat/battle.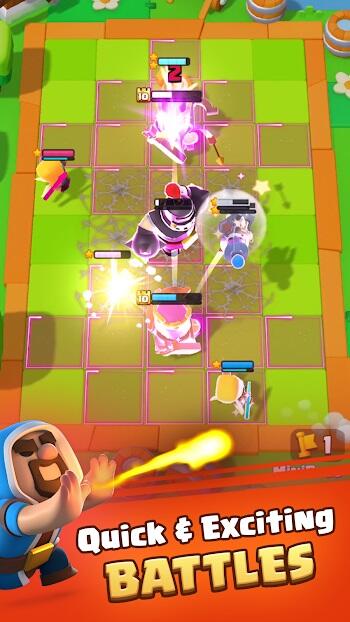 You have to understand the game's rules to have enjoyable gameplay. But, once you do, you'll be able correctly set your warriors in the correct position to win the battles. Then, you'll be able to participate in the journey to collect, summon and upgrade an army of Minis to follow you into the most incredible and fiercest battle ever.
Another exciting feature of the game is that it allows you to gain more experience the more you play. When you lose in a battle, you'll be able to analyze what causes the loss and then create a foolproof plan for the next. Do a proper calculation of who goes first in the battle, who attacks and who defends, take advantage of opportunities and weaknesses you notice in your opponent, and ensure you also minimize the weaknesses of your soldiers.
Game Features
The game has many features that help players have a good time and a fantastic game experience. Check out the features below: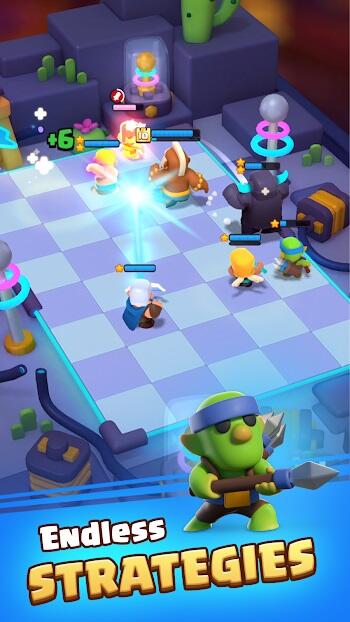 Graphics
The graphics quality here is excellent and detailed enough for the gameplay. It uses brightly colored designs just like other Clash Adventure games. The characters are unique designs made of block-like structures, each with distinct functions and skills. You'll also have an overview of the game dashboard when playing, so you'll have a clear view of the enemy line and plans to create your unique plans.
Game Modes
You can play with different modes on Clash Mini. There are enough options to satisfy most players. So, you can either play the 1v1 or 3v3 modes. The matches for both modes are not too long since they last for just 5 minutes. The 1V1 mode means you'll be playing against one player, while the 3v3 means you'll be playing alongside three other players to face three players as opponents. The time is ample enough to test all your skills and abilities since you'll have to apply tactics and smooth control manipulations.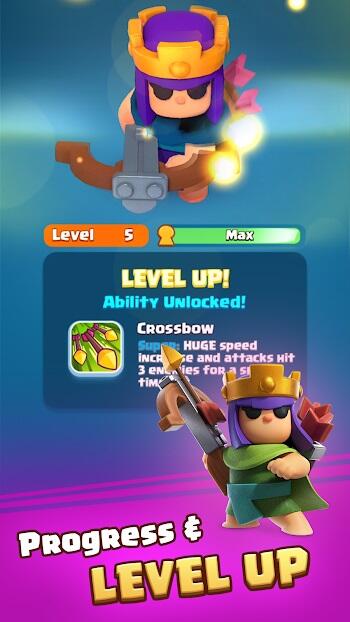 Characters
There are many adorable characters in the game. The style of each character is not different from the other Clash games. The graphics, however, took time to add exciting features for each character, such as the eyes looking darker and smaller shapes but still retaining their majestic looks. The game characters also have bright and vibrant colors, each meticulously cared for and constantly changing so that you get a different experience when playing other games.
Fast and Exciting Battles
There are many fights and battles to play, and Clash Mini keeps them fast. Each of the games is actions packed, and the matches are all under 5 minutes. You'll be able to watch all the minis show their special moves from different camera angles while you play. You'll also be able to forge a path, grow your reputation through the Leagues, and find your way to the rope 1,000.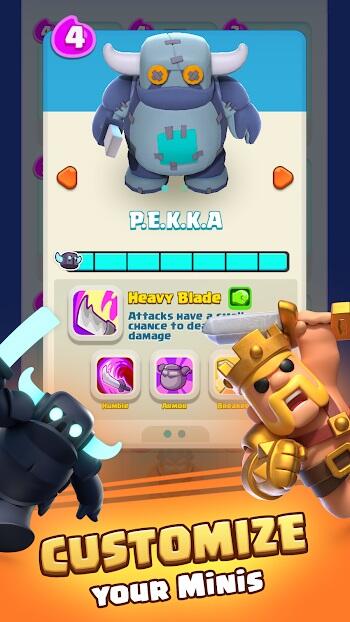 Dynamic Combinations
The game doesn't have fixed gameplay. Instead, it's always dynamic for each battle, so there are endless possibilities of how the game will proceed. You'll be able to adjust your in-game strategies with tanks, minis, and melee. The game also allows you to upgrade your minis to have stronger armies and abilities during battle. You'll also be able to choose heroes in the game and customize your character to suit your preference. For example, you can choose a character like the Barbarian King, Archer Queen, Shield Maiden, etc.
Conclusion
This is another series of the Clash Adventure Games. It's a great game that's entirely unpredictable and has limitless possibilities. The game thrives on strategy and is quite relaxing since you won't be getting involved in most of the actions.


Join Telegram Group
Download Clash Mini APK to play with tiny Clash of Clans characters. Create formidable battle plans and strategies to defeat enemies in the fiercest battles.