Download Box Office Tycoon APK and enjoy a series of fascinating activities in movie theatres. Get rich by building a movie empire and become the tycoon in the industry
What Makes Box Office Tycoon Very Unique
Have you ever immersed yourself in the thought of becoming a rich theatre film manager? You can bring this dream to life in Box Office Tycoon. You will begin with a little box office, and the office will grow rapidly based on your intelligence and business strategy. Soon you will proceed to make more profits and become a tycoon in the movie theatre business.
The main responsibility of a player in the Box Office Tycoon game is to acquire money to keep on investing in every area of the movie theatre business. You can practically control everything with a tap on the screen and choose the development you want for the cinema.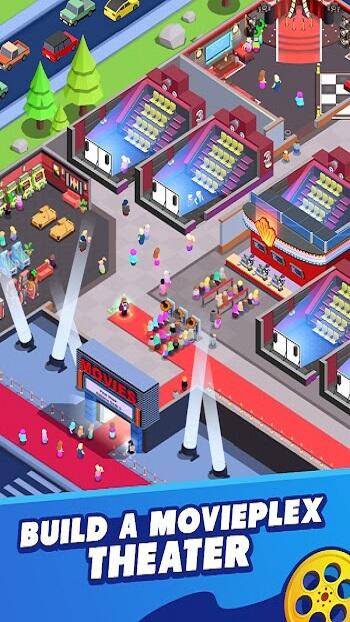 Attaining balance in all areas of the cinema business comes with a bit of hassle. For instance, customers may become angry if the whole seats are occupied or if the environment is littered and dirty. And even if the angry customers are less than two, you have already lost a customer and will invariably lose money which may delay your advancement in Box Office Tycoon.
Features Of Box Office Tycoon
Build A Chain Of Other Recreation Areas
At the initial stage of starting a business in the movie theatre or working as a shop supervisor in Box Office Tycoon, it could seem entirely new to you. Still, after a period consisting of training and improvement, you will gain more experience and eventually master the mode of operation of the game.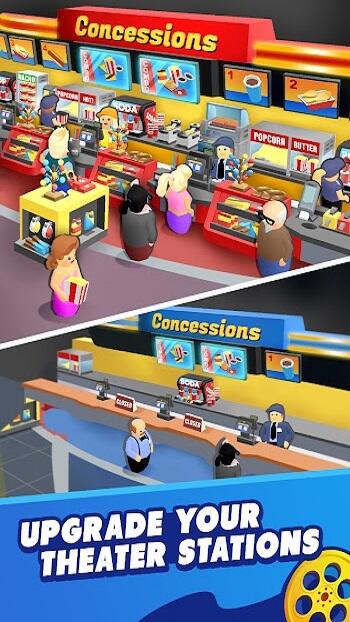 Through the period of learning and mastering the game, you will gradually expand your brand alongside several branches and various entertainment industries. You will set up an entertainment system with theatre or karaoke.
Employ People To Improve Work Efficiency
Theatre management is not a one-man job; it encompasses various skills and abilities. If you manage it alone, you may run on a low performance which could result in a lot of problems. The smart thing to do is hire a team and allocate them to various entertainment areas. They will assist you in the job with a fair salary and enhance the effectiveness of the store. However, you are still the one behind and supervising the whole business for the store.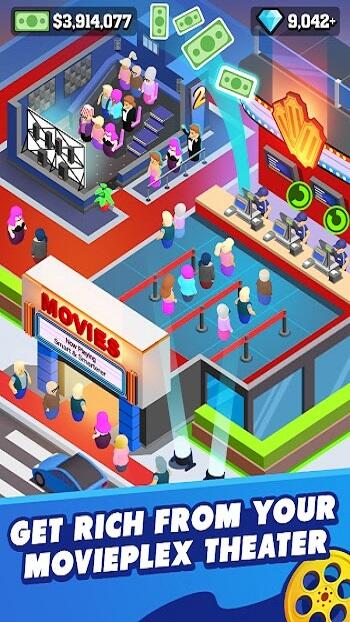 Promote The Monetization Management Sector
With the multi-industry shop, you will attract even more customers with excellent service. This will help your shop gain significant revenue. In Box Office Tycoon, your revenue can also help you gain more money and facilities. The process is simple and easy; with just a tap on the icon, you can level up the shops after they must have gained stability and more customers.
Complete Everyday Quests And Open New Ones
You will need a lot of strength to manage the workflow of this game because it is tremendous. You may find it difficult to manage the workflow when you get to the ultimate level. As that being said, after each successful completion of different levels, you get a higher chance of being promoted. Players are permitted to start a new business in new areas plus more jobs. Thereon, the shop map will increase.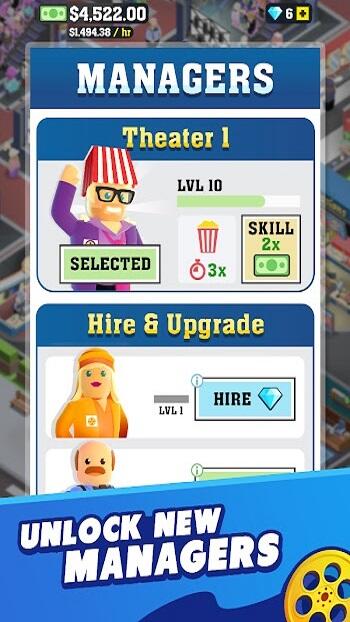 Increase Massive Profits When Maintaining The Vip Screen
Players can partake in different mini-games in Box Office Tycoon for small tasks. Therefore, you shouldn't waste much time; get involved in the mission to raise the level. Particularly when holding the control icon on the VIP section, the profit from it is greatly higher than the former. Besides, the entire modification of this game is new and unrelated to what you may have experienced earlier.
Tips And Strategies To Establish A Movie Empire
Players have much freedom regarding how they run their thriving theatre business. However the game has 72 goals for you to achieve, but for each list, there are only 3 goals. You will see these goals as you progress at different levels. Focus on completing the 3 goals immediately, and then claim your prize so the next goals will appear.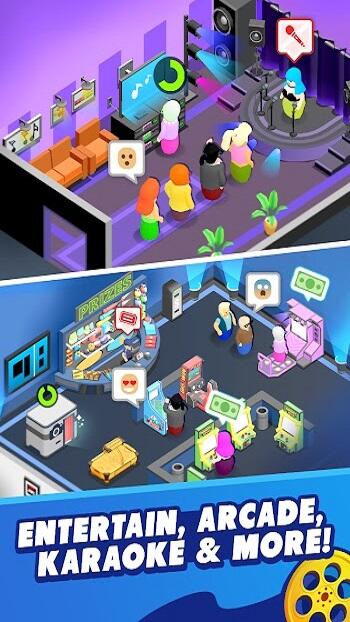 To earn more money at different stations you have to hire many managers, each manager at a different outlet will increase your revenue. With more money, you can get more facilities.
Do not leave your managers idle
Unlike other idle clicker games, Box Office Tycoon allows managers to rest or take a break. But after resting, they will stay idle until you assign them back their duty by clicking the "start" function.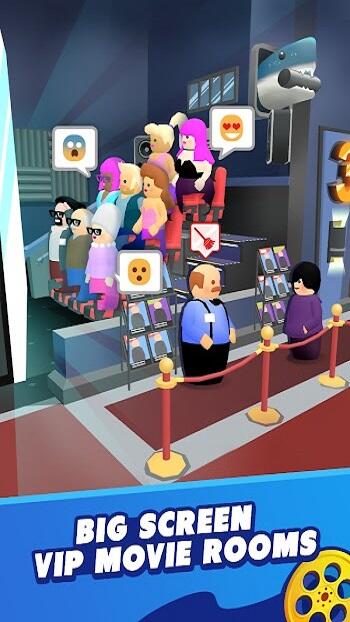 Always tend to the demands of the Vip guests
Generally, businesses that have a VIP section always provide special treatment for them. Similarly, in Box Office Tycoon, VIPS expects you to treat them specially to receive something from them. Therefore, to earn more money, give your best services to the VIPS.
Conclusion
Box Office Tycoon APK unlimited money latest version may be similar to other games in terms of design and gameplay; however, it was uniquely created in a way that educates, inspires, and entertains users.