Download Bowmasters APK latest version and test your shooting skills. You will have over 60 characters and diverse weapons to shoot birds, fruits, and enemies.
Comprehensive Details about Bowmasters APK
Bowmasters APK is an action/shooter game offered by Playgendary Limited. It features two-dimensional graphics, and the gameplay is quite elementary.
Your objective will be to shoot the opponent by aiming correctly and using the right power. There are more than 60+ characters in the game, each with a unique shooting style.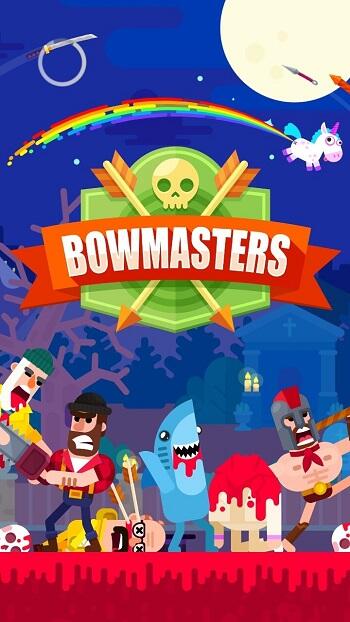 The more accurate you are, the better your gameplay & the more points you will earn. You can use these in-game points to upgrade your weapons and characters. Overall, you can expect immersive gameplay on your Android 5.0+ smartphone.
A Super Exciting Gameplay
Using a bow to shoot arrows is not a new concept. However, the way Bowmasters has used this concept is unique and interesting. You will first choose the character.
There are over 60 characters available and each one of them has unique abilities. You can even change their appearances by using different skins. After selecting your character, you will be taken to the shooting range.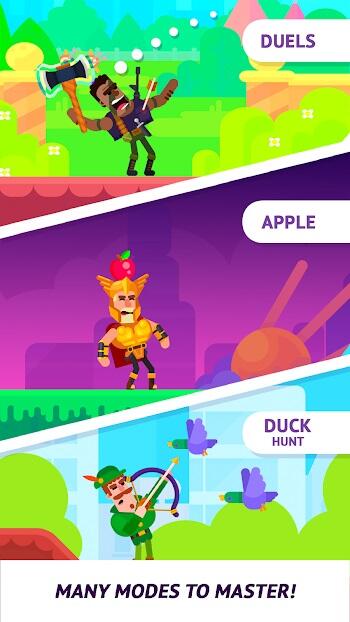 On the other side, there will be another player or an AI-controlled character. Your objective will be to shoot and finish this character before they shoot you.
Once you finish him, you will earn coins that you can use to buy new weapons or upgrade the existing ones. The game features a wide range of weapons, each with its own shooting style and damage output.
You can even unlock new arenas by using these coins. The game also offers a PvP mode where you can play against your friends. Try your best to finish them before they finish you.
Outstanding Features of Bowmasters APK
Incredibly Insane Characters. This game features lots of characters that you can customize to your liking. It allows you to change their appearances by using different skins.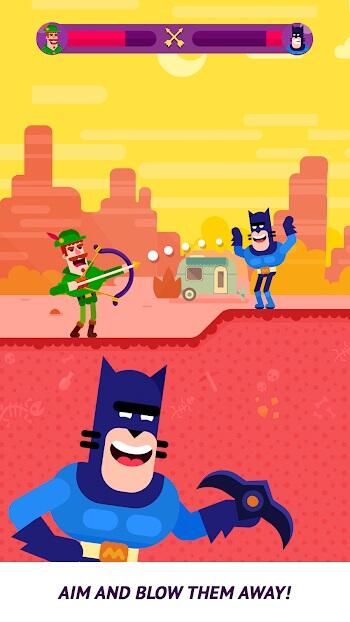 Diverse Skins/ Backgrounds. This game has dynamic backgrounds that keep on changing. You can have a green field on one stage and a town-based arena on another.
Interesting Weapons. This game features 60+ weapons to explore. Each weapon has a unique power and shooting abilities. You must aim at getting the most advanced ones to win the tough battles.
Upgrades. Bettering your weapons is one way to win in this game. You can use the coins you earn from playing and winning matches to upgrade your weapons.
Rag-Doll Physics Gameplay. This game features some of the most interesting rag-doll physics gameplay. The characters in the game react realistically to being shot by arrows. This realism sets this game apart from the others in its genre.
Various Modes. This game is lively and offers more than one mode to play. You can shoot birds & fruits in the shooting range or go against your friends in the PvP mode.
Endless Rewards. This game is quite rewarding. Every mission you complete will offer you something in return. Besides a sense of satisfaction, you can use these rewards to get better weapons and characters.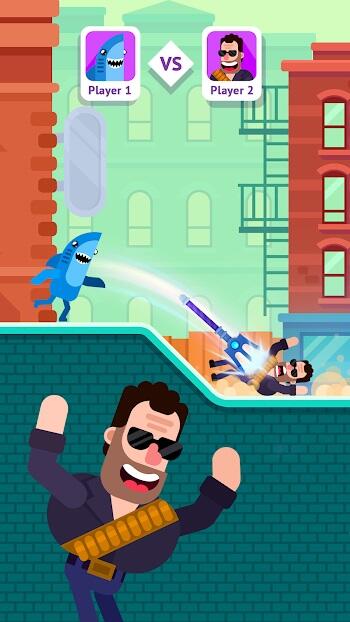 Free to Download and Play. This game is 100% free to play. You can also make in-app purchases ($0.99 – $99.99 per item) if you want to get some extra advantages while playing the game.
Simple Graphics & Sterling Sound Systems
The graphics in this game are neither too good nor bad. They are just perfect for the gameplay. The simplicity of the graphics is one of the main reasons this game doesn't require a powerful smartphone to run.
Despite the simple graphics, the game looks quite good. The animated characters and backgrounds are pleasing to the eyes. Another highlight of this game is its sound system.
The sound effects used in the game are top-notch and make the gameplay even more immersive. You will hear the groans of the characters when they get hit by arrows and the sound of birds flying in the background.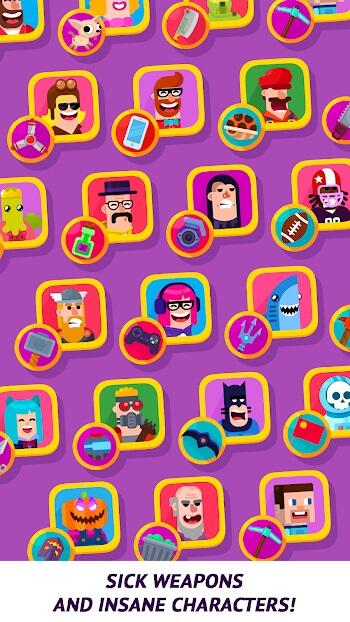 You will also hear powerful sound bites when you make some good shots. All in all, the sound system is quite impressive and adds to the overall gaming experience.
Bowmasters APK Download
The Bowmasters APK premium has been to offer you some extra advantages while playing the game. It guarantees an enhanced gaming experience by offering you the following features.
No Ads. The Bowmasters VIP APK game is quite immersive and doesn't have any distractions in the form of ads. You can enjoy an uninterrupted shooting experience.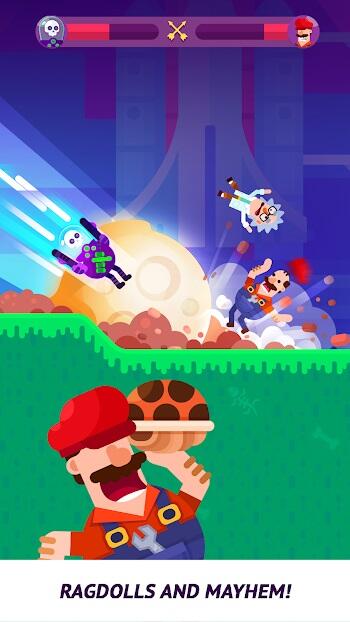 Bowmasters APK premium. If you want to experience first-class features, you must go for the VIP version of the game. You can get your hands on some of the best weapons and characters by using this Bowmasters APK diamond membership version.
Bowmaster APK Unlimited Coins and Gems. This APK comes with unlimited resources. You can use these to upgrade your weapons and characters. You can also buy different items from the in-game store.
Conclusion
Are you looking for an interesting archery game to play on your smartphone? If yes, then you must try Bowmasters. This game is versatile and offers a lot of gaming modes.
You can make the game even more exciting by downloading the Bowmasters APK characters version. This version of the game comes with some extra advantages and an ad-free gaming experience.


Join Telegram Group
Download Bowmasters APK latest version and test your shooting skills. You will have over 60 characters and diverse weapons to shoot birds, fruits, and enemies.