Download Ben 10 Heroes APK and enjoy playing this strategy themed puzzle game. Use aliens from the original Ben ten-story, upgrade them, and fight ferocious villains.
Brief description of Ben 10 Heroes
Ben 10 heroes is a game based on the popular Cartoon Network franchise, Ben 10. Ben 10 is one of the most famous cartoons of the 21st century, and it has been streaming on Cartoon Network for so many years that practically everyone knows about the cartoon. The game story is about a boy named Ben, who went on a camping trip with his grandpa max and his cousin Gwen. Ben wandered off and saw a meteor falling and crashing. He got curious and realized that it wasn't that. Still, it was a watch-shaped device that fell from another planet. Out of curiosity of a naive kid, he approached it, and unfortunately, the device attached itself to Ben's wrists and didn't come off.
The name of this device is the Omnitrix, which has the power to transform whoever yields it into powerful alien monsters that have been stored in the device and obtain the abilities they own. Ben can now control and transform into these aliens. Because of the Omnitrix's unique powers, different enemies from other planets want to collect it and have its ability for themselves.
Although the game is constantly being upgraded, Ben 10 heroes was initially released on the 16th of May, 2019 and it was offered by Epic story interactive. It is rated 10+, meaning everyone ages ten and above can enjoy playing this game as it contains milf fantasy violence with no blood or gore themes. It has seamless gameplay and controls that are easy to use. It runs on a puzzle-based system where you have to match tiles, so you recharge an alien's powers and fire attacks when you match three tiles of the same icons. It is not complex, so the game's operations are straightforward.
The more you advance in the game, the more you face ferocious opponents from the original Ben 10 story and the more challenges you face. Due to this, you must constantly upgrade Ben by unlocking new aliens, upgrading their skills, and developing an excellent attacking strategy that will help you defeat enemies easily. New aliens are constantly being added, so there isn't a time when you can stop upgrading and get better.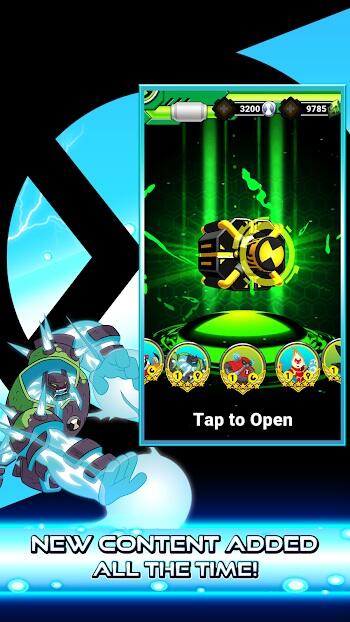 Ben 10 heroes is a fun role-playing game that runs on a puzzle-based system. Enjoy the thrill of reliving the original ben ten story by using your favorite aliens, such as canon ball, four arms, and heat blast, and use them to battle many villains, including the evil Vilgax. Download Ben 10 heroes and enjoy this game!
Fun gameplay and concept
Ben 10 heroes is an action-filled role-playing game where you take control of Ben. It is a single-player game, so you can't play as other characters. In this game, you face villains in battles where you take turns matching tiles on a puzzle, and an attack is delivered when three tiles are matched together. It sounds simple, but that isn't the case as the fight are usually very fast-paced and complex.
In this game, you use the aliens on Ben's Omnitrix to fight battles, and as you progress in the game, there are constantly upgraded, and more aliens are unlocked. Each alien has its unique fighting style and appearance, and for example, heat blast is a magma-type alien that fires flame balls at his opponents. XLR8 is a dinosaur alien with super speed and uses his pace to his advantage when he is attacking his opponents.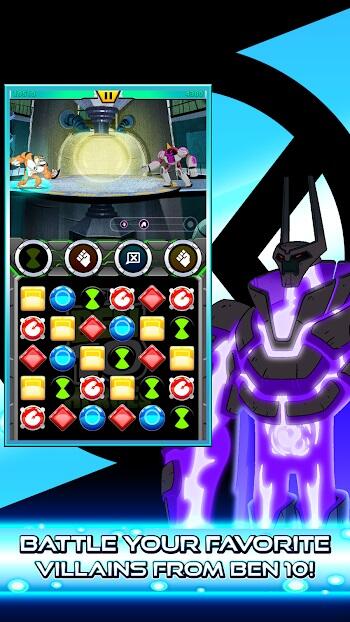 There are other aliens that you can use, like four arms, grey matter, rip jaws, stink fly, diamond head, and wild mutt, which are all available for you at the start of the game, but as you advance In the game you unlock new attractive aliens that you can use to face your opponents.
While playing this game, the battle system is pretty simple. You are placed in a battle arena with a particular enemy, and you control your character by matching tiles on the puzzle below. Matching three tiles charges your aliens up and allows them to launch attacks on your opponents' faces.
You take turns with your enemy throwing attacks and the first one to completely damage their opponent by decreasing their life till it's empty is the battle's winner. During battles, three teams are formed, and you combine their attacks to fight the opponents. One key thing in this game is having a proper battle strategy and knowing which aliens work well together. Using the right tactics will help you win more battles.
You earn rewards after every battle. These rewards include omnivaults and, if you're lucky, new aliens to be used in combat. There are also events you can compete in daily, weekly, and monthly; after completion, you unlock different rewards and gifts. New prizes and other aliens are constantly added to this game, so you will always have something to look forward to.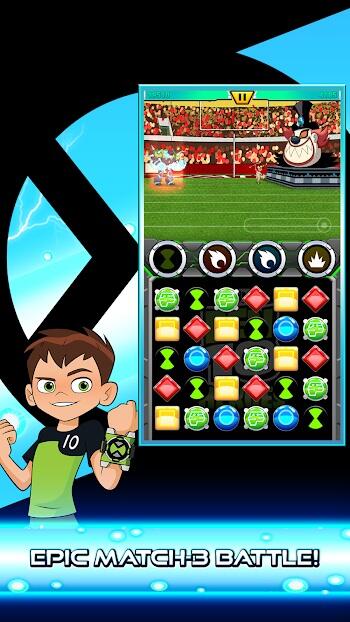 The fights in this game occur in famous alien scenes from the television show. Each area has a unique look and incredible designs that make fighting there very cool. The illustrations of the characters are also awe-inspiring as they accurately represent the original characters from the show. It is safe to say that Ben 10 heroes have outstanding graphics. Apart from its attractive graphics, the game also has an excellent sound system where cool sounds come out when there is an attack and perfect background music.
Ben 10 heroes is an exciting game with intriguing gameplay that will keep players interested as long as they play it.
The game features that you should look out for
You should look out for many fun features when you play this game. The Ben 10 heroes for android download is available on the play store.
Some of these features include: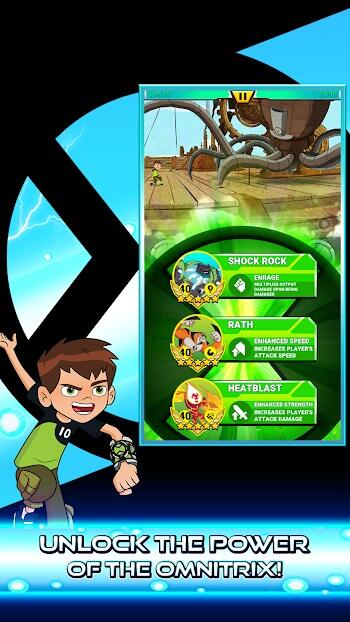 Match three puzzle game system, where you have to match three tiles to perform attacks
multiple aliens can be used, and even more can be unlocked as it is constantly upgraded
The game has good graphics with proper illustrations of the characters and also a perfect sound system
You can compete in events to collect more rewards
The aliens and villains are all from the original Ben 10 story. Enjoy
Conclusion
Ben 10 heroes is an exciting role-playing game that lets you relive the Ben 10 story and experience a new adventure. Users will always be kept engaged with intriguing gameplay, multiple aliens, and different upgrades. The game also has gorgeous graphics and an excellent sound system.